INTEGRATION BETWEEN RELIGION AND SCIENCE IN EARLY CHILDHOOD EDUCATION LEARNING
Muliza Rahayu

Sunan Kalijaga State Islamic University of Yogyakarta
Keywords:
Integration, Religion, Science
Abstract
This research is based on research library research literature in this study wanted to try integrate between Religion and Science in learning, there are three questions; first, circumstances of integration between Religion and Science, a description of the example Integration of Religion and Science form the Moon and the theme of nature and explanation in the Qur'an. With analysis and normative content of the Qur'an explain the phenomena of nature with science and science context. Soon is the first research results, the integration of science with nature is a necessity and it is becoming important in the development of sciences as theology that include common knowledge.
References
Arifin, M. Zainal dkk. (2013). Buku Pintar Sains dalam Al-Qur'an. Jakarta: Zaman.
Arya Wardana, Wisnu. (2005). Melacak Teori Einstein dalam Al-Qur'an. Yogyakarta: Pustaka Pelajar
Bagus H. Jihad, "Apa kata AL-Qur'an tentang bulan", dalam baguse-rek.blogspot.com2011/09/04, diakses tanggal 01 Oktober 2014
Depdiknas. (2003). Kamus Besar Bahasa Indonesia. Jakarta: Balai Pustaka.
Haryanto. (2012). Sains untuk SD/MI Kelas IV. Jakarta: Erlangga.
J .S., Richardson. (1957). Science Teaching in Secondary School. New York: Prentince-Hall, Inc.
Kementerian Pendidikan Nasional. (2010). Kurikulum Taman Kanak-kanak: Pedoman Pengembangan Program Pembelajaran di Taman Kanak-kanak. Jakarta: Direktorat Jenderal Manajemen Pendidikan Dasar dan Menengah, Direktorat Pembinaan Taman Kanak-kanak dan Sekolah Dasar.
Laksana, Indra dkk. (2011). Al-Qur'anulkarim. Bandung: Syaamil Qur'an.
Mulyasa, H. E. (2011). Manajemen PAUD. Bandung: Remaja Rosdakarya.
Mutahhari, Murtadha. (1989). Manusia dan Agama. Bandung: Mizan.
Rusdianto, Eduard. (2011). Ensiklopedia Sains. Yogyakarta: Kanisius.
Rahim, Husni. (2004). "UIN dan Tantangan Meretas Di(otomi Keilmun", dalam Horizon Baru Pengembangan Pendidikan Islam. Yogyakarta : UIN Press.
Reynaldo K. A. (2012). Ensiklopedia Mengenal Sains Ruang Angkasa. Jakarta: Aku Bisa.
Suyadi. (2014). Teori Pembelajaran Anak Usia Dini dalam Kajian Neurosains. Bandung: Remaja Rosdakarya.
Sujiono, Nurani. (2009). Konsep Dasar Pendidikan Anak Usia Dini. Jakarta: Indeks.
Turangan, Lily. (2012). Ensiklopedia Sains Spektakuler Alam Semesta. Jakarta: Aku Bisa.
Tartusi, Tartila. (2009). Ensiklopedi Anak Muslim Alam Semesta Kebesaran Allah. Jakarta: Gema Insani.
Umpan Atom Wikipedia. (2014). "Fase bulan", dalam www.wikipedia.com, diakses tanggal 01 Oktober.
Wignjosoebroto, Soetandyo. (2004). "Perspektif Filosofis Integrasi Agama dan Sains," dalam Horizon Baru Pengembangan Pendidikan Islam. Yogyakarta: UIN Press.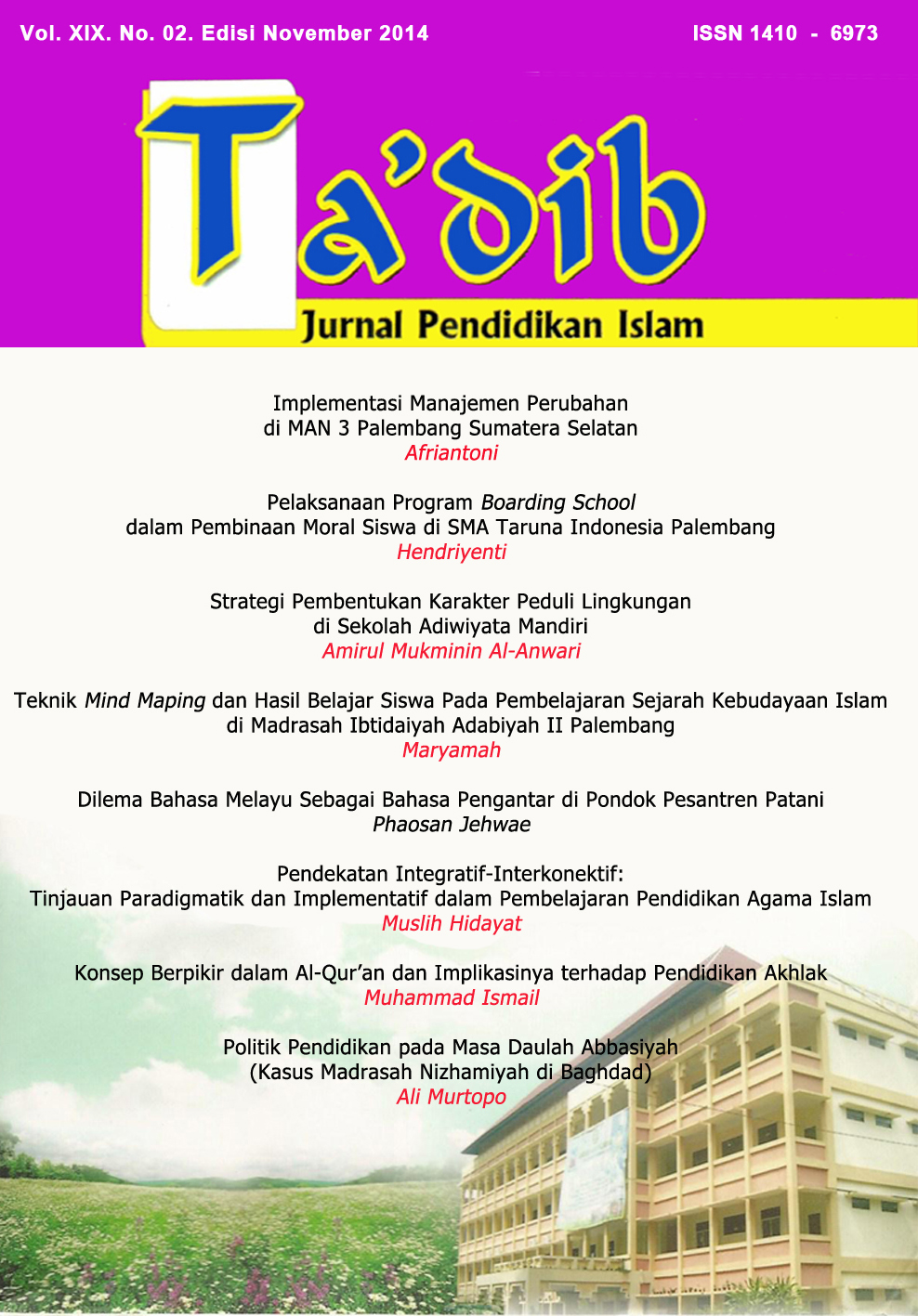 How to Cite
Rahayu, M. (2016). INTEGRATION BETWEEN RELIGION AND SCIENCE IN EARLY CHILDHOOD EDUCATION LEARNING. Ta'dib: Journal of Islamic Education (Jurnal Pendidikan Islam), 20(2), 201-220. https://doi.org/https://doi.org/10.19109/td.v20i2.223

Ta'dib by http://jurnal.radenfatah.ac.id/index.php/tadib is licensed under a Creative Commons Attribution-ShareAlike 4.0 International License.