Students' Performance in the Indonesian National Examination and Career Choice among the First Year Students in Non-Religious Affiliated Universities
SUCI FITRIANI

Graduate student, College of Education, Central Luzon State University, Science City of Mun ̃oz, Nueva Ecija, the Philippines

FLORANTE P IBARRA

College of Education, Central Luzon State University, Science City of Mun ̃oz, Nueva Ecija, the Philippines
Abstract
This research study investigated the role of the four components of the Indonesian National Examination to students' career choice. Around 310 respondents participated in the study using their overall scores in the National Examination. Anchored in Holland's (1997) RIASEC Theory, a quantitative method was employed to gather data using a research instrument tool. Analysis of data included descriptive statistics and Spearman's product moment correlation using Statistical Package for Social Science (SPSS) version 20. Findings of the study revealed that there was significant difference in the national examination between high and low performing students and their career choice and there was a significant relationship between socio-demographic profile, four components of Indonesian National Examination and Indonesian students' career choice. Results mostly suggest that students with high scores in the National examination tend to choose numeric courses in academics.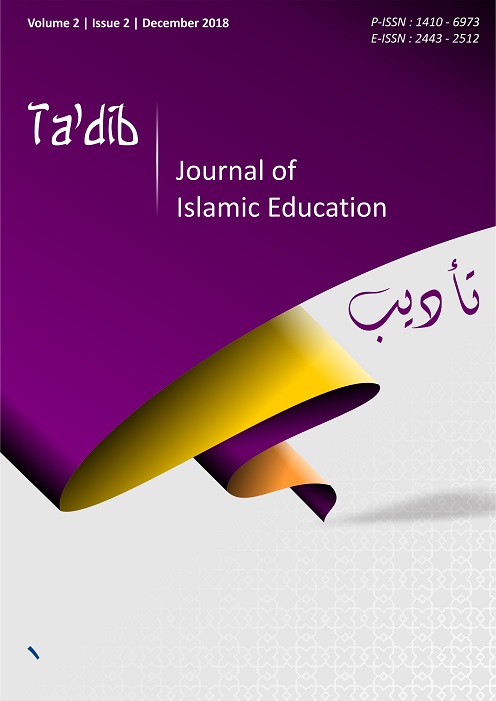 How to Cite
FITRIANI, S., & IBARRA, F. (2018). Students' Performance in the Indonesian National Examination and Career Choice among the First Year Students in Non-Religious Affiliated Universities. Ta'dib:Journal of Islamic Education (Jurnal Pendidikan Islam), 23(2), 164-182. https://doi.org/https://doi.org/10.19109/tjie.v23i2.2568

Ta'dib by http://jurnal.radenfatah.ac.id/index.php/tadib is licensed under a Creative Commons Attribution-ShareAlike 4.0 International License.