POLA PEMBIAYAAN PENDIDIKAN ISLAM PADA MASA KLASIK
Rahmawati Rahim

Fakultas Tarbiyah dan Keguruan UIN Raden Fatah
Abstract
Fund is like blood flowing to all parts of the human body, if there is human blood deficiency therefore sooner or later death will be the result . Similarly toward education funding, regardless of the cost of all planned programs will likely not be operationalized. Problem of the high cost of higher education is perceived by the public on the one hand, and the desire to provide a better education on the other hand has always been a problem that still can not be resolved satisfactory . When we look at the history of the heyday of Islam, funding institutions apparently has got the most attention from the education providers and other parties that are not directly involved in it. While the pattern of management education in the classics are implemented in two ways: 1. Centralized systems, centralized point here is that education funding is planned and managed by bureaucrats (power authority), not by the institution concerned. All educational needs will be met by the government through the state treasury or the Bayt al-Maal. 2. Decentralized system is more flexible and participatory than centralized systems, which consist of the traditional pattern (the traditional pattern of the proceeds are typically used without a clear plan), and non-traditional pattern, this pattern is the antithesis of the traditional pattern, incoming funds managed by organizers of the institution, through a targeted plan according to the situation and condition of the institution concerned. 
References
Langgulung, Hasan, Asas-asas Pendidikan Islam, (Jakarta: Pustaka al-Husna, 1992).
Nata, Abuddin, Sejarah Pendidikan Islam, (Jakarta: P.T. Raja Grafindo Persada, 2004) Cet. ke I.
Stanton, Charles Michael, Higher Learning of Islam: The Classical Priod A.P. 700-1300, Meryland: Remand and Little-field Publisher, 1990).
Syalabi, Ahmad, Sejarah Pendidikan Islam, (terj.) Muchtar Yahya dan Sanusi latief (Jakarta: Bulan Bintang, 1973).
Soekarno dan Ahmad Supardi, Sejarah dan Filsafat Pendidikan Islam, (Bandung; Angkasa, 1985).
Yunus Mahmud, Sejarah Pendidikan Islam, (Jakarta: P.T. Hidakarya Agung, 1992).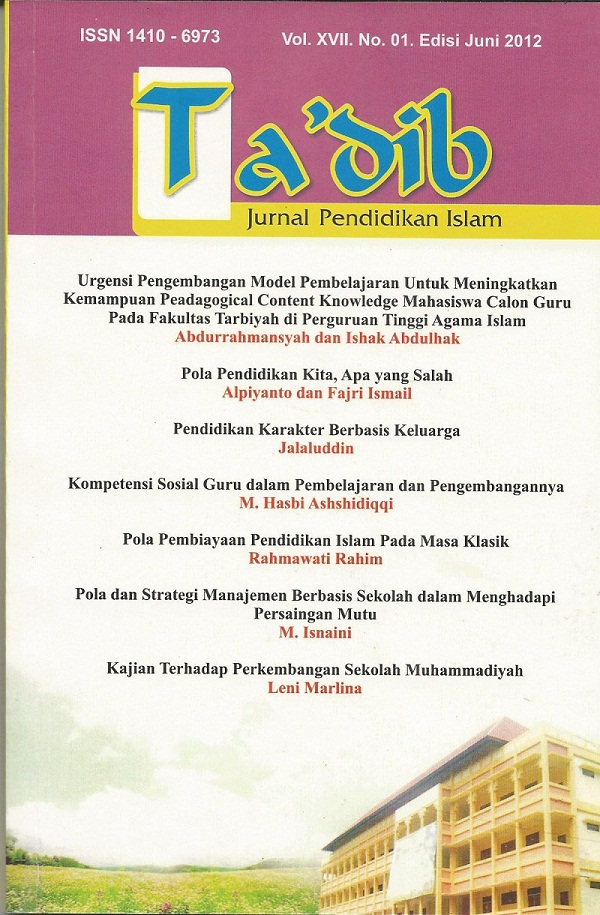 How to Cite
Rahim, R. (1). POLA PEMBIAYAAN PENDIDIKAN ISLAM PADA MASA KLASIK. Ta'dib: Journal of Islamic Education (Jurnal Pendidikan Islam), 17(01), 73-81. Retrieved from http://jurnal.radenfatah.ac.id/index.php/tadib/article/view/26

Ta'dib by http://jurnal.radenfatah.ac.id/index.php/tadib is licensed under a Creative Commons Attribution-ShareAlike 4.0 International License.