KORELASI MOTIVASI BERPRESTASI DENGAN HASIL BELAJAR SISWA PADA MATA PELAJARAN PENDIDIKAN AGAMA ISLAM DI SMA KIFAYATUL AKHYAR BANDUNG
Ermis Suryana

Fakultas Tarbiyah dan Keguruan UIN Raden Fatah
Abstract
Educational institution is the most effective institution to transfer the knowledge and values of life. In Indonesia, the Islamic Religious Education (PAI) is one of the subjects that should be taught to students in any educational institution. Students' learning achievement in the subjects of Islamic Religious Education (PAI) is often used as indicators of character and personality of a person that needs to be stimulated from those motivations in orderto achieve maximum learning achivement. Achievement motivation is one of the motivations which David McClelland revealed that has significant influence toward academic achievement of students. This study aimed to determine the correlation between achievement motivations toward the students' learningachievement of students in Class XI, PAI subjects, in Achyar Kifayatul high school Bandung. The results showed that there is a positive and significant correlation between achievement motivation with students' achievement of grade XI on Islamic Religious Education (PAI) subject. This is evidenced by the correlation coefficient score that is 0.535.While the level of significance, is 0.002. Thus, it can be concluded that there is a significant correlation between achievement motivation toward student's learning achievement of class XIon PAI Subject of Kifayatul Achyar high school in Bandung. The significance of the coefficient terminated by 28.6%, which means that only 28.6% of the level of significance has a positive correlation between achievement motivation toward students' learning achievement. There are 72.4%of other variables that affect student learning outcomes.  
References
Kenneth N. Wexley and Gary A Yukl, Organizational Behavior and Personal Psychology, (Homewood, Illinois: Richard D. Irwin, Inc., 1977)
Maslow, Abraham H. Motivation and Personality, (New York: Harper and Row, Publishers, Inc., 1970)
McClelland,David C. The Achievement Motive, (New York: Irvington Publishers, Inc., 1976)
Mentllhelp, Motivation-Psychological Self-Help, p. 2, 2011, (http://mentalhelp.net/ psyhelp/cahp4i.htm).
M. Steer, Richard and Luman W Porter, Motivation and Behavior, (New York: McGraw-Hill Inc., 1991)
Newstrom, John W. and Keith Davis, Organizational Behavior: Human Behavior at Work, (New York: The McGraw-Hill Companies, Inc., 1977)
Singarimbun, Masri dan Sofyan Efendi, Metode Penelitian Survai, (Jakarta: LP3S, 1989)
Sudjana, Nana Penilaian Hasil Proses Belajar Mengajar, (Bandung: Remaja Rosdakarya, 1989)
Sugiyono, Metode Penelitian Pendidikan Pendekatan Kuantitatif, Kualitatif, dan R&D, (Bandung: Alfabeta, 2008)
Waluyo, dkk., Penilaian Pencapaian Hasil Belajar Modul, (Jakarta: Karunia, 1987)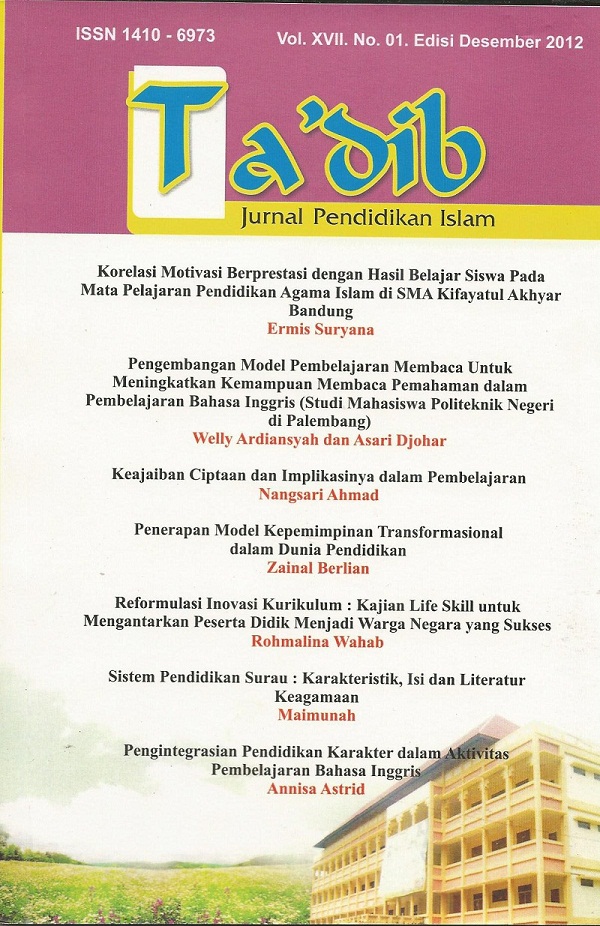 How to Cite
Suryana, E. (1). KORELASI MOTIVASI BERPRESTASI DENGAN HASIL BELAJAR SISWA PADA MATA PELAJARAN PENDIDIKAN AGAMA ISLAM DI SMA KIFAYATUL AKHYAR BANDUNG. Ta'dib: Journal of Islamic Education (Jurnal Pendidikan Islam), 17(02), 143-159. Retrieved from http://jurnal.radenfatah.ac.id/index.php/tadib/article/view/29

Ta'dib by http://jurnal.radenfatah.ac.id/index.php/tadib is licensed under a Creative Commons Attribution-ShareAlike 4.0 International License.