PENERAPAN MODEL KEPEMIMPINAN TRANSFORMASIONAL DALAM DUNIA PENDIDIKAN
Zainal Berlian

Fakultas Tarbiyah dan Keguruan UIN Raden Fatah
Abstract
Leadership is an important discussion, especially in order to improve thequality of education, because in the world of education can not be separatedfrom the influence of education, especially related to the formation ofeducational policy. One model that is quite popular in the worldof education is transformational leadership. A leader in education should beable to apply the model of transformational leadership. Therefore,transformational leadership is not only based on the need for self-esteem,but also to improve awareness of a leader to act best in accordance with the studyof management development and leadership that sees humans,performances, and growth as a side affects one to another. This Leadership is oriented toward the change of vision that is the leader's ability to create, define, communicate, socialize,transform, and implement the ideal thoughts coming from himself or as aresult of social interaction among members of the organization and itsstakeholders are believed to be the ideals of the organization in the futurethat must be achieved or realized through the commitment of all personnel. 
References
Allan, Louis A. Dalam Fremont E Kash and James E. Roseinweig. 1985. Organization and Management. Newyork: MC Grow Hill Book Company.
Bafadal, Ibrahim. 2003. Peningkatan Profesionalisme Guru Sekolah Dasar dalam Kerangka Manajemen Peningkatan Mutu Berbasis Sekolah. Jakarta: Bumi Aksara.
Danim, Sudarman. 2003. Agenda Pembaharuan Sistem Pendidikan. Yogyakarta: Pustaka Pelajar.
Dowson, Peter P. 1985. Foundamentals of Organizational Behaviour on Experimental Approach. Englewood Cliffs, New Jersey 0763: Prentice-Hall, Inc.
Depdikbud. 1998. Panduan Manajemen Sekolah. Jakarta: Direktorat Pendidikan Menengah.
Ernest Dale. 1978. Management: Theory and Practise. Pensylvania: Mc. Grawskill.
Fattah, Nanang, 2004. Landasan Manajemen Pendidikan. Bandung: P.T. Remaja Rosda Karya.
French, Fred E., 1976. A Theory of Leadership Effectiveness. New York : McGraw-Hill Book Company.
Fiedler, Wendell at.all, 1978. Organization Development Theory, Practice and Research. Texas : Business Publication, Inc.
Hellriegel, Don. 1982. Management. Third Edition. By Addison-Wesley Publishing Company, Inc.
Karim M, Rusli. 1991. Pendidikan Islam di Indonesia dalam Transformasi Sosial Budaya" dalam Muslih Usa. 1991. Pendidikan Islam di Indonesia antara Cita dan Fakta. Yogyakarta: Tiara Wacana.
Koontz, Harold and Cyril O'Donnel. 1964. Principles of Management: An Analysis of Managerial Functions. New York: McGraw-Hill Book Company.
Komariah, Aan dan Cepi Triatna, 2006. Visionary Leadership. Bandung : Bumi Aksara.
Madhi, Jamal. 2002. Menjadi Pemimpin yang Efektif dan Berpengaruh: Tinjauan Manajemen Kepemimpinan Islam. Terj. Anang Syafrudin dan Ahmad Fauzan. Bandung: PT Syaamil Cipta Media.
Meichati, Siti. 1976. Pengantar Ilmu Pendidikan. Yogyakarta: Rake Sarasin
Mulyasa, E. 2002. Manajemen Berbasis Sekolah: Konsep, Strategi, dan Implementasi. Bandung: PT. Remaja Rosdakarya.
P.Siagian, Sondang, 1988. Teori dan Praktek Kepemimpinan. Jakarta : Rineka Citra.
Paul, Hersey et. Al. 1977. Management of Organizational Behavior: Utilizing Human Resources. Third Edition. Englewood Cliffs, New Jersey. By Prentice-Hall, Inc
Pidarta, Made. 1988. Manajemen Pendidikan Islam Indonesia. Jakarta: Bumi Aksar.
Ramayulis, 2002. Ilmu Pendidikan Islam. Jakarta : Kalam Mulia.
Rivai, Veithzal. 2003. Kepemimpinan dan Perilaku Organisasi. Jakarta: RajaGrafindo Persada
Schemerhorn, John R. 1982. Managing Organizational Behaviour. The United States of America: John Wiley A & Sons, Inc.
Siagian, Sondang P. 1994. Manajemen Strategik. Jakarta: Bumi Aksara.
Steer, Richard M. 1985. Organizational effectiveness. Jakarta: Erlangga.
______________. 1985. Managing Effective Organization: an Introduction. Boston: Kent Publishing Company a Division of Wadsworth, Inc.
Stoner, James A.F. 1982. Management. Second Edition. Englewood Cliffts, N.J. By Prentice-Hall, inc.
Tilaar, H.A.R. 1992. Manajemen Pendidikan Nasional. Bandung: Remaja Rosdakarya.
Thoha, Miftah. 1995. Kepemimpinan dalam Manajemen. Jakarta: Rajawali.
____________. 1983. Kepemimpinan dalam Manajemen. Jakarta: Rajawali Pers.
Ulwan, Abd. Allah Nashih. 1981. Tarbiyah Aulad fi al-Islam. Beirut: Dar al-Islam.
Wahid, Abdurrahman. 1399 H. Bunga Rampai Pesantren. Jakarta: Darma Bakti.
Wahjosumidjo. 2002. Kepemimpinan Kepala Sekolah: Tinjauan Teoritik dan Permasalahannya. Jakarta: PT. Raja Grafindo Persada.
Wiles, Kimball. 1967. Supervision for Better School. New Jersey: Englewood-Cliff
Wirawan. 2001. Pendidikan Jiwa Kewirausahaan: Strategi Pendidikan Nasional Dalam Globalisasi dan Otonomi Daerah. Jakarta: Uhamka Press.
http://edunet07.multiply.com/journal/item/12/Paradigmakepemimpinan
rudylatu.googlepages.com/Leadership.ppt
http://www.berpolitik.com/static/myposting/2008/11/myposting_17927.html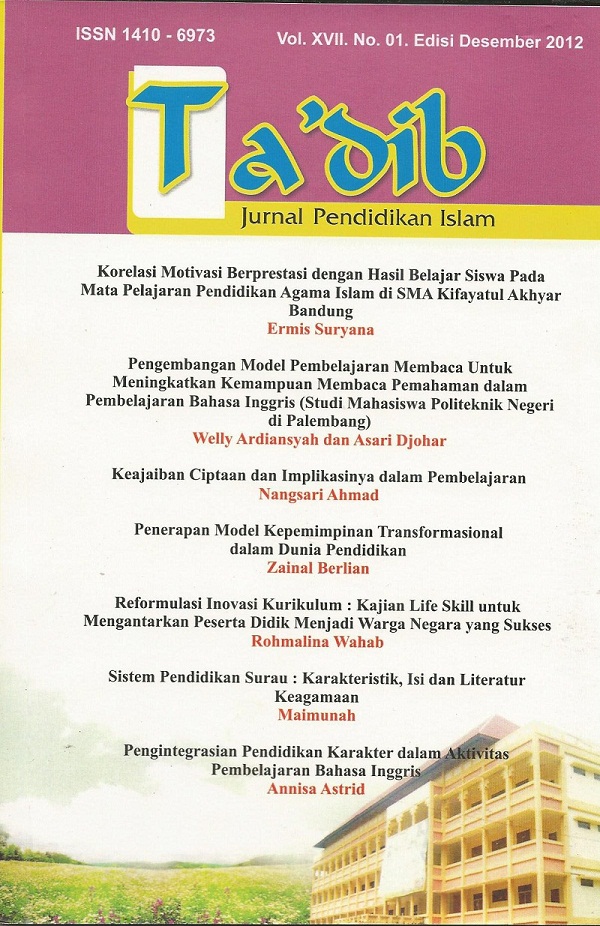 How to Cite
Berlian, Z. (1). PENERAPAN MODEL KEPEMIMPINAN TRANSFORMASIONAL DALAM DUNIA PENDIDIKAN. Ta'dib: Journal of Islamic Education (Jurnal Pendidikan Islam), 17(02), 195-216. Retrieved from http://jurnal.radenfatah.ac.id/index.php/tadib/article/view/32

Ta'dib by http://jurnal.radenfatah.ac.id/index.php/tadib is licensed under a Creative Commons Attribution-ShareAlike 4.0 International License.