VERDICT OFF (DEATH PENALTY) FOR THE DRUG OFFENDER CRIME IN PERSPECTIVE OF ISLAMIC EDUCATION
Muhammad Tisna Nugraha

State Islamic Institute of Pontianak
Keywords:
Death Penalty, Drugs, Islamic Education
Abstract
This paper raises the issue of the death penalty for drug-crime actors in Islamic education perspective, especially when the President Joko Widodo refused to pardon the actors at the beginning of his reign. Although the execution was likely contrary to the wishes of human right instigators, but on the other hand, such punishment is one vehicle in providing education to the citizens as well as the efforts to actualize the law enforcement in Indonesia. The implementation of the death sentence does not touch directly the scope of formal education in Indonesia. However, this is where the emerging hope and the search for enlightenment of such punishment is seen from the eyes of Islamic education which has applied the concept of reward and punishment in its system. Thus, through this paper, it is expected that educators can assist in bridging the imposition of a death sentence as an attempt to form good citizens.
References
Al Abrasyi, M. Athiyah. (1990). Dasar-Dasar Pokok Pendidikan Islam. Jakarta: Bulan Bintang.
Asy-Syawi, Taufiq Muhammad. (1997). Syura Bukan Demokrasi. Jakarta: Gema Insani Press.
Anwar, Syamsul. (2010). Hukum Perjanjian Syari'ah Studi Tentang Akad dalam Fiqh Muamalat. Jakarta: Rajawali Press.
Al-Baqi, Muhammad Fuad Abdi. (1992). Al-Mu'jam al-Mufahras li al-Fadz al-Qur'an. Beirut: Daar al-Fikr.
Budaiwi, A. Ali. (2002). Imbalan dan Hukuman Pengaruhnya bagi Pendidikan Anak. Jakarta: Gema Insani.
Hasbiyallah. (2006). Fikih Untuk Kelas VIII MTs. Bandung: Grafindo Media Pratama.
Iskandar, Pranoto. (2012). Hukum HAM Internasional Sebuah Pengantar Kontekstual. Bandung : IMR Press.
Kadar, M. Yusuf. (2011). Tafsir Ayat Ahkam, Tafsir Tematik ayat-ayat Hukum. Jakarta: Amzah.
Lubis, Todung Mulya dan Alexander Lay. (2009). Kontroversi Hukuman Mati Perbedaan Pendapat Hakim Konstitusi. Jakarta: Kompas Media Nusantara.
Qardhawi, Yusuf. (1995). Fatwa-Fatwa Kontemporer 2. Jakarta: Gema Insani Press.
Rustam, dkk. (2013). Konteks Pemikiran dalam Peradaban. Pontianak: STAIN Press.
Salahuddin, Muhammad. Ulumuna, Jurnal Studi Keislaman, Volume 16 Nomor 1 (Juni) 2012. Institut Agama Islam Negeri Mataram.
Sills, David L. (1972). International Encyclopedia of The Social Sciences. London: Collier Macmillan.
Sumarsono, S. (2006). Pendidikan Kewarganegaraan. Jakarta: Gramedia Pustaka.
Winarta, Frans H. (2009). Suara Rakyat Hukum Tertinggi. Jakarta: Kompas Media Nusantara.
Undang-Undang Narkotika Nomor 22 Tahun 1997
Undang-Undang No 5 Tahun 1997
Undang-Undang Psikotropika Nomor 5 Tahun 1997
Undang-Undang Tentang Pemasyarakatan Nomor 12 Tahun 1995
UU Sisdiknas Nomor: 20 Tahun 2003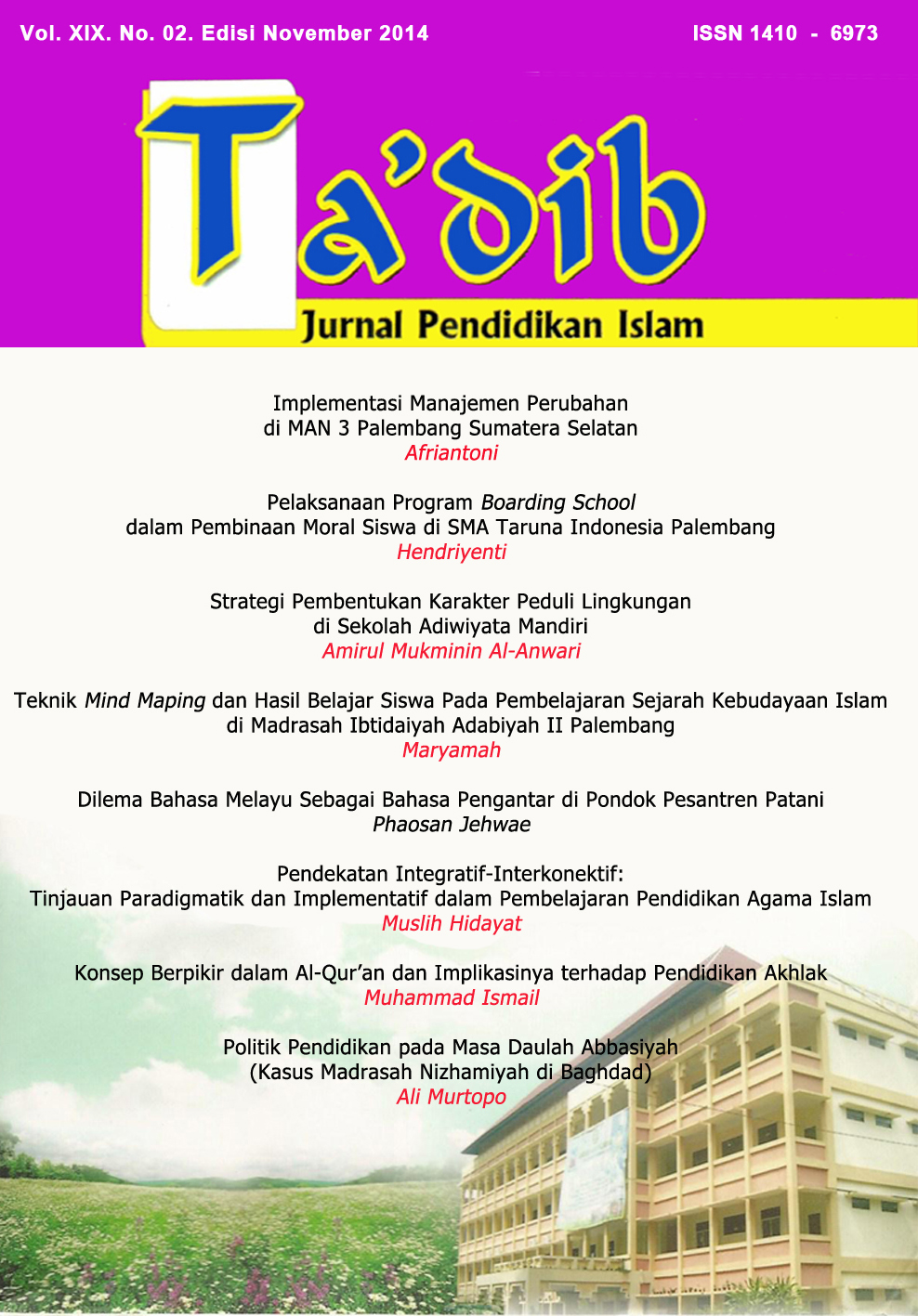 How to Cite
Nugraha, M. (2016). VERDICT OFF (DEATH PENALTY) FOR THE DRUG OFFENDER CRIME IN PERSPECTIVE OF ISLAMIC EDUCATION. Ta'dib: Journal of Islamic Education (Jurnal Pendidikan Islam), 20(2), 311-326. Retrieved from http://jurnal.radenfatah.ac.id/index.php/tadib/article/view/346

Ta'dib by http://jurnal.radenfatah.ac.id/index.php/tadib is licensed under a Creative Commons Attribution-ShareAlike 4.0 International License.