MANUSIA DAN POTENSI PENDIDIKANNYA; PERSPEKTIF FILSAFAT PENDIDIKAN ISLAM
Muhammad Hasbi

Fakultas Tarbiyah dan Keguruan UIN Raden Fatah
Abstract
Human being has a potential capacity to determine themselves with their own efforts to make education became their alternative choice to actualize themselves. In education process, human being position are always put as a starting point and ultimate goal becuase it is as their main goal of education. Islamic education phyloshopy clearly discusses human in Islamic concept. Human in islamic education is a unity of physical components, and the third components in every human lives as their potential support to retain their lives better. So, it must be supported with a such kind of media which is called education. With education, many kinds of potention can make a true Islamic human as the follower and messeger of Allah.
References
Al-Syaibany, Omar Mohammad al-Thomy. 1979. Falsafah Pendidikan Islam. Jakarta: Bulan Bintang.
Arabi, Ibn. dalam Jalaluddin Rahmat. 1995. Kontekstualisasi Doktrin Islam dalam Sejarah. Jakarta: Temprint.
Carrel, Alexis. "Man the Unknown". dalam Quraish Shihab. 1996. Wawasan Al-Qur'an: Tafsir Maudhu'i Atas Berbagai Persoalan Umat. Bandung: Mizan.
Daudy, Ahmad. 1989. Kuliah Filsafat Islam. Jakarta: Bulan Bintang.
Freire, Paulo F. 1971. Cultural Action for Freedom, USA: Penguin Education.
Hasan, Fuad. 1983. Islam dan Pendidikan Nasional, Jakarta: Lembaga Penelitian IAIN Jakarta.
Jalaluddin dan Usman Said. 1994. Filsafat Pendidikan Islam, Konsep dan Perkembangan Pemikirannya. Jakarta: Grafindo Persada.
Nasr, Sayyed Hussein. "Knowledge and the Secred". Terj. Suharsono. 1997. Pengetahuan dan Kesucian. Yogyakarta: Pustaka Pelajar.
Nasution, M. Yasir. 1988. Manusia Menurut Al-Ghazali. Jakarta: Rajawali.
Nata, Abudin. 1997. Filsafat Pendidikan Islam. Jakarta: Logos Wacana Ilmu.
Ramayulis. 2008. Ilmu Pendidikan Islam. Jakarta: Kalam Mulia.
Syari'ati, Ali. 1987. Tugas Cendikiawan Muslim. Jakarta: Rajawali.
Syam, M. Noer. 1986. Filsafat Pendidikan dan Dasar filsafat Pendidikan Pancasila. Surabaya: Usaha Nasional.
Syukur, Amin. "Manusia dalam Pandangan Tasawuf"dalam Chabib Thoha (Peny). 1996. Reformulasi Filsafat Pendidikan Islam. Yogyakarta: Pustaka Pelajar.
Zuhairini. 1995. Filsafat Pendidikan Islam. Jakarta: Bumi Aksara.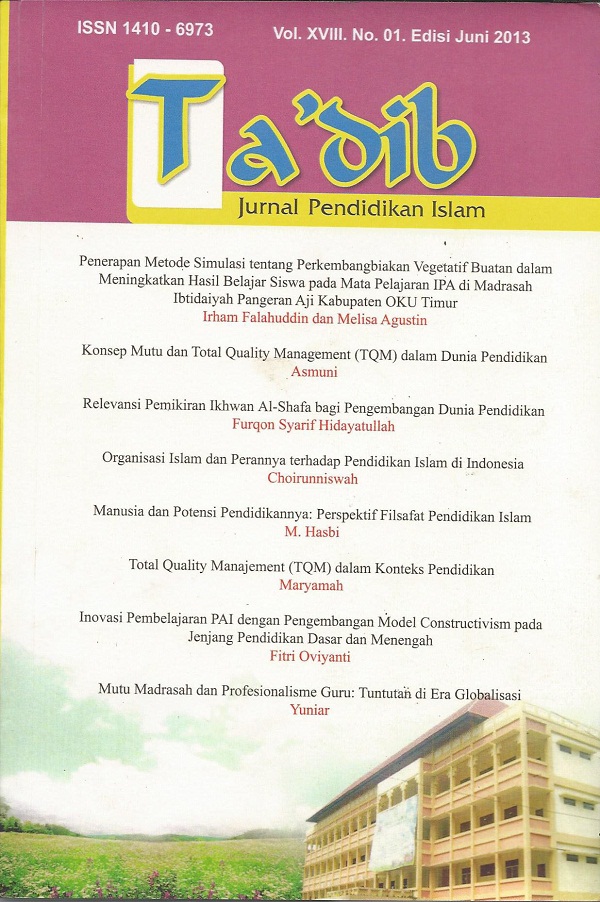 How to Cite
Hasbi, M. (1). MANUSIA DAN POTENSI PENDIDIKANNYA; PERSPEKTIF FILSAFAT PENDIDIKAN ISLAM. Ta'dib:Journal of Islamic Education (Jurnal Pendidikan Islam), 18(01), 85-94. https://doi.org/https://doi.org/10.19109/tjie.v18i01.40

Ta'dib by http://jurnal.radenfatah.ac.id/index.php/tadib is licensed under a Creative Commons Attribution-ShareAlike 4.0 International License.