MUTU MADARASAH DAN PROFESIONALISME GURU: TUNTUTAN DI ERA GLOBALISASI
Yuniar Yuniar

Fakultas Tarbiyah dan Keguruan UIN Raden Fatah
Abstract
The quality of madrasah and professionalism of teachers  are an important element that continues under the spotlight of various circles. It is considered reasonable for the development of madrasas in quantity does not accompanied by an increase in the quality / grade. In this era of globalization, in order to remain in existence, the school must pay attention to the quality. To that end, realize the quality of madrasah, as the essential prerequisite is the professionalism of teachers. Teachers are professionals who have the four competencies that pedagogic competence, personal, professional and social. Teachers are professional and qualified madrassas demands that must be realized in the era of globalization. This is reinforced by the emergence of the Law No. 14 Year 2005 on Teachers and Lecturers. The existence of this law meant that teachers have sufficient competence to the intellectual life of the nation.
References
Asrohah, Hanun. 1999. Sejarah Pendidikan Islam. Jakarta: Logos.
Azra, Azumardi. 2012. Pendidikan Islam, Tradisi dan Modernisasi di Tengah Tantangan Milenium III. Jakarta: UIN Press.
Danim, Sudarwan. 2010. Profesionalisasi dan Etika Profesi Guru. Bandung: Alfabeta.
Depag RI. 2001. Metodologi Pendidikan Agama Islam. Jakarta: Dirjen Pembinaan Kelembagaan Agama Islam.
Idi, Abdullah. 2013. Sosiologi Pendidikan, Individu, Masyarakat dan Pendidikan. Jakarta: Raja Grafindo Persada.
Nurdin, Syafruddin. 2002. Guru Profesional dan Implementasi Kurikulum. Jakarta: Ciputat Press.
Kunandar. 2007. Guru Profesional Implementasi KTSP dan Sukses dalam Sertifikasi Guru. Jakarta: Rajawali Pers.
Rahim, Husni. 2001. Arah Baru Pendidikan Islam di Indonesia. Jakarta: Logos.
Rusman. 2011. Model-Model Pembelajaran Mengembangkan Profesionalisme Guru. Jakarta: Raja Grafindo Persada.
Safarina. 2008. Urgensi Profesionalisme Guru dalam Meningkatkan Kualitas Pembelajaran. Makalah.
Saridjo, Marwan. 1996. Bunga Rampai Pendidikan Agama Islam. Jakarta: Dirjen Pembinaan Kelembagaan Agama Islam.
Soejipti, dan Rafli Kosasi. 2007. Profesi Keguruan. Jakarta: Rineka Cipta bekerja sama dengan Pusat Perbukuan Diknas.
Triyono, Bruri Moch. 2009. Evaluasi Kinerja Guru Profesional. Versi PDF.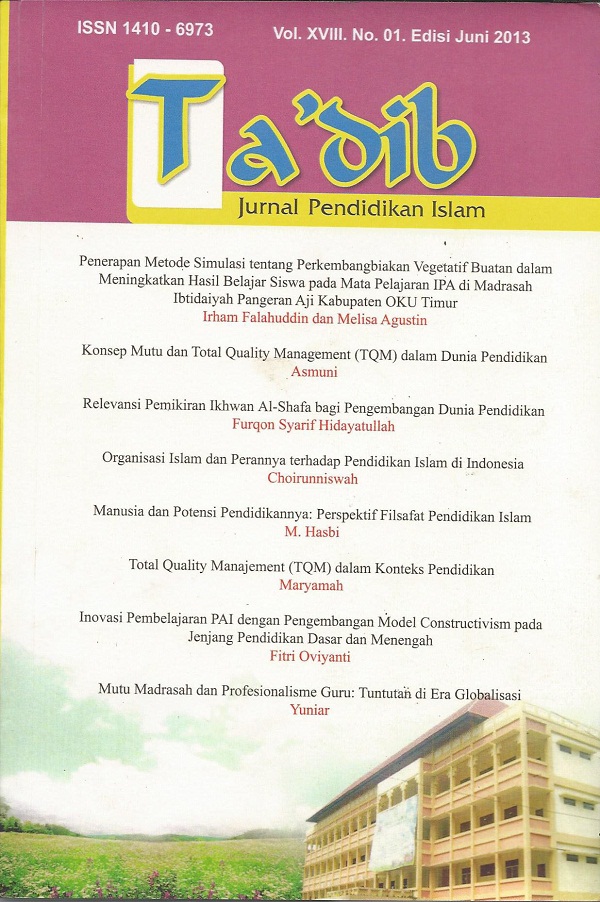 How to Cite
Yuniar, Y. (1). MUTU MADARASAH DAN PROFESIONALISME GURU: TUNTUTAN DI ERA GLOBALISASI. Ta'dib: Journal of Islamic Education (Jurnal Pendidikan Islam), 18(01), 135-161. Retrieved from http://jurnal.radenfatah.ac.id/index.php/tadib/article/view/43

Ta'dib by http://jurnal.radenfatah.ac.id/index.php/tadib is licensed under a Creative Commons Attribution-ShareAlike 4.0 International License.