NUANSA POLITISASI DALAM PELAKSANAAN TUGAS GURU SEBAGAI DAMPAK DARI DESENTRALISASI PENDIDIKAN
Afriantoni Afriantoni

Fakultas Tarbiyah dan Keguruan UIN Raden Fatah
Abstract
Education Decentralization is a fact that cannot be denied in the national system of education. Therefore, educational settings are vulnerable towards political policy played by the government that makes the government have a very dominant authority in determining the direction of education including teacher's duty. As educators, the teachers should have professional competence, pedagogic, personality, social that can make them professional teachers. Therefore, politicizing tendency is not expected to interfere with the professional duties of teachers. As a consequency, the strategies that lead to improve the quality and welfare of teachers are necessarily needed.
References
Pendidikan. Bandung: Universitas Padjadjaran.
Bahri, Djamarah Syaiful. 2000. Guru dan Anak Didik dalam Interaksi Edukatif. Jakarta: Rineka Cipta.
Istana Ilmi. 2012. http://istanailmu.com/archives 2011/desentralisasi-pendidikan/html,
Nasution, S. 2010. Sosiologi Pendidikan. Jakarta: Bumi Aksara.
Purwanto, Ngalim. 1994. Ilmu Pendidikan Teoritis dan Praktis. Bandung: Remaja Rosdakarya.
Santoso, Budi. 2012. http://budisansblog.blogspot.com/2012/01/antara-resentralisasi-dan.html,
Sirozi, M. 2010. Politik Pendidikan. Jakarta: Rajawali Pers.
Suara NTB. Sosial Detil dalam: http://www.suarantb.com/2012/01/13/Sosial/detil5%201.html,
Syah, Muhibbin. 1995. Psikologi Pendidikan Suatu Pendekatan Baru. Bandung: Remaja Rosda Karya.
Tafsir, Ahmad. 1992. Ilmu Pendidikan dalam Perspektif Islam. Bandung: Remaja Rosdakarya.
Uno, Hamzah B. 2008. Profesi Kependidikan: Problema, Solusi, dan Reformasi Pendidikan di Indonesia. Jakarta: Bumi Aksara.
Yoyon, Bahtiar Irianto. 2011. Kebijakan Pembaruan Pendidikan: Konsep, Teori, dan Model. Jakarta: Rajawali Pers.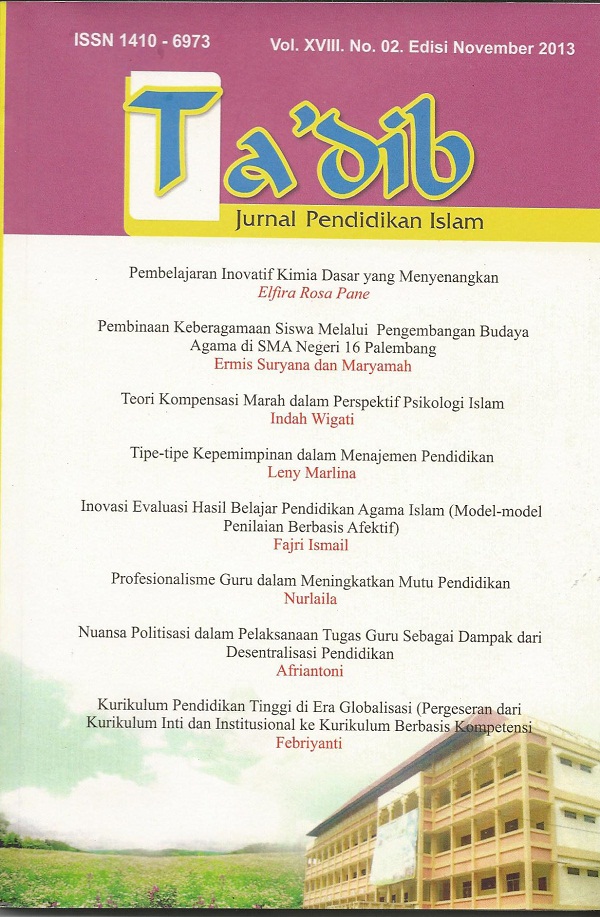 How to Cite
Afriantoni, A. (1). NUANSA POLITISASI DALAM PELAKSANAAN TUGAS GURU SEBAGAI DAMPAK DARI DESENTRALISASI PENDIDIKAN. Ta'dib:Journal of Islamic Education (Jurnal Pendidikan Islam), 18(02), 270-293. https://doi.org/https://doi.org/10.19109/tjie.v18i02.50

Ta'dib by http://jurnal.radenfatah.ac.id/index.php/tadib is licensed under a Creative Commons Attribution-ShareAlike 4.0 International License.