KURIKULUM PENDIDIKAN TINGGI DI ERA GLOBALISASI (PERGESERAN DARI KURIKULUM INTI DAN INSTITUSIONAL KE KURIKULUM BERBASIS KOMPETENSI)
Febriyanti Febriyanti

Fakultas Tarbiyah dan Keguruan UIN Raden Fatah
Abstract
Higher Education is a strategic economic engine as it plays a key role in the development and application of knowledge, expertise, skills and noble values of society through the development of the society with intensive knowledge to establish a civilized and independent society.One of the goals of education arranged by any institutions is to provide and produce graduates who have the ability and competitiveness in the search, acquisition, and creation of jobs. On the issue of competitiveness, unfortunately the condition of human resources (HR) in Indonesia is at a low level. One reason for the low competitiveness is lies on the higher education curriculum which is based on the content (content-based) that focuses on achievement (GPA) which describes the cognitive aspect, not on competence.One of the changes that must be done is to change the curriculum. Competency Based Curriculum (CBC) is believed to be the best answer to the changing times for the provision of education. Even, the curriculum is an answer to the nation in order to achieve a competitive advantage in the world (nation competitiveness). 
References
Arifin, Anwar. 2005. Paradigma Baru Pendidikan Nasional. Jakarta: Balai Pustaka.
Barrie, J. dan R.W. Pace. 1997. Competence, Efficiency, and Organizational Learning". Human Resource Development Quarterly. Vol. 8 No. 4. Winter.
Barry, K. dan L. King. 1993. Beginning Teaching. Australia: Social Science Press.
Brown, J.W. dkk. 1977. AV Instructional Technology, Media and Methods. New York: McGraw-Hill Book Company.
Castells, M. 1996. The Rise of The Network Society. Vol. I. Cambridge Mass: Blackwell Publ.
Chappell, C. 1996. Quantity and Competency based Education and Training. The Literacy Education.
Collin, C. 1993. Competencies: The Competencies Debate in Australian Education and Training. Curtin: Australian College of Education.
Cooper, J.M. 1982. Classroom Teaching Skills. Lexington: D.C. Heath and Company.
Departemen Pendidikan Nasional. 2003. Pelayanan Profesional Kurikulum 2004, Kurikulum Berbasis Kompetensi. Jakarta: Pusat Kurikulum dan Balitbang Depdiknas.
-----------------------------------------------. 2000. Keputusan Menteri Pendidikan Nasional nomor 232/U/2000 tentang Pedoman Penyusunan Kurikulum Pendidikan Tinggi dan Penilaian Hasil Belajar Mahasiswa. Jakarta.
------------------------------------------------. 2005. Peraturan Pemerintah Republik Indonesia Nomor 19 Tahun 2005 tentang Standar Nasional Pendidikan. Jakarta.
Departemen Tenaga Kerja dan Transmigrasi. http://www.nakertrans.go.id/pusdatinnaker/BPS/ Penganggur/penganggur.htm
Dewijani, Silvi. 2010. Pergeseran Paradigma Ke Arah KBK, Menuju Perguruan Tinggi yang Berkualitas. Makalah. Purwokerto.
Drucker, Peter F. 1992. Managing for The Future The Iggos and Beyond. New York: Penguin.
Erridge, A. dan S. Perry. 1994. "The Validity and Value of National Vocational Qualification", British Journal of Education and Work. Vol. 7. No. 2.
Friedman, J. 1994. Cultural Identity and Global Process. London: Sage Publ.
Giddens, A. 1990. The Consequences of Modernity. Polity Press: United Kingdom.
Gonczi, A. 1997. Future Direction for Vocational Education in Autralia Secondary Schools. Australia and New Zealand Journal of Vocational Education Research. Vol. 5 No. 1.
Gordon, T. 1974. Teacher Effectiveness Training. New York: David McKay Company.
Harris, R. et all. 1995. Competency based Education and Training: Between a Rock and Whirlpool, Sout Melbourne: MacMillan Education Australia; Hodkinson, P dan M. Issitt (eds). 1995. The Challenge of Competence. New York: Casell; Hyland, T. 1994. Competence, Education and NVQs: Dissenting Perspectives, London: Cassell.
Harsono, Yohannes HC. 2005. Kurikulum Terpadu. Pusat Pengembangan Pendidikan. Yogyakarta: Universitas Gadjah Mada.
-------------------------------------. 2005. Pengantar Problem-based Learning. Yogyakarta: Medika.
Hendricks, J. 1994. Total Learning. New York: Macmillan College Publishing Company.
Hyland, T. 1997. National Vocational Qualifications, Skill Training and Employers' Need". Journal of Vocational Education for the Workplace.
Inkeles, A. dan D.H. Smith. 1974. Becoming Modern Individual Change in Six Developing Countries. Cambridge: Harvard University Press.
Jackson, N. 1994. If Competence is the Answer, What is the Question? A Collection of Original Essay on Curriculum for the Workplace.
Jones, L. dan R. Moore. 1995. Appropriating Competence. British Journal of Education and Work. Vol. 8 No. 2.
Kotter, P. 1955. The New Rules How to Succeed in Today's Post-Corporate World. New York: The Free Press.
Marshall, G. 1992. Oxford, Concise Dictionary of Sociology. Oxfor: Univ. Press.
Robertson, R. (1992. Globalization Social Theory and Global Culture. London: Sage Publ.
Sailah, Illah. 2008. Pengembangan Softskill di Perguruan Tinggi. Jakarta: Tim Kerja Pengembangan Softskill Direktorat Jenderal Pendidikan Tinggi.
Santyasa, I Wayan. 2004. Model Pembelajaran Inovatif dalam Implementasi Kurikulum Berbasis Kompetensi, Makalah pada Penataran Guru-guru SMP, SMP dan SMK se-Jembrana.
Satryo, Soemantri Brojonegoro dkk. 2001. Implementasi Paradigma Baru di Perguruan Tinggi, Reformasi Pendidikan Dalam Konteks Otonomi Daerah. Yogyakarta: Adicita Karya Nusa.
Silberman, C.E. 1970. Crisis in the Classroom. New York: Random House.
Siregar, Narumondang Bulan. 2000. Perencanaan Kebutuhan Material (Material Requirement Planning) Berdasarkan Sistem Industri Modern Dengan Pendekatan Sistem MRP II. Medan: USU.
Shephard, R. W. 1970. Theory of Cost and Production Function. New Jersey: Princeton University Press.
Smith, M.D. 1978. Educational Psychology and Its Classroom Applications. Boston: Allyn and Bacon.
Sub Direktorat KPS (Kurikulum dan Program Studi). 2009. Buku Panduan Pengembangan Kurikulum Berbasis Kompetensi Pendidikan Tinggi (Sebuah Alternatif Penyusunan Kurikulum). Jakarta: Sub Direktorat KPS.Supriadi, Dedi. 2005. Membangun Bangsa Melalui Pendidikan. Bandung: Remaja Rosdakarya.
Sutjipto, Kesaksian Seorang Rektor, Siapa Menyuruh Mahasiswa Turun Ke Jalan, Bunga Rampai Sketsa Pendidikan. Jakarta : Global Mahardika Publications, 2004.
Tilaar, H.A.R. 1994. Manajemen Pendidikan Nasional. Bandung: Remaja Rasdakarya.
--------------------. 2004. Manajemen Pendidikan Nasional, Kajian Pendidikan Masa Depan. Bandung: Remaja Rosdakarya.
--------------------. 2006. Standarisasi Pendidikan Nasional, Suatu Tinjauan Kritis. Jakarta: Rineka Cipta.
Tamidi. 2010. Peranan Kurikulum Berbasis Kompetensi (KBK) Terhadap Pembentukan Softskill Mahasiswa. Medan: Fakultas Psikologi Universitas Sumatera Utara.
Tantra, Dewa Komang. 2009. Kurikulum Berbasis Kompetensi. Makalah pada Kegiatan Penyempurnaan Kurikulum Fakultas Seni Rupa dan Desain, ISI Denpasar.
Thurow, Lester. 1996. The Future of Capitalism. London: Nicholas Realy.
UNESCO. 1998. Higher Education in the Twenty-first Century: Vision and Action. World Conference on Higher Eduation. Paris, 5-9 October 1998.
Undang-undang No. 2 Tahun 1989 tentang Sistem Pendidikan Nasional
Undang-undang No. 20 Tahun 2003 tentang Sistem Pendidikan Nasional
Weigand, J. 1977. Implementing Teacher Competencies. Englewood Cliff: Hall.
Woodring, P. 1975. Thew development of teacher education. in K. Ryan (ed), Teacher Education: The seventy fourth yearbook of the national society for a study of education. Chicago: The University of Chicago Press.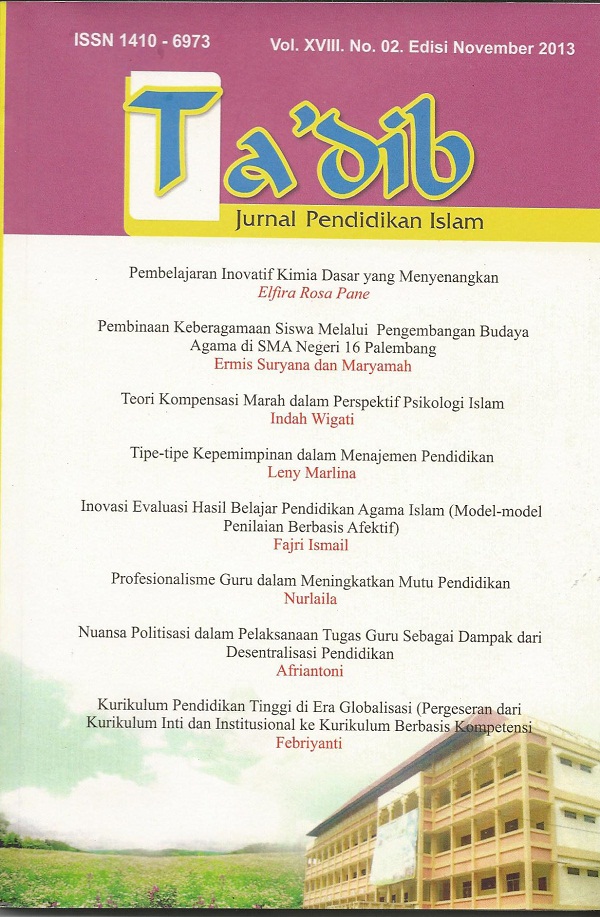 How to Cite
Febriyanti, F. (1). KURIKULUM PENDIDIKAN TINGGI DI ERA GLOBALISASI (PERGESERAN DARI KURIKULUM INTI DAN INSTITUSIONAL KE KURIKULUM BERBASIS KOMPETENSI). Ta'dib: Journal of Islamic Education (Jurnal Pendidikan Islam), 18(02), 294-327. Retrieved from http://jurnal.radenfatah.ac.id/index.php/tadib/article/view/51

Ta'dib by http://jurnal.radenfatah.ac.id/index.php/tadib is licensed under a Creative Commons Attribution-ShareAlike 4.0 International License.