ARTI PENTING WORLD VIEW PENDIDIK DALAM PENDIDIKAN
Hery Noer Aly

STAIN Bengkulu
Abstract
This article will explain how can world view of educator influence on education, either its process or personality of its alumni. The explanation will analyze the urgency of world view in various activities of life, especially in education. It will also analyze world view as foundation and content of education, and then the relation between educator personality and education he holds. The writing in turn will show that world view can be made as a method of analysis to see a coherency and synchronization among the components of system.
References
'Ainain ,'Ali Khalil Abu, al-. 1980. Falsafah al-Tarbiyah al-Islamiyyah fi al-Qur'an al-Karim. Cairo: Dar al-Fikr al-'Arabi.
Bagus, Lorens. 1996. Kamus Filsafat. Jakarta: PT Gramedia Pustaka Utama.
Brubacher, John S. 1950. Modern Philosophy of Education. New York: McGraw-Hill Book Company, Inc.
Henderson, Stella Van Petten. 1959. Introduction to Philosophy of Education. Chicago: The University of Chicago Press.
Madkur, 'Ali Ahmad. 1991. Manhaj Tadris al-'Ulum al-Syar'iyyah. Cairo: Dar al-Syawwaf.
Muthahhari, Murtadha. 1994. Pandangan Dunia Tauhid, terjemahan Agus Effendi dari Fundamentals of Islamic Thought: God, Man and the Universe, bab "The Worldview of Tauhid". Bandung: Mizan Press.
Nadwi, Abu al-Hasan 'Ali al-Husaini al-. 1987. Nahwa al-Tarbiyah al-Islamiyyah al-Hurrah fi al-Hukumat wa al-Bilad al-Islamiyyah. Beirut: Mu'assasah al-Risalah, cet. ke-5,.
Nahlawi, 'Abd al-Rahman al-. 1979. 'Ushul al-Tarbiyah al-Islamiyyah wa Asalibuha fi al-Bait wa al-Madrasah wa al-Mujtama'. Damaskus: Dar al-Fikr, cet. I.
Nasution, Harun. 1972. Teologi Islam: Aliran-Aliran, Sejarah, Analisa, Perbandingan. Jakarta: Yayasan Penerbit Universitas Indonesia, cetakan kedua.
Phenix, Phillip. H. 1985. Philosophy of Education. New York: Holt, Rinehart and Winston.
Quthb, Sayyid. 2007. "Kha¡sha'ish al-Tashawwur al-Islami wa Muqawwimatuh," dalam http://www.al-eman.com.
Shariati, Ali. 1982. Tugas Cendekiawan Muslim, terjemahan M. Amin Rais dari Man and Islam. Yogyakarta: Shalahuddin Press.
Tim Penyusun Kamus Pusat Pembinaan dan Pengembangan Bahasa. 1995. Kamus Besar Bahasa Indonesia, selanjutnya disebut KBBI . Jakarta: Balai Pustaka, edisi kedua.
Zarkasy, Hamid Fahmy. 2005. "Worldview sebagai Asas Epistemologi Islam," dalam Majalah Pemikiran dan Peradaban Islam, Islamia, Tahun II Nomor 5, April-Juni 2005.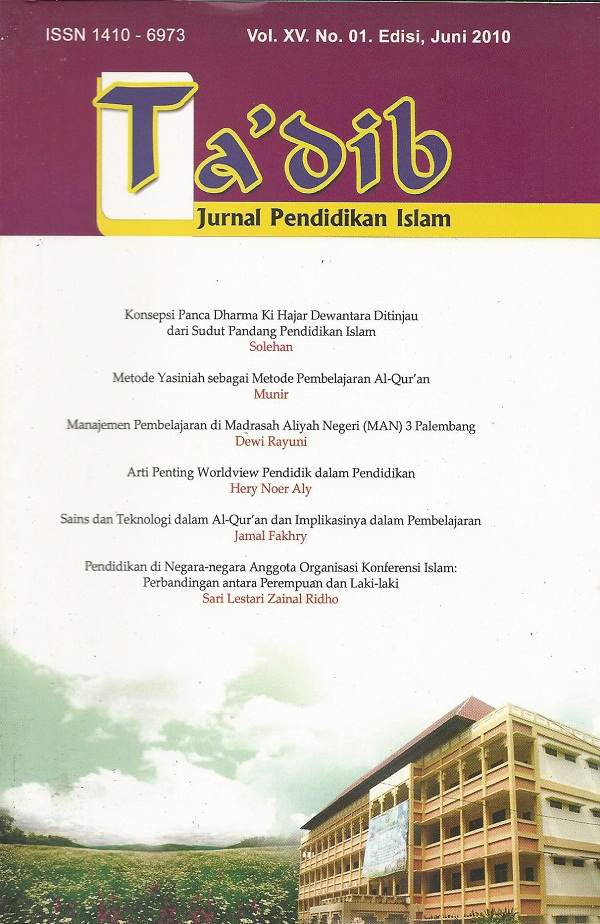 How to Cite
Aly, H. (1). ARTI PENTING WORLD VIEW PENDIDIK DALAM PENDIDIKAN. Ta'dib: Journal of Islamic Education (Jurnal Pendidikan Islam), 15(01), 105-120. Retrieved from http://jurnal.radenfatah.ac.id/index.php/tadib/article/view/69

Ta'dib by http://jurnal.radenfatah.ac.id/index.php/tadib is licensed under a Creative Commons Attribution-ShareAlike 4.0 International License.