PENDIDIKAN DI NEGARA-NEGARA ANGGOTA OKI: PERBANDINGAN ANTARA PEREMPUAN DAN LAKI-LAKI
Sari Lestari Zainal Ridho

Politeknik Negeri Universitas Sriwijaya Palembang
Abstract
Education is the important aspect in human development. It is the  tool for improving capacity building and capability of human resources. Human capital can be productive and more powerful through a good education. Although Islam support the quality and role  of women but in many Islamic countries, unfortunately and empirically, there are still exist a discrimination toward women. It is not only exist in domestic issues, but also in education field. In those countries women education are still left behind of men education. Using data of educational condition at Organization of Islamic Conference (OIC) this article analyze that gap between men and women education at those countries still exist and become strategic issues or problems have to be solved by all of the OIC's members.
References
Akcay, Selcuk. 2006. "Corruption and Human Development" dalam Cato Journal. Vol. 26, No. 1; pg. 29-48. ABI/INFORM Global diakses 29 Januari 2010.
Atika, Samrana . 2010. "The Impact of Tertiary Education on Development of Moderate Society in Pakistan", dalam Contemporary Issues in Education Research. Littleton.Vol. 3, Iss. 2.
Engineer, Merwan., King, Ian., & Roy, Nilanja. 2008. "The Human Development Index as a Criterion for Optimal Planning", dalam Indian Growth and Development Review. Vol. 1, No. 2; pg.172-192
Ferber, Marianne A. and Helen M Berg. 1991."Labor Force Participation of Women and the Sex Ratio: A Cross-Country Analysis." Review of Social Economy 49, No. 1: 2-19.
hdr.undp.org/en/media/HDR_20072008_Tech_Note_1.pdf, diakses 14 Februari 2010.
http://www.deplu.go.id/Pages/IFPDisplay.aspx?Name=MultilateralCooperation&IDP=4&P=Multilateral&l=id, diakses 18 Februari 2010.
http://www.oic-oci.org/member_states.asp, 2009 diakses 10 Februari 2010
http://id.wikipedia.org/wiki/Organisasi_Konferensi_Islam, diakses 1 maret 2010.
Qureshi, Muhammad Azeem. 2009. "Human Development, Public Expenditure and Economic Growth: a System Dynamics Approach", dalam International Journal of Social Economics. Vol. 36, Iss. ½
Qureshi, Muhammad Azeem. 2008. "Challenging Trickle Down Approach: Modelling and Simulation of Public Expenditure and Human Development-the Case of Pakistan, dalam International Journal of Social Economics. Vol. 35, Iss. 4.
Narayana, M., R. 2009. "Education, Human Development and Quality of Life: Measurement Issues and Implications for India", dalam Soc Indic Res. Vol. 90; pg. 279-293.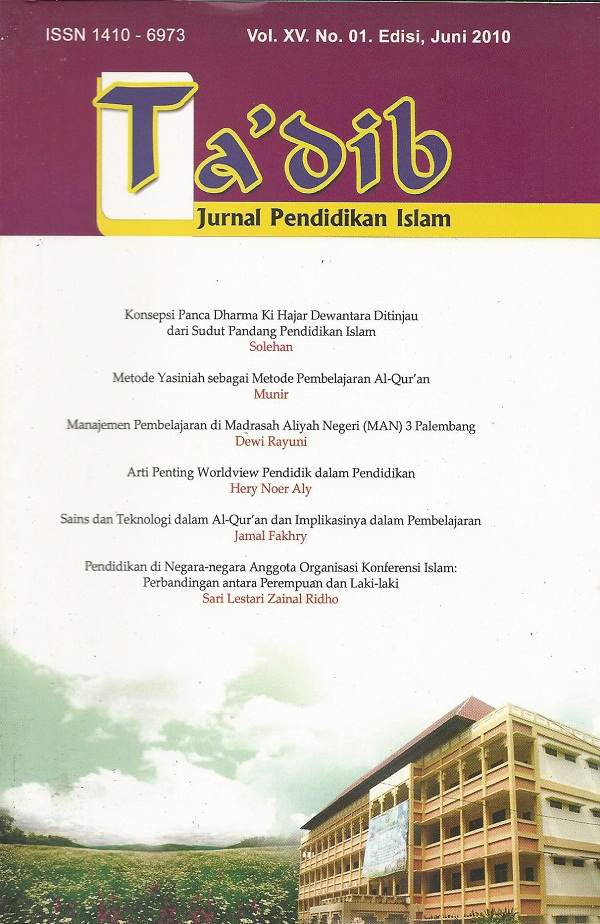 How to Cite
Zainal Ridho, S. (1). PENDIDIKAN DI NEGARA-NEGARA ANGGOTA OKI: PERBANDINGAN ANTARA PEREMPUAN DAN LAKI-LAKI. Ta'dib: Journal of Islamic Education (Jurnal Pendidikan Islam), 15(01), 143-160. Retrieved from http://jurnal.radenfatah.ac.id/index.php/tadib/article/view/71

Ta'dib by http://jurnal.radenfatah.ac.id/index.php/tadib is licensed under a Creative Commons Attribution-ShareAlike 4.0 International License.