MODEL PEMBELAJARAN INQUIRY DAN HASIL BELAJAR SISWA PADA MATA PELAJARAN AQIDAH AKHLAK KELAS VIII MTs NEGERI TEBING TINGGI EMPAT LAWANG
Dianti Asmayani

MTs Tebing Tinggi Kabupaten Empat Lawang Sumatera Selatan
Abstract
Most of teaching and learning process that used by the teacher is lecturing method. It could be the reason that the students feel bored and effects to their bad score. In order to solve these problems, the teacher should select the appropriate method which could stimulate students to think and active in the teaching and learning process.The result of the study showed that inquiry method could improve students score on Aqidah Akhlak subject especially on Mukjizat dan kejadian luar biasa lainya material.  Moreover, it was found that there was a significant difference in students' achievement between the students who were taught by the application of inquiry model on those who were not. The result could be seen that mean score of the students was 17. The post-test score was 10.08, and KKM was 47.37%. Moreover perbedaan t0 is higher than  either at significant level of 5% or at significant level of 1%, it was 2,00  <  5,19 > 2,65.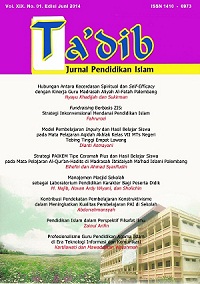 How to Cite
Asmayani, D. (1). MODEL PEMBELAJARAN INQUIRY DAN HASIL BELAJAR SISWA PADA MATA PELAJARAN AQIDAH AKHLAK KELAS VIII MTs NEGERI TEBING TINGGI EMPAT LAWANG. Ta'dib: Journal of Islamic Education (Jurnal Pendidikan Islam), 19(01), 43-62. Retrieved from http://jurnal.radenfatah.ac.id/index.php/tadib/article/view/9

Ta'dib by http://jurnal.radenfatah.ac.id/index.php/tadib is licensed under a Creative Commons Attribution-ShareAlike 4.0 International License.