Kualitas Kepemimpinan Bagi Masa Depan Perpustakaan Umum
Dwi Wijatiningsih

UIN Sunan Kalijaga Yogyakarta

Sri Rohyanti Zulaikha

Fakultas Adab dan Humaniora, UIN Raden Fatah Palembang
Keywords:
kualitas, kepemimpinan, perpustakaan umum
Abstract
This study aims to determine the quality of leadership for public libraries. The research method used in this paper is qualitative. Qualitative research is a study that understands the phenomena about what is experienced by the research subject, the description uses words and language in a special natural context. The data collection technique used in this paper is the Library Research. The results of the discussion are the quality of a prospective library leader can be seen from the competencies of senior librarians, one of the appropriate leadership styles for public libraries is the transformational leadership style, and found 10 steps to become a quality leader.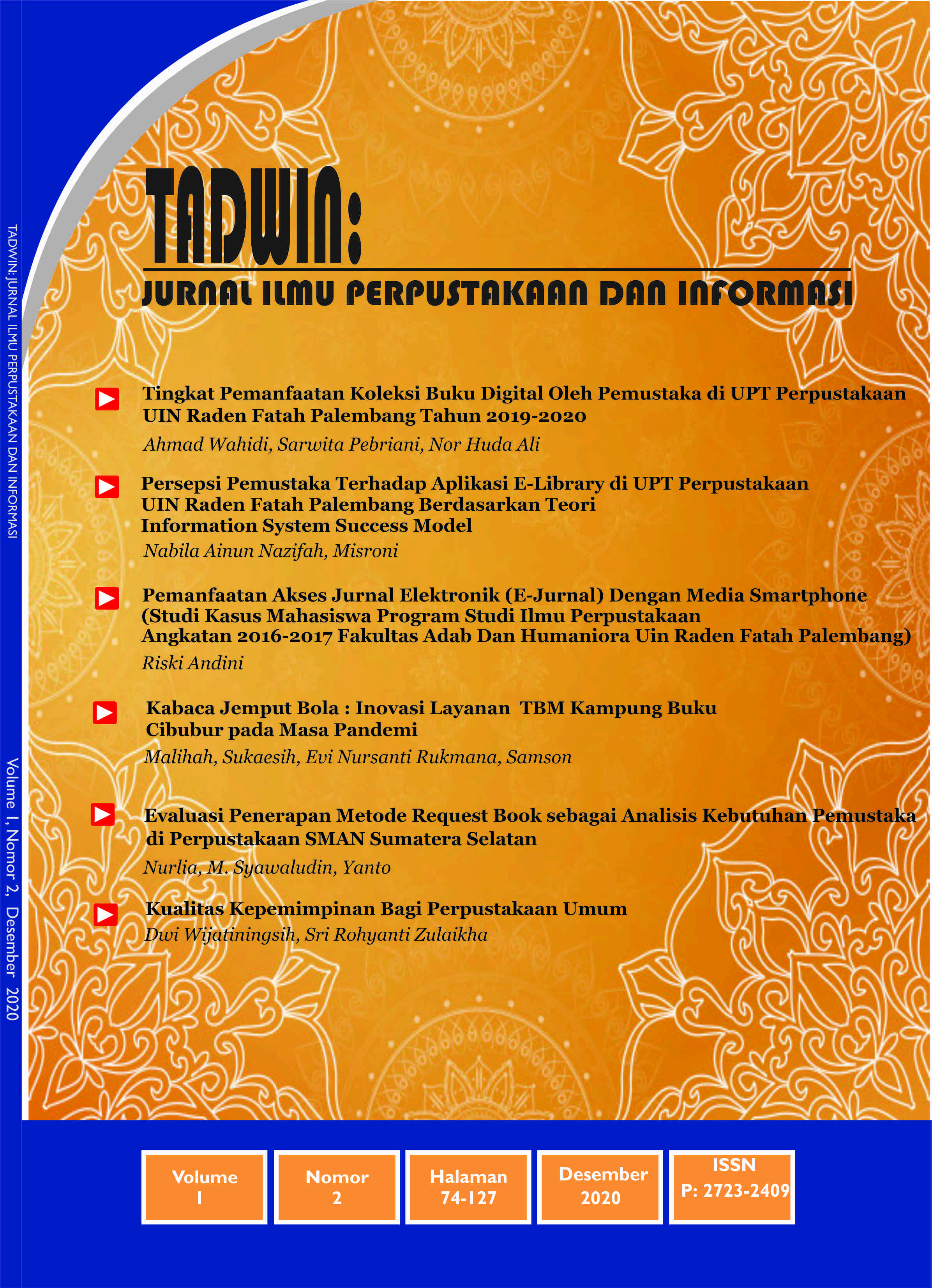 How to Cite
Wijatiningsih, D., & Zulaikha, S. ( ). Kualitas Kepemimpinan Bagi Masa Depan Perpustakaan Umum. TADWIN : Jurnal Ilmu Perpustakaan Dan Informasi, 1(2), 120-127. https://doi.org/https://doi.org/10.19109/tadwin.v1i2.6051

This work is licensed under a Creative Commons Attribution-ShareAlike 4.0 International License.
Authors who publish with this journal agree to the following terms:
Authors retain copyright and grant the journal right of first publication with the work simultaneously licensed under a Creative Commons Attribution License that allows others to share the work with an acknowledgement of the work's authorship and initial publication in this journal.
Authors are able to enter into separate, additional contractual arrangements for the non-exclusive distribution of the journal's published version of the work (e.g., post it to an institutional repository or publish it in a book), with an acknowledgement of its initial publication in this journal.
Authors are permitted and encouraged to post their work online (e.g., in institutional repositories or on their website) prior to and during the submission process, as it can lead to productive exchanges, as well as earlier and greater citation of published work