Tradisi Sedekah Obat Masyarakat Desa Jermun Kecamatan Pampangan Kabupaten Ogan Komering Ilir
Ahmad Gurdachi

Fakultas Adab dan Ilmu Budaya, UIN Sunan Kalijaga Yogyakarta

Armys Dwi Prasetyo

Fakultas Adab dan Ilmu Budaya, UIN Sunan Kalijaga Yogyakarta
Abstract
Artikel ini bertujuan untuk mendeskripsikan tradisi Sedekah Obat yang ada di Jermun. Pendekatan yang digunakan dalam penelitian ini adalah pendekatan antropologi. Data dalam penelitian ini adalah data kualitatif yang bersumber dari data primer dan sekunder. Sumber data primer berasal dari pemangku adat, pemangku agama, pemerintah setempat, serta masyarakat yang ada kaitannya dengan penelitian ini. Sedangkan sumber data sekunder dikumpulkan dari berbagai literatur, seperti buku, jurnal, yang berhubungan dengan tema yang dibahas. Teknik pengumpulan data dengan observasi, interview dan dokumentasi. Dalam  melakukan analisis,  peneliti  menggunakan  teknik  analisis  kualitatif  yaitu  analisa  terhadap  data-data  yang bersifat   kualitatif   dengan   mengumpulkan   data,   mengedit   data   yang   telah terkumpul dan mengklasifikasikan  jawaban-jawaban para responden,  setelah  itu  barulah  melakukan intepretasi  (penafsiran)  data  yang  sudah  terkumpul  melalui  pokok-pokok bahasan. Tradisi Sedekah Obat dilakukan pada satu tahun sekali pada bulan Muharram, diadakannya tradisi ini karena dahulu terjadi malapetaka yang menimpa masyarakat di Desa Jermun. Hal yang terpenting dari pelaksanaan tradisi Sedekah Obat ini agar Desa Jermun selalu diberi keberkahan, kesehatan dan dijauhkan dari segala malapetaka sekaligus bentuk rasa syukur kepada sang pencipta. Dari tradisi Sedekah Obat menghasilkan dua nilai yaitu nilai solidaritas dan nilai agama.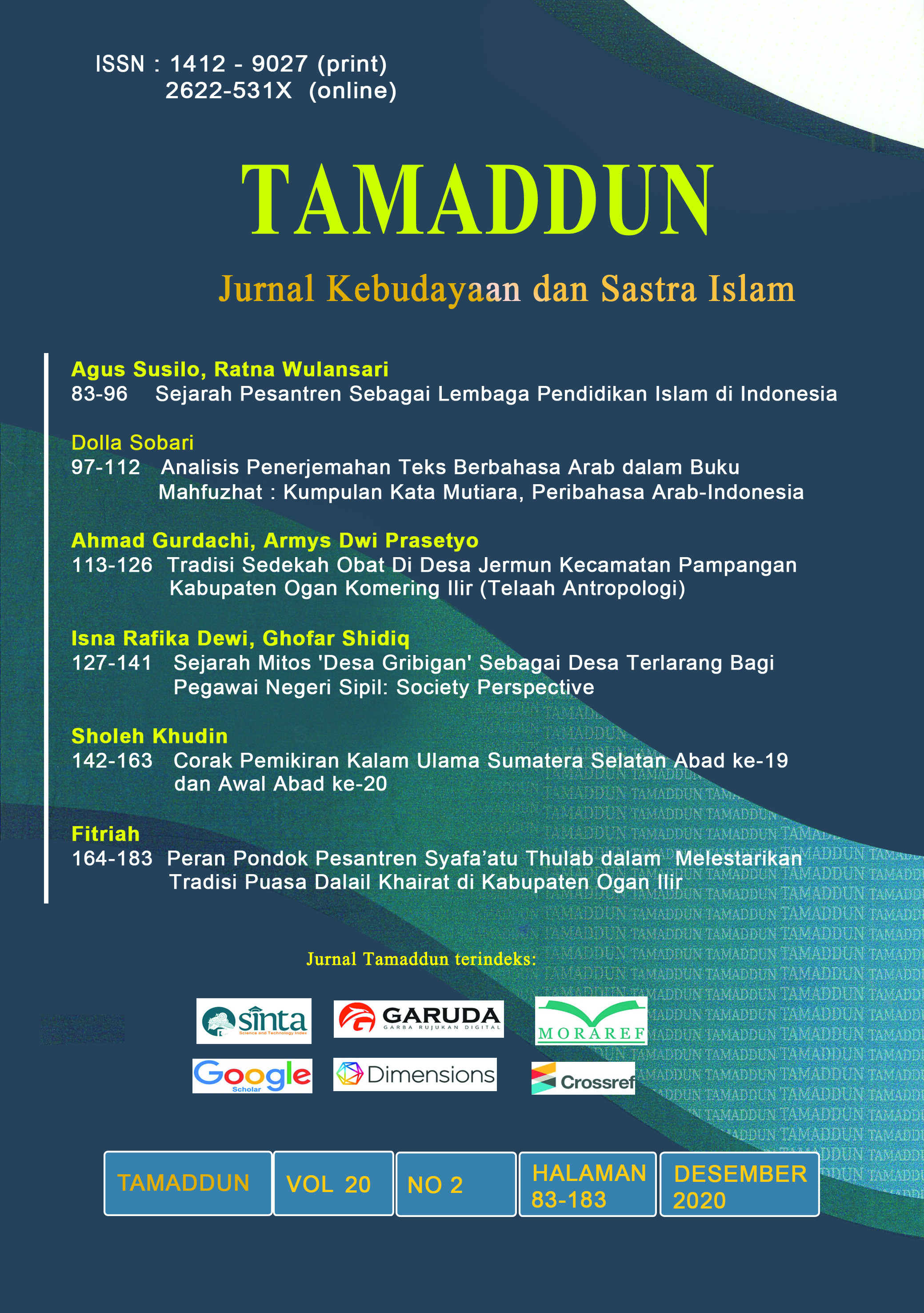 How to Cite
Gurdachi, Ahmad, and Armys Prasetyo. "Tradisi Sedekah Obat Masyarakat Desa Jermun Kecamatan Pampangan Kabupaten Ogan Komering Ilir". Tamaddun: Jurnal Kebudayaan dan Sastra Islam 20, no. 2 ( ): 113-126. Accessed March 2, 2021. http://jurnal.radenfatah.ac.id/index.php/tamaddun/article/view/6788.

This work is licensed under a Creative Commons Attribution-ShareAlike 4.0 International License.
Authors who publish with this journal agree to the following terms:
Authors retain copyright and grant the journal right of first publication with the work simultaneously licensed under a Creative Commons Attribution License that allows others to share the work with an acknowledgement of the work's authorship and initial publication in this journal.
Authors are able to enter into separate, additional contractual arrangements for the non-exclusive distribution of the journal's published version of the work (e.g., post it to an institutional repository or publish it in a book), with an acknowledgement of its initial publication in this journal.
Authors are permitted and encouraged to post their work online (e.g., in institutional repositories or on their website) prior to and during the submission process, as it can lead to productive exchanges, as well as earlier and greater citation of published work