Strategi Fundraising Dalam Upaya Meningkatkan Kepercayaan Muzakki Pada Badan Amil Zakat Nasional (Baznas)
Wahit Sobri

Saprida Saprida

Muharir Muharir
Keywords:
Fundraising Strategy; Muzakki; BAZNAS Palembang City
Abstract
BAZNAS Palembang City is a legally valid Amil Zakat Institution that has the legality to carry out activities for collecting and distributing zakat, infaq, and shadaqah from the wider community. By looking at the high potential of zakat, especially in the city of Palembang, the potential for collecting zakat is very high. This high potential should be supported by professional and trustworthy zakat collection management. Therefore, this study is intended to determine how the formulation of the fundraising strategy applied by the National Amil Zakat Agency (BAZNAS) of Palembang City and how to implement and evaluate its implementation in an effort to increase the trust of muzakki. The type of research conducted by the author is field research by taking the research location at BAZNAS Palembang City and using a qualitative descriptive approach. The data collection method used interviews, observation, and documentation. While the data analysis technique in this study used a qualitative descriptive technique, namely comparing the existing theory with the results of practice in the field and then drawing conclusions as answers to the problems sought. This study shows that the fundraising strategies implemented by BAZNAS Palembang City are broadly grouped into two types, namely: online fundraising strategies and offline fundraising strategies. Online fundraising strategies such as: digital methods, payroll systems, application methods and transfers via ATM/Mobile Banking. Meanwhile, offline fundraising strategies such as: making brochures or posters.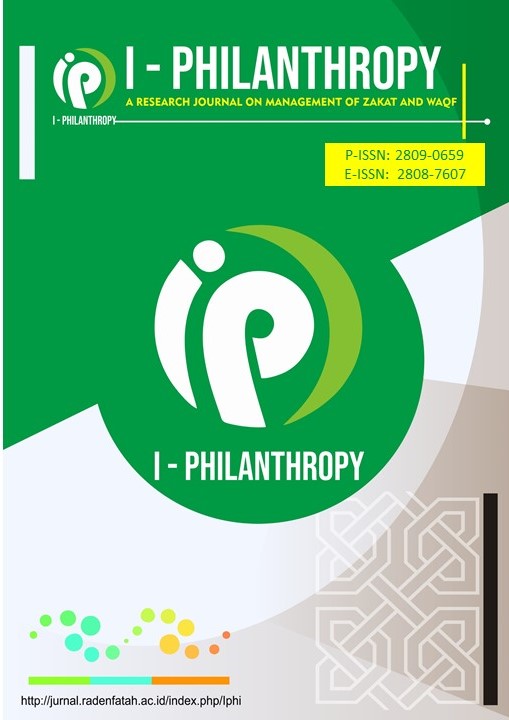 This work is licensed under a Creative Commons Attribution 4.0 International License.
Copyright Notice here