Ta'tsier istikhdam wasilah al-hikayah al-musalsilah 'ala maharoti at-talamidz fi takallum bi al-lughoh al-Arobiyah bi al-Madrosah ats-Tsanawiyah al-ahliyah al-Wahid Palembang
jamanuddin jamanuddin

PBA UIN Raden Fatah

Anggraini Anggraini
Abstract
Media adalah alat dalam pembelajaran, seorang guru menggunakannya untuk memudahkan siswa dalam proses pembelajaran. Adapun salah satu dari media pembelajaran yang bisa digunakan oleh seorang guru adalah media trip story. Karenanya Peneliti tertarik untuk menerapkan media ini dalam materi bahasa arab.   Penelitian ini adalah penelitian eksperimen dengan pendekatan kuantitatif dengan menggunakan uji T sebagai analisis akhirnya. Hasil penelitian ini menunjukkan bahwa media trip story memiliki pengaruh pada kemampuan siswa dalam berbicara. Hal ini terlihat dari nilai siswa yang berbeda dengan nilai sebelumnya yang menggunakan kertas teks muhadatsah.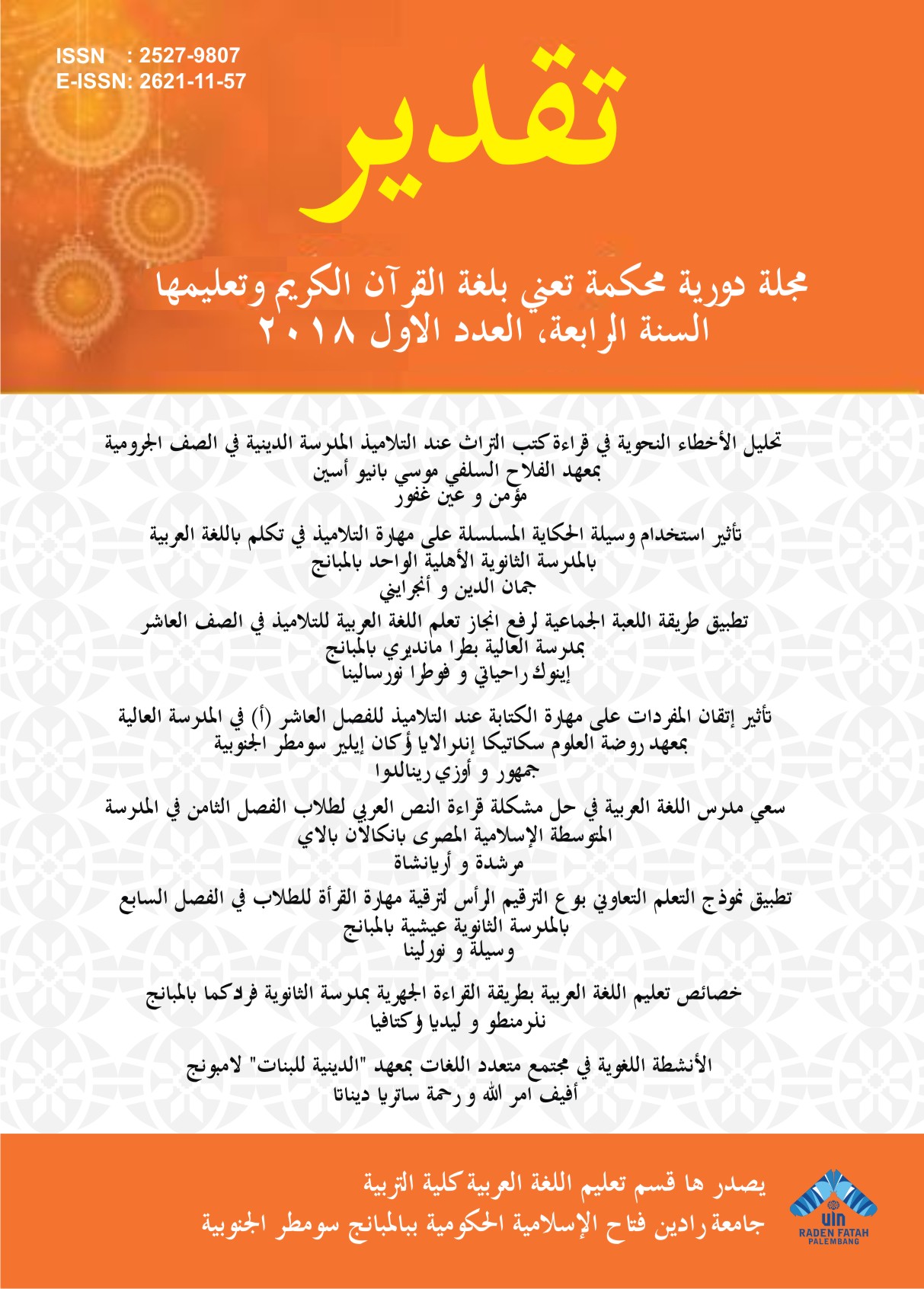 How to Cite
jamanuddin, jamanuddin, & Anggraini, A. (2018). Ta'tsier istikhdam wasilah al-hikayah al-musalsilah 'ala maharoti at-talamidz fi takallum bi al-lughoh al-Arobiyah bi al-Madrosah ats-Tsanawiyah al-ahliyah al-Wahid Palembang. Taqdir, 4(1), 18-37. Retrieved from http://jurnal.radenfatah.ac.id/index.php/Taqdir/article/view/2285
The requirements that must be met by the author are as follows:
The author saves the copyright and gives the journal simultaneously with the license  under

Creative Commons Attribution License

which permits other people to share the work by stating that it is firstly published in this journal.
The author can post their work in an institutional repository or publish it in a book by by stating that it is firstly published in this journal.
The author is allowed to post their work online (for instance, in an institutional repository or their own website) before and during the process of delivery. (see

Open Access Effect

).