ANALISIS KONTRASTIF DALAM PEMBELAJARAN BAHASA ARAB
Abstract
The succesfull teaching not only depend on the teaching materials, but also on the teaching methods. Therefore, the Arabic teachers require teaching skills. Moreover, the Indonesian student assumes the existence of the difficulties anywhere in the Arabic learning. There is evidence that the Arabic teaching-learning process as a foreign language meets a serious problems. The most problems caused by defferencies between bahasa Indonesia as a native language and the Arabic as a target language. Robert Lado states that the differences between native and target language cause difficulties. In contrast, a similarities between two languages will be a fasilitsion in the Arabic learning. This contrastive study tries to analyse the differences between Arabic and bahasa Indonesia. The main concussion of this study shows that differences between two language require the Arabic teacher who knows the contrastive analysis, so that he can eliminate the Arabic learning Problems.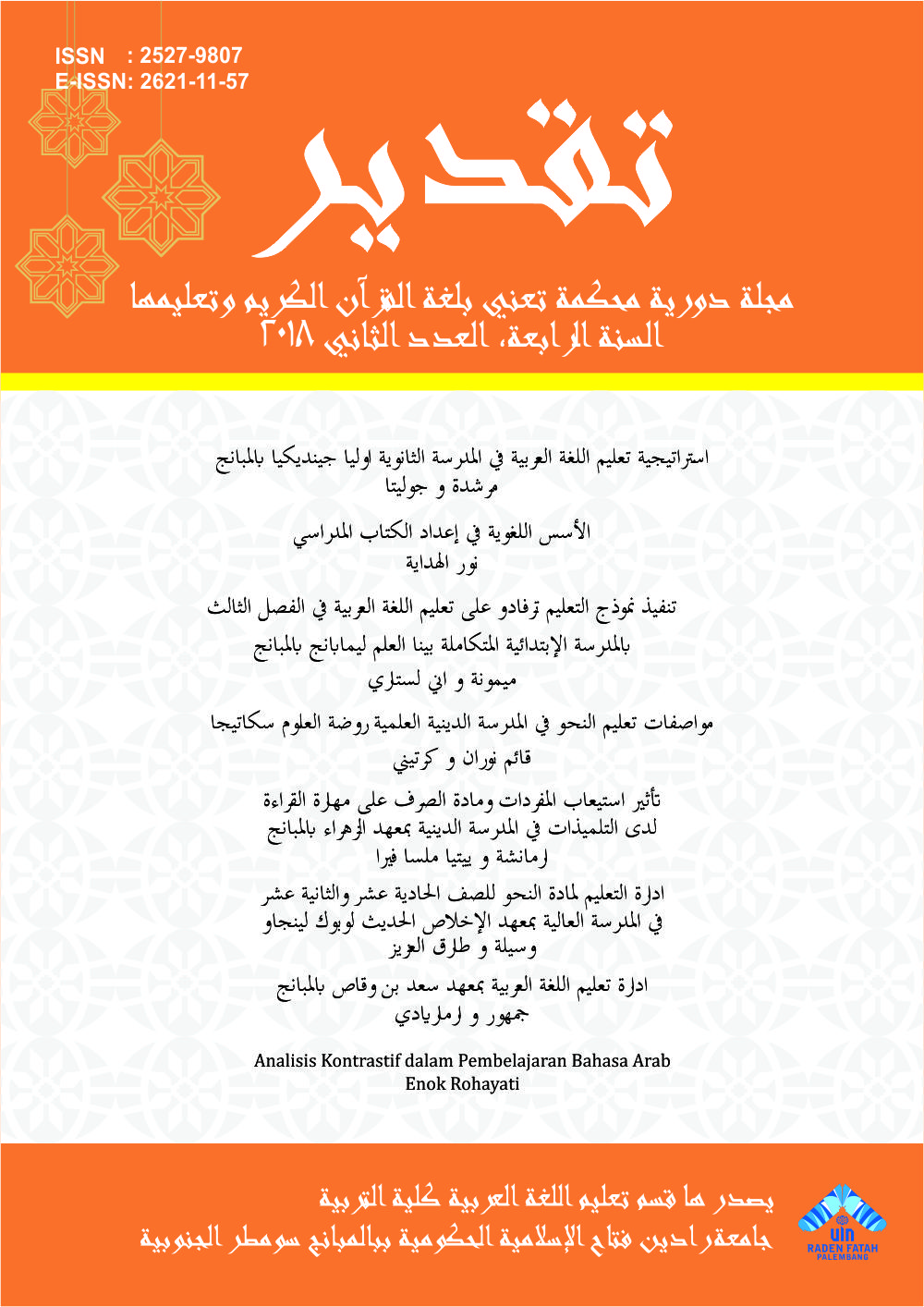 How to Cite
Rohayati, E. (2019). ANALISIS KONTRASTIF DALAM PEMBELAJARAN BAHASA ARAB. Taqdir, 4(2), 105-117. Retrieved from http://jurnal.radenfatah.ac.id/index.php/Taqdir/article/view/3126
The requirements that must be met by the author are as follows:
The author saves the copyright and gives the journal simultaneously with the license  under

Creative Commons Attribution License

which permits other people to share the work by stating that it is firstly published in this journal.
The author can post their work in an institutional repository or publish it in a book by by stating that it is firstly published in this journal.
The author is allowed to post their work online (for instance, in an institutional repository or their own website) before and during the process of delivery. (see

Open Access Effect

).