LESBIAN, GAY, BISEKSUAL DAN TRANSGENDER: TINJAUAN TEORI PSIKOSEKSUAL, PSIKOLOGI ISLAM DAN BIOPSIKOLOGI
Muhammad Rizki Akbar Pratama

Fakultas Psikologi, UIN Ar-Raniry Banda Aceh

Rahmaini Fahmi

Fakultas Psikologi, UIN Ar-Raniry Banda Aceh

Fatmawati Fadli

Fakultas Psikologi UIN Ar-Raniry Banda Aceh
Keywords:
LGBT, Psychosexual, Islamic Psychology, Biopsychology
Abstract
The rise of LGBT case in Indonesia, attracted the attention of researchers to see how the view of psychology about LGBT. This study is a literature review research using relevant reference theories and publications in the field of Psychosexual, Islamic Psychology, and Biopsychology. According to the psychosexual perspective, humans are inherently bisexual. A person to be able to express himself as LGBT or heterosexual is when he is in phallic phase, where the point of pleasure is in the genitals. Based on the Islamic psychology, LGBT behavior is a type of ammara personality; dominated by lust 55%, assisted by 30% of mind power, and 15% of qalbu. While based on biopsychological point of view, LGBT behavior is not influenced by hormones but occurs due to changes in brain structure caused by experience and environment called plasticity, where the behavior of a person is able to change the shape of the human brain itself. From the results of the literature review above shows that LGBT is an abnormality of sexual orientation that is influenced by one's experience and environment.
References
Baharuddin. (2007). Paradigma Psikologi Islam. Yogyakarta: Pustaka Pelajar.
Berry, R. (2001). Seri Siapa Dia? – Freud. Jakarta: Erlangga.
Boeree, C. (2016). Personality Theories. Jogjakarka: Prismasophie.
Carlson, N. (2012). Fisiologi Perilaku. Jakarta: Erlangga.
Farisi, M. I. (2010). Pengembangan Asesmen Diri Siswa (Student Self-Assessment) sebagai Model.
Feist, J., & Feist, G. (2014). Teori Kepribadian. Jakarta: Salemba Humanika.
Gumiandari, S. (2011). Kepribadian manusia dalam perspektif psikologi islam: Telaah kritis atas psikologi kepribadian modern. Holistik , 12 (1), 252-292.
Hamdi, I. (2017, Februari). Hasil Survei Orang Indonesia Paling IntoleranDengan LGBT. Retrieved from https://nasional.tempo.co/read/847431/hasil-survei-orang-indonesia-paling-intoleran-dengan-lgbt.
Mujib, A. (2006). Kepribadian dalam Psikologi Islam. Jakarta: PT. Raja Grafindo Persada.
Mujib, A., & Mudzakir, J. (2001). Mujib, A. &Mudzakir, J. )2001(. Nuansa-NuansaPsikologi Islam. Jakarta: PT. Raja GrafindoPersada. Jakarta: PT. Raja Grafindo Pers.
Najati, U. (2001). Al-Qur'an dan Psikologi. Jakarta: Aras Pustaka.
Noviantoro, D. (2015). Rasionalitas nilai-nilai agama dan konstruksi seksualitas individu gay: Studi kasus terhadap komunitas gay di Jogjakarta (undergraduate's thesis). Yogyakarta, Indonesia: Universitas Islam Negeri Sunan Kalijaga.
Prasetyo, D. D., & Amri, A. (2017). Peranan up3ai unsyiah mengantisipasi pengaruh pemberitaan lgbt di media online terhadap mahasiswa. Jurnal Ilmiah Mahasiswa FISIP Unsyiah , 2 (3).
Prawira, P. (2013). Psikologi Kepribadian dengan Perspektif Baru. Jogjakarta: Ar-Ruzz Media.
Rohmawati, R. (2016). Perkawinan lesbian, gay, biseksual dan transgender/transeksual (lgbt) perspektif hukum islam. Jurnal Hukum Islam , 4 (2), 305-326.
Santoso, M. B. (2016). LGBT dalam Perspektif Hak Asasi Manusia. Social Work Journal , 6 (2), 154-272.
Syaodih, N. (2009). MetodePenelitianPendidikan. Bandung: PT. Remaja Rosda Karya.
Yudianto, Y. (2016). Fenomena lesbian, gay, biseksual dan transgender (lgbt) di indonesia serta upaya pencegahannya. Jurnal Studi Keislaman , 5 (1), 62-74.
Zaini, H. (2017). LGBT dalam perspektif hukum islam. JURIS Jurnal Ilmiah Syariah , 15 (1), 65-74.
Zidadat, M. (1986). al-Mawsu'ât al-Falsafiyah al-'Arabiyah. Arab: inma' al-'Arabiy.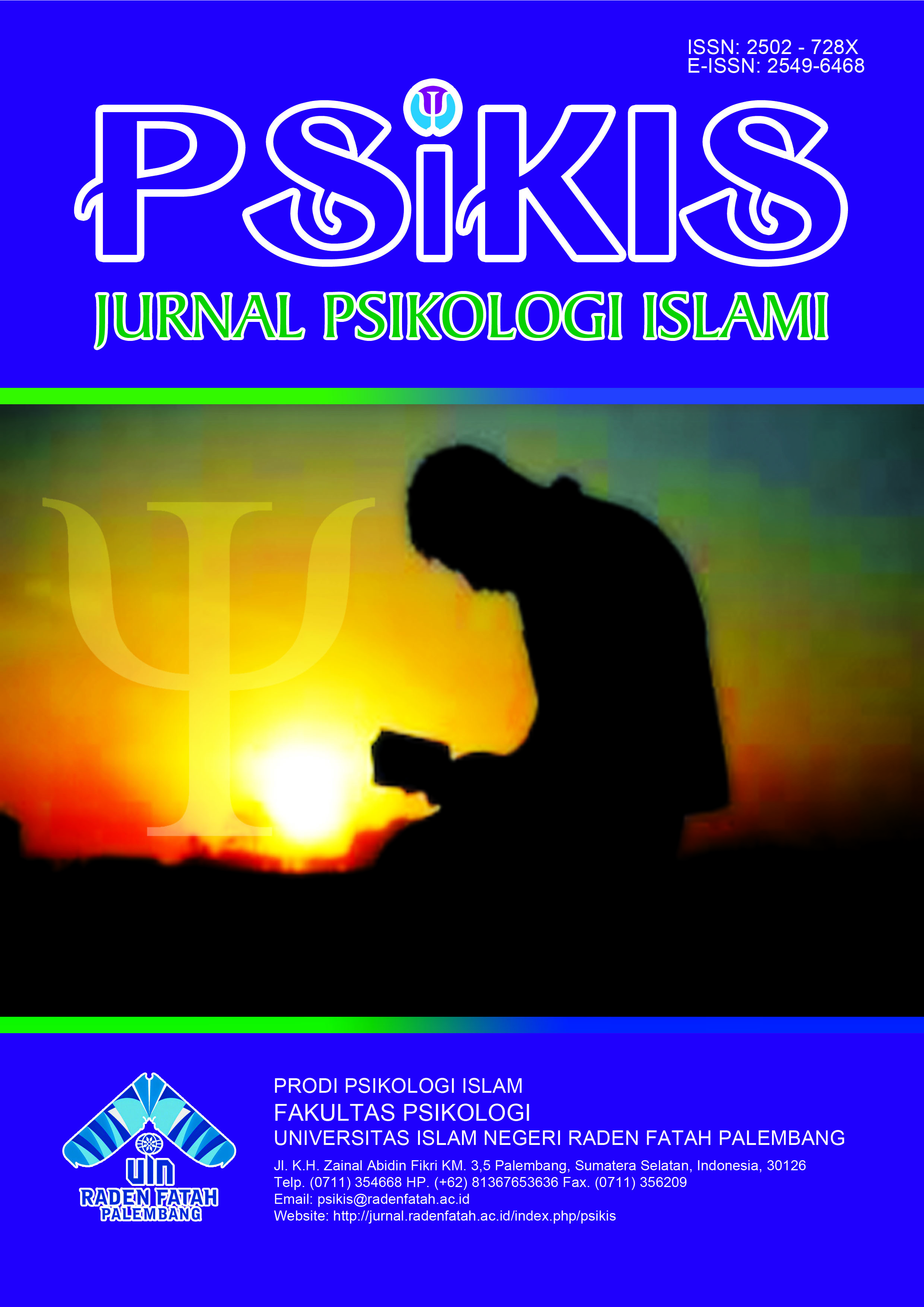 How to Cite
Pratama, M., Fahmi, R., & Fadli, F. ( ). LESBIAN, GAY, BISEKSUAL DAN TRANSGENDER: TINJAUAN TEORI PSIKOSEKSUAL, PSIKOLOGI ISLAM DAN BIOPSIKOLOGI. Psikis : Jurnal Psikologi Islami, 4(1), 27-34. https://doi.org/https://doi.org/10.19109/psikis.v4i1.2157
Section
Articles June 2018

Psikis: Jurnal Psikologi Islami by http://jurnal.radenfatah.ac.id/index.php/psikis is licensed under a Lisensi Creative Commons Atribusi-BerbagiSerupa 4.0 Internasional.