PELAKSANAAN PROGRAM BOARDING SCHOOL DALAM PEMBINAAN MORAL SISWA DI SMA TARUNA INDONESIA PALEMBANG
Hendriyenti Hendriyenti

Sekolah Tinggi Ilmu Administrasi Satya Negara Palembang
Abstract
Indonesia nowadays faces some moral issues in teenagers scope or adult scope such as the use of drugs, violence, rascality, abortion, persecution, gambling, prostitution, and so on. Those problems are very danger for the country. Therefore, moral education is very important in this situation. The study was done at SMA Taruna Indonesia Palembang by the tittle: "the Implementation of boarding School Program for Students Moral education at SMA Taruna Indonesia Palembang".Based on the result of the stuy, it was found that the implementation of boarding school program to educate students'moral at SMA Taruna Indonesia Palembang was applied throug dicipline implementation program and religion education program. Those two programs were applied by preventive and currative treatment. Moreover, there were some factors which support students' moral education at SMA Taruna Indonesia Palembang such as students motivation, advisors dedication, 24 hours education and guidance, good coordination between advisors, teachers, securities, and other staff, and far location of boarding school from city center. As long as the teenager is an unstable period, there weremany difficulties in educate them. Finally,it is hoped that school stakeholders could improve the school management so that those difficulties could be solved and moral education could be applied.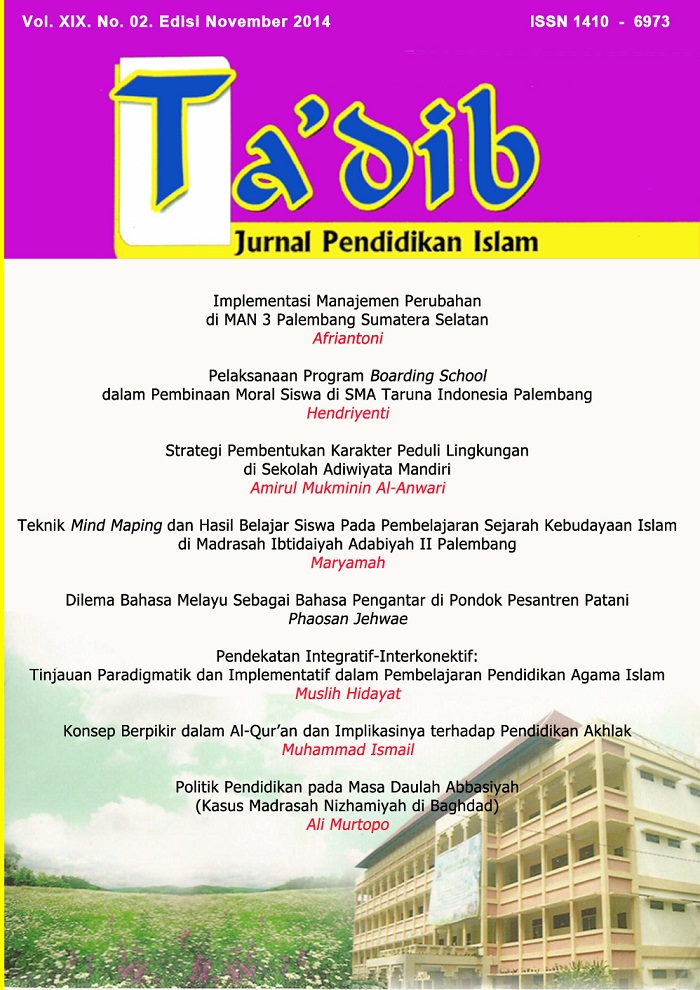 How to Cite
Hendriyenti, H. (1). PELAKSANAAN PROGRAM BOARDING SCHOOL DALAM PEMBINAAN MORAL SISWA DI SMA TARUNA INDONESIA PALEMBANG. Ta'dib:Journal of Islamic Education (Jurnal Pendidikan Islam), 19(02), 203-226. https://doi.org/https://doi.org/10.19109/tjie.v19i02.15

Ta'dib by http://jurnal.radenfatah.ac.id/index.php/tadib is licensed under a Creative Commons Attribution-ShareAlike 4.0 International License.