POLITIK PENDIDIKAN PADA MASA DAULAH ABBASIYAH (KASUS MADRASAH NIZHAMIYAH DI BAGHDAD)
Ali Murtopo

Universitas Islam Negeri Raden Fatah Palembang
Abstract
The Political will determine advancement and deterioration for education. No matter what achieved or any form of education, both positive and negative is part of the process of interest and political intrigues. Scientific movements of changes and transformation of society is always driven by political patronise. In this context, politics appears to be the main support of the achievement of triumph the education system. 
References
Ali, K. 1984. Sejarah Islam: Tarikh Pra-Modern. Jakarta: RajaGrafindo Persada.
Bayard, Dodge. 1962. Moslim Education in Medieval Times. Washington: The Middle East Institute.
Cesey, Monica E. 1987. Nizham al-Mulk dalam Mircea Eliade (Ed.) The Encyclopaedia of Religion. Volume X. New York: Collier.
Bosworth, C. E. 1993. Dinasti-dinasti Islam. (Terj.) Ilyas Hasan. Bandung: Mizan.
Coombe, Trevor. tt. Education and Policy in Development Countries. USA: Harvard University,
Dalimunthe, Fakhrur Rozy. 1986. Sejarah Pendidikan Islam: Latar Belakang, Analisa dan Pemikirannya. Medan: Rimbow.
Foucaullt, Michel. 1980. Power/Knowledge: Selected Interviews and Other Writings 1972-1977. Hemel Hempstead Hears: Harvester Press.
Haque, Atiqul. 1988. Wajah Peradaban: Menelusuri Jejak Pribadi-pribadi Besar Islam. Bandung: Zaman.
Hitti, Philip K. 1974. History of the Arab. London: Macmillan Press.
Langgulung, Hasan. 1992. Asas-asas Pendidikan Islam. Yogyakarta: Pustaka Al-Husna.
Makdisi, G. 1991. Religion, Law and Learning in Classical Islam, Varioum.
Maksum. 1999. Madrasah: Sejarah dan Perkembangannya. Jakarta: Logos.
Murodi. 1997. Sejarah Kebudayaan Islam. Semarang: Toha Karya.
Nasution, Harun. 1985. Islam ditinjau dari Berbagai Aspeknya. Jilid II. Jakarta: UI-Press.
Sabine, G.B. 1977. Teori-teori Politik: Sejarah Pertumbuhan dan Perkembangannya, (Terj.) Soewarno Hadiatmodjo. Jakarta: Bina Cipta.
Sarjeant. 1976. The Islamic City, New York: Unesco.
Shaban, M.A. 1981. Islamic History: A New Interpretation. Volume, II. Cambridge: C.U. Press.
Sharif, M.M. 1979. Alam Pemikiran Islam: Peranan Umat Islam dalam Pengembangan Ilmu Pengetahuan, (Terj.) Fachruddin. Bandung: Diponegoro.
Sirozi, Muhammad. tt. Memahami Hubungan antara Pendidikan dan Politik (makalah).
Sou'yb, Joesoep. 1978. Sejarah Daulah Abbasiyah. Jakarta: Bulan Bintang.
Syalabi, Ahmad. 1973. Sejarah Pendidikan Islam. (Terj.) H. Muchtar Yahya dan M. Sanusi Latief. Jakarta: Bulan Bintang.
Syalabi, Ahmad. 1997. Sejarah dan Kebudayaan Islam. Jakarta: Al-Husna Zikra.
Watt, Montgomery. 1990. Kejayaan Islam. (Terj.) Hartono Hadikusumo. Yogyakarta: Wacana.
Yatim, Badri. 1996. Sejarah Kebudayaan Islam. Jilid II. Jakarta: UI-Press.
Yatim, Badri. 2002. Sejarah Peradaban Islam. Jakarta: Raja Grafindo Persada.
Yunus, Mahmud. 1966. Sejarah pendidikan Islam. Jakarta: Mutiara.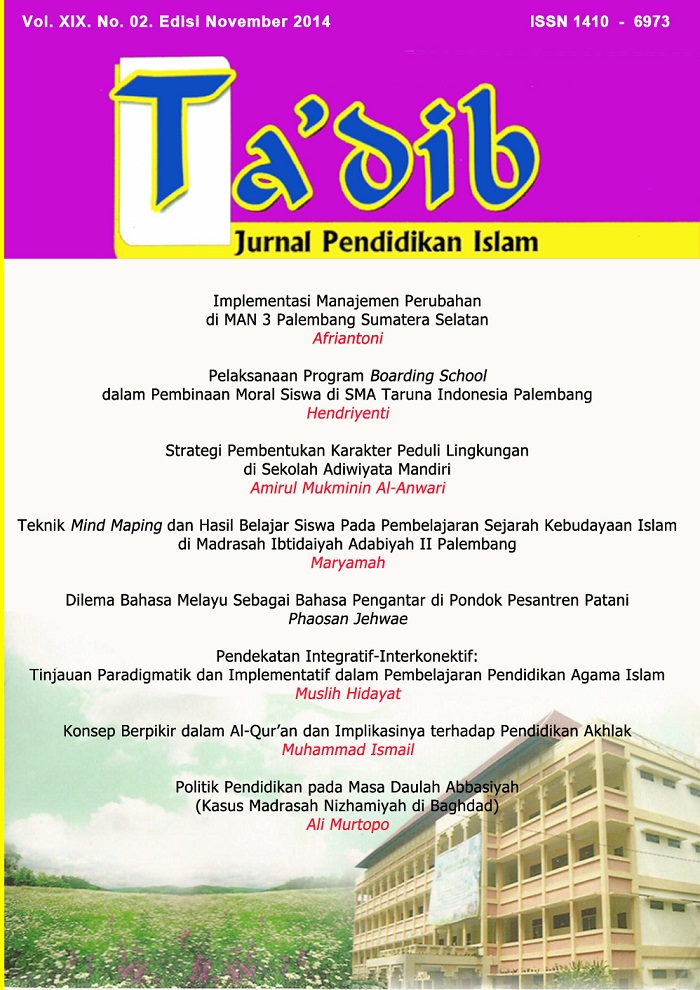 How to Cite
Murtopo, A. (1). POLITIK PENDIDIKAN PADA MASA DAULAH ABBASIYAH (KASUS MADRASAH NIZHAMIYAH DI BAGHDAD). Ta'dib: Journal of Islamic Education (Jurnal Pendidikan Islam), 19(02), 313-332. Retrieved from http://jurnal.radenfatah.ac.id/index.php/tadib/article/view/21

Ta'dib by http://jurnal.radenfatah.ac.id/index.php/tadib is licensed under a Creative Commons Attribution-ShareAlike 4.0 International License.