EDUCATION CHARACTER IN VIEW OF AL-GHAZALI AND ITS RELEVANCE WITH THE EDUCATION CHARACTER IN INDONESIA
Atik Wartini

Sunan Kalijaga State Islamic University of Yogyakarta
Keywords:
Character, Ayyuha al-Walad, Morals
Abstract
This research is based on research library, the background of this research concerns with the deterioration of morals or character education in children and adolescents. Foreign cultures that are not properly filtered is the result of deterioration of education and children's akhlak. Imam al-Ghazali, one of the leaders of Islamic thinker that has miraculous works, one of the famous works is the book of al-walad ayyuha, described the mechanism in the moral education of children and adolescents. Education behavior is defined by al-Ghazali in this book are relevant with the character education for children and adolescents.
References
Al-Ghanimi, Abu al-Wafa al-taftazani. (1997). Sufi dari Zaman ke Zaman. terjemahan, Ahmad Rifa'i. Bandung: Pustaka Pelajar.
Hanafi, A. (1976). Filsafat Islam. Bandung: Bulan Bintang.
Hamid, Al-Ghazali. (1958). Tahafut al-Falasifah. Sulaiman Dunya. Kairo: Dar al-Ma'arif.
________________. (1980). Ihya Ulumuddin. Beirut: Dar al-Fikr.
________________. (2005). Ayyuha Walad. Bandung: Irysad Baituss Slam.
________________. (2003). Ringkasan Ihya Ulumuddin. terjemahan Labib MZ. Surabaya: Bintang Usaha Jaya.
Rahman, Fazlur. (1997). Islam. terj. Mahyudin. Jakarta: Pustaka.
Sulaiman, Fahtiyyah al-Hasan. (1986). Konsep Pendidikan al-ghazali, terj Ahmad Hakim dan M. Imam Aziz. Jakarta: Perhimpunan Pengembangan Pesantren dan Masyarakat (P3M).
Tajuddin Abi Nassar al-Wahab ibn Ali al-Kahfai al-Subkhi. (tt). Tabaqat al-Syafi'iyyah al-Kubro. Kairo: Isa al-Babi al-Halabi.
Zainudiin. (1991). Seluk Beluk Pendidikan Imam al-Ghazali. Jakarta: Bumi Aksara.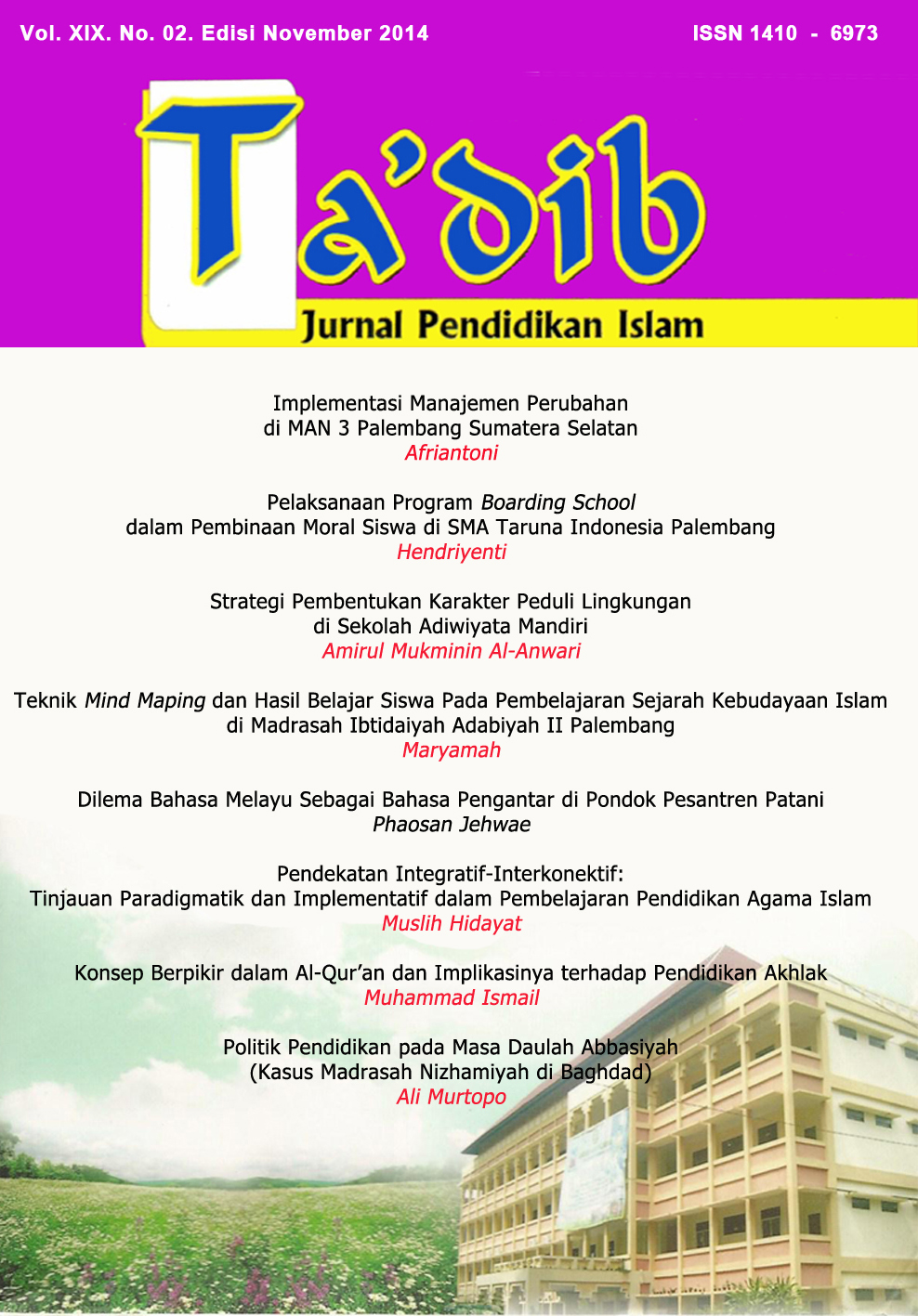 How to Cite
Wartini, A. (2016). EDUCATION CHARACTER IN VIEW OF AL-GHAZALI AND ITS RELEVANCE WITH THE EDUCATION CHARACTER IN INDONESIA. Ta'dib: Journal of Islamic Education (Jurnal Pendidikan Islam), 20(2), 293-310. Retrieved from http://jurnal.radenfatah.ac.id/index.php/tadib/article/view/222

Ta'dib by http://jurnal.radenfatah.ac.id/index.php/tadib is licensed under a Creative Commons Attribution-ShareAlike 4.0 International License.