THE USE OF INFORMATION AND COMMUNICATION TECHNOLOGY (BY THE LECTURER OF ISLAMIC STATE UNIVERSITY OF RADEN FATAH PALEMBANG
Nyayu Khodijah

Raden Fatah State Islamic University of Palembang

Herman Zaini

Raden Fatah State Islamic University of Palembang

Enok Rohayati

Raden Fatah State Islamic University of Palembang
Keywords:
the Use of ICT, Lecturers, Raden Fatah State Islamic University
Abstract
This study aimed to examine the use of ICT by lecturers of Raden Fatah Islamic State Univercity and the factors that influenced it. The research used a quantitative approach with survey method. The research was conducted in May-July 2014. The data was collected using a questionnaire. Respondents were lecturers of UIN Raden Fatah totaling 86 people. Analysisof data usingunivariate, bivariate, andmultivariate techniques. The results showed that: 1) the use of ICT by lecturers of Raden Fatah Islamic State University was still not maximum, 2) the age, sex, level of education, teaching experience, andmotivation of the lecturers does not significantly affect theuse of ICTby lecturers, 3) the rewards factor had given significantly affect the use of ICT by lecturers, and 4) therewards factor hadthe most influence onthe use ofICTby lecturers ofRaden Fatah Islamic State University.
References
Atkinson, R. L. (2004). Pengantar Psikologi. Jakarta: Erlangga.
Chotim, Muhammad. (2011). "Pengaruh Kualifikasi Akademik dan Pengalaman Kerja pada Kinerja Dosen". Jurnal Counsellia [online]. 2011, vol. 01, no. 02.
Fauziah, Ani Nur. (2014). "Faktor-faktor yang Mempengaruhi Kinerja Dosen dalam Pelaksanaan Tridharma Perguruan Tinggi di Akbid Mamba'ul 'Ulum Surakarta". Tesis. Universitas Sebelas Maret.
Gibson, James L., Ivancevich, J. M., and Donnelly, Jr. J. H. (1997). Organisasi: Perilaku, Struktur, Proses. Diterjemahkan oleh: Djarkasih, Jakarta: Erlangga.
Heriyanto. (2013). "Pengaruh Pemanfaatan TIK dan jenis kelamin terhadap kompetensi pedagogik dan profesional dosen Sekolah Tinggi Agama Budha (STAB) Negeri Sriwijaya Tanggerang Banten". Laporan Penelitian. STAB Negeri Sriwijaya Tanggerang Banten.
Ilyas, Yaslis. (2001). Kinerja Teori, Penilaian dan Penelitian. Jakarta: FKM UI.
Kusnandar, Ade. (2008). Pemanfaatan TIK untuk Pembelajaran, Modul 1, disajikan pada Pelatihan Pemanfaatan TIK untuk Pembelajaran Tingkat Nasional Tahun 2008, Jakarta: Pustekkom Pendidikan, Depdiknas.
Maslow, Abraham. (1992). Motivasi dan Perilaku. Semarang: Dahara Prize.
Mundarti. (2007). "Faktor-Faktor Yang Mempengaruhi KInerja Dosen Dalam Melaksanakan Proses Belajar Mengajar Di Prodi Kebidanan Magelang Politeknik Kesehatan Semarang Tahun Akademik 2005/2005". Tesis. Semarang: Undip.
Netty. (2012). "Pengaruh Pendidikan, Senioritas, dan Komitmen Kerja Terhadap Kinerja Dosen di Poltek Negeri Medan". Tesis. Medan: USU Medan.
Noni, Nurdin. (2009). Penerapan TIK dalam Pendidikan. Diklat Calon Kepala SMA/SMK.
Oktarina, Nina dan Agung Kuswantoro. (2010). "Peningkatan Pemahaman Mahasiswa pada Mata Kuliah Pengantar Ilmu Administrasi Melalui Pembelajaran Berbasis Teknologi Informasi dan Komunikasi (TIK)". Laporan Penelitian. Fakultas Ekonomi, Univ Negeri Semarang.
Peraturan Pemerintah Nomor 37 Tahun 2009 tentang Dosen.
Undang-undang No. 14 Tahun 2005 tentang Guru dan Dosen.
Siagian, Sondang P. (1995). Teori Motivasi dan Aplikasinya. Jakarta: Bina Aksara.
Singarimbun, Masri dan Sofian Effendi. (2004). Metode Penelitian Survei. Jakarta: Penerbit Pustaka LP3ES.
Tømte, Cathrine. "Challenging Our Views on ICT, Gender and Education", dalam http://www.idunn.no/ts/dk/2011/special_issue/art06.
Wiyati, Shinta Febri;Rizka Diana Kapriati; Adi Murtono; Fitri Widyastuti; Prihandini Sukusda. "Rendahnya Kemampuan Guru dalam Penguasaan ICT dalam Proses Pembelajaran", dalam http://4empicthealth.blogspot.com/2012/04/rendahnya-kemampuan-penguasaan-ict-guru.html.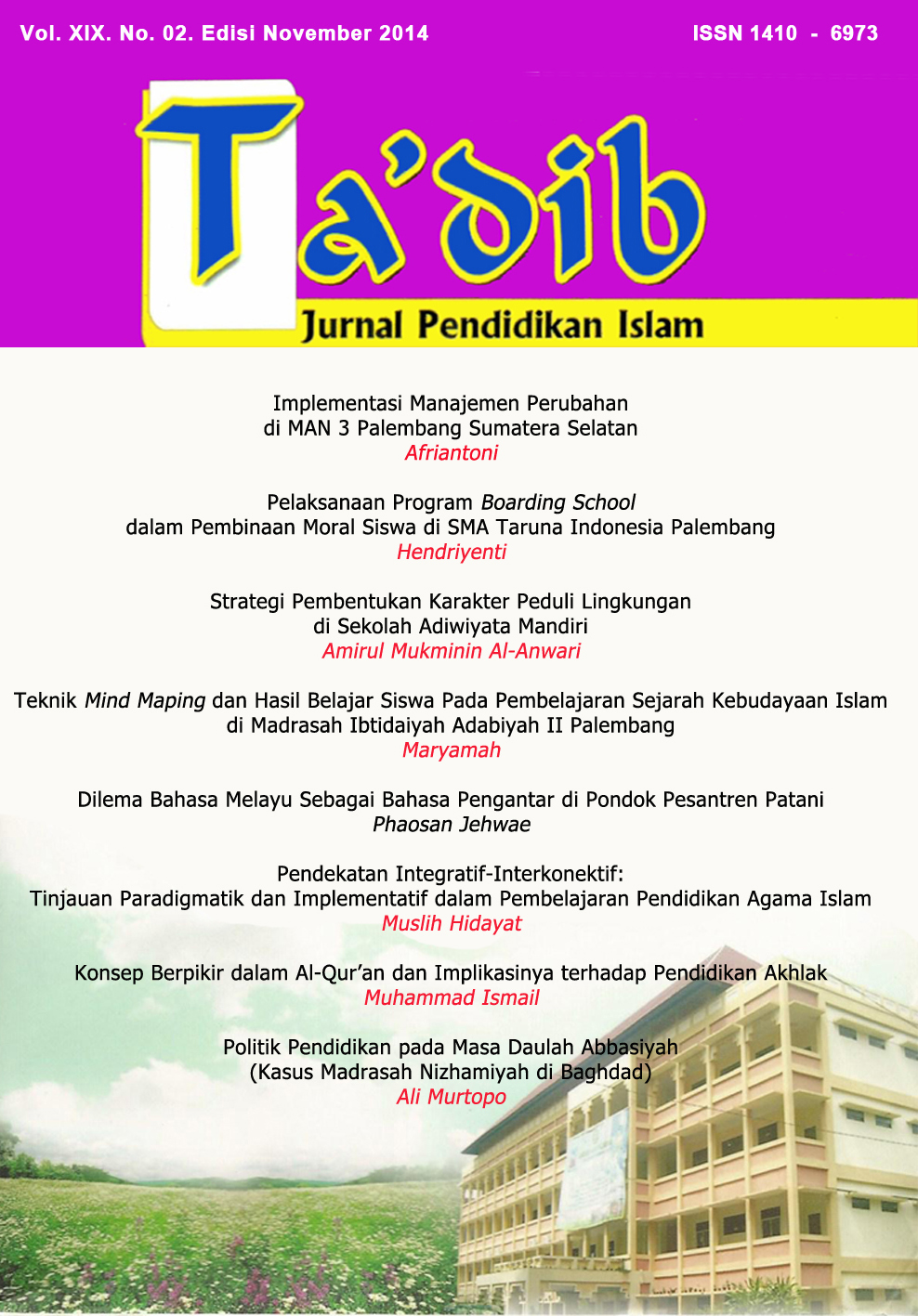 How to Cite
Khodijah, N., Zaini, H., & Rohayati, E. (2016). THE USE OF INFORMATION AND COMMUNICATION TECHNOLOGY (BY THE LECTURER OF ISLAMIC STATE UNIVERSITY OF RADEN FATAH PALEMBANG. Ta'dib:Journal of Islamic Education (Jurnal Pendidikan Islam), 20(2), 183-200. https://doi.org/https://doi.org/10.19109/tjie.v20i2.328

Ta'dib by http://jurnal.radenfatah.ac.id/index.php/tadib is licensed under a Creative Commons Attribution-ShareAlike 4.0 International License.