PEMBELAJARAN INOVATIF KIMIA DASAR YANG MENYENANGKAN
Elfira Rosa Pane

Fakultas Tarbiyah dan Keguruan UIN Raden Fatah
Abstract
Learning chemistry is boring for most students when it is delivered and tended to overwhelm students. This paper aims at providing an innovative alternative to learning in general chemistry subjects.
References
Achmad, H dan L. Baradja. 2012. Demonstrasi Sains Kimia Jilid 1. Bandung: Nuansa.
Achmad dan Baradja L. 2012. Demonstrasi Sains Kimia Jilid 2, Bandung: Penerbit Nuansa.
Aleks, Masyunis. 2000. Strategi Kualitas Pendidikan MIPA di LPTK. Makalah pada Seminar Nasional FMIPA UNY tanggal 22 Agustus 2000.
Atwi, Suparman. 1993. Desain Instruksional. Jakarta: PAU-UT.
Brady, J.E. 1990. General Chemistry Principal and Structure. New York Fifth Edition: John Wiley and Son.
Goldberg, D.E. 1991. Theory and Problems of Chemistry Foundation. New York: Scaum's Outline Series Mc Graw-Hill.
Kamisa. 1997. Kamus Lengkap Bahasa Indonesia. Surabaya: Kartika.
Pasaribu dan Simanjuntak. 1983. Proses Belajar Mengajar. Bandung: Tarsito.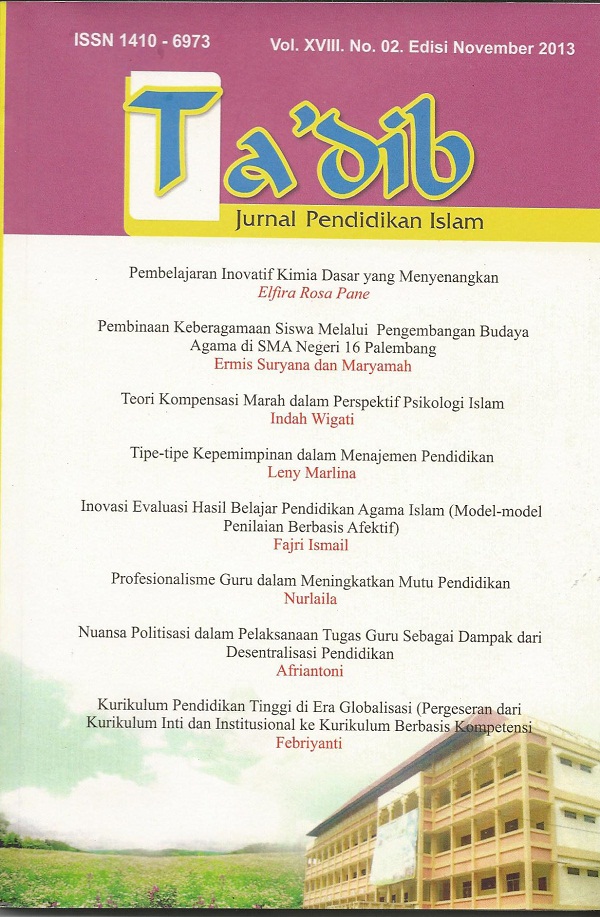 How to Cite
Pane, E. (1). PEMBELAJARAN INOVATIF KIMIA DASAR YANG MENYENANGKAN. Ta'dib: Journal of Islamic Education (Jurnal Pendidikan Islam), 18(02), 162-168. Retrieved from http://jurnal.radenfatah.ac.id/index.php/tadib/article/view/44

Ta'dib by http://jurnal.radenfatah.ac.id/index.php/tadib is licensed under a Creative Commons Attribution-ShareAlike 4.0 International License.