MODEL-MODEL PENGEMBANGAN PENDIDIKAN AGAMA ISLAM DI SEKOLAH/PERGURUAN TINGGI
Nurlaila Nurlaila

Fakultas Tarbiyah IAIN Raden Fatah
Abstract
Islamic religious education quality improvement is expected to resolve the multidimensional crisis in our country, especially the moral-ethical aspects, and also be able to contribute in elaborating the meaning of national education that serves to develop skills and build character and civilization of the nation's dignity in the context of the intellectual life of the nation that aims for the development of potential learners in order to become a man of faith, fear of God Almighty, noble, healthy, knowledgeable, capable, creative, independent, and become citizens of a democratic and responsible. Developing models of PAI in Schools / Colleges General include: Model dichotomous, Mechanism Model, Model Organism / Systemic, and the Integrative Education Model. Teraebut models needed to overhaul capabilities and political well from policy makers, especially the leaders of the institution itself. 
References
Ash-Shan'ani, al-Sayyid al-Imam Muhammad bin Ismail al Kahlani, (t.t), Subulus Salam Juz III. Bandung: Dahlan.
Azra, Azyumardi. 1999. Pendidikan Islam: Tradisi dan Modernisasi Menuju Millenium Baru. Jakarta: Logos.
----------------------. 2003. "Agama dan Pemberantasan Korupsi". Kompas September 2003.
Departemen Pendidikan dan Kebudayaan RI. 1996. Kamus Besar Bahasa Indonesia. Jakarta: Balai Pustaka.
Departemen Penerangan RI. 1961. Tujuh Bahan Pokok Indoktrinasi. Jakarta: Dep. Penerangan RI.
Fadjar, A. Malik. 1998. Madrasah dan Tantangan Modernitas. Bandung: Mizan.
----------------------. 2003. Strategi Pengembangan Pendidikan Islam Dalam Era Globalisasi. Makalah Disampaikan sebagai Keynote Address dalam Seminar on Islam and The Challenges of Global Education in the New Millenium, The HUM Alumni Chapter of Indonesia di Pekan Baru, tanggal 26 Januari 2003.
Ibnu Miskawaih, Ahmad ibn Muhammad ibn Ya'qub, Tahzth al-A khlaq. Beirut: Mansyurat Dar al-Maktabah al-Hayah, 1398 H.
Isu-Isu Pokok Direktorat Jenderal Pendidikan Dasar dan Menengah Tahun 2001. strukorg/bagron/ isu%20isu%20 Pokok. htm.
Keputusan Menteri Pendidikan Nasional RI Nomor 045/U/2002 Tentang Kurikulum Inti Pendidikan Tinggi.
Keputusan Dirjen Perguruan Tinggi Departemen Pendidikan Nasional RI Nomor 38/Dikti/Kep/2002, Tentang Rambu-Ràmbu Pelaksanaan Mata Kuliah Pengembangan Kepribadian di Perguruan Tinggi.
Keputusan Dirjen Dikti Depdiknas Nomor: 43/DIKTI/Kep/2006 Tentang Rambu-rambu Pelaksanaan Kelompok MPK di Perguruan Tinggi.
http//www.ncert.nic.in/ncert/journal/journalnew/vechap4.htm
Muhaimin, et. al. 1996. Strategi Belajar Mengajar Penerapannya Dalam Pembelajaran Pendidikan Agama. Surabaya: Citra Media.
--------------------------. 2001. Tema-tema Pokok Dakwah Islam di Tengah Transforrnasi Sosial. Surabaya: Karya Abditama.
--------------------------. 2002. Paradigma Pendidikan Islam Upaya Mengefektifkan Pendidikan Agama di Sekolah. Bandung: Remaja Rosdakarya, Cet. II.
--------------------------. 2003. Madrasah Menatap Peradaban Global. Makalah Disajikan Pada Seminar di Madrasah Aliyah Negeri Sidoarjo, Sabtu 8 Maret 2003.
---------------------------. 2003. Arah Baru Pengembangan Pendidikan Islam Pemberdayaan, Pengembangan Kurikulum Hinggci Redefinisi Islamisasi Pengetahuan Bandung: Nuansa.
Ti1aar, H.A.R. 1998. Beberapa Agenda Reformasi Pendidikan Nasional. Magelang: Tera Indonesia.
Undang-Undang Nomor 20 Tahun 2003 tentang Sistem Pendidikan Nasional.
Undang-Undang Nomor 14 Tahun 2005 tentang Guru dan Dosen.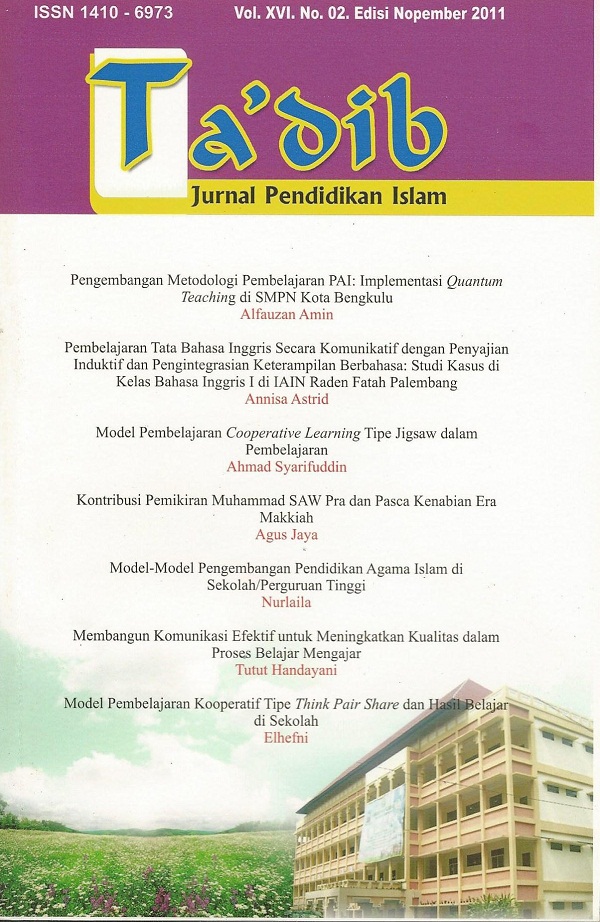 How to Cite
Nurlaila, N. (1). MODEL-MODEL PENGEMBANGAN PENDIDIKAN AGAMA ISLAM DI SEKOLAH/PERGURUAN TINGGI. Ta'dib: Journal of Islamic Education (Jurnal Pendidikan Islam), 16(02), 247-272. Retrieved from http://jurnal.radenfatah.ac.id/index.php/tadib/article/view/63

Ta'dib by http://jurnal.radenfatah.ac.id/index.php/tadib is licensed under a Creative Commons Attribution-ShareAlike 4.0 International License.