METODE YASINIYAH SEBAGAI METODE PEMBELAJARAN MEMBACA AL-QUR'AN
Munir Munir

Fakultas Tarbiyah IAIN Raden Fatah Palembang
Abstract
This article is research report on the implementation of Yasiniyah method in learning of reading al-Qur'an. The research use theories of phenomenology–symbolic-interactionism for understanding reality in application of this method. For anlyzing the meaning  of reality, it need the approach of social-psichology with contrast analysis, verification and comparation with another different reality. Yasiniah method, philosophically, is based on pesantren's classic tradition. The characteristic of Yasiniah method can be seen in its system of implementation, i.e. : 1) recruitment system of new student; 2) system of class management; 3) learning material; 4) strategy implemented; 5) system of evaluation use test or directly oral examination  by facing mustahiq individually, and who can pass the exam will be given the certificate at alumni's release ceremony in  every end of academic year.
References
Al-Zarnuji. 1963. Ta`lim al-Muta`allim. Kudus: Menara Kudus.
Barbaour Ian, G. 1966. Issues in Science and Relegion. New York: Prentice-Hall, Inc.
Berger, Peter L. dan Luckmann, Thomas. 1966. The Social Contruction of Reality, a Treatise in the Sociology of Knowledge. New York: Doubleday & Company.
Buinessen, Martin Van. 1995. Kitab Kuning, Pesantren dan Tarekat. Bandung: Mizan.
Buniy, Ahmad Ibn `Ali al-. 1985. Syams al-Ma`arif al-Kubra. Beirut: Maktabah al-Sabaniyah.
Caine dan Cane. 1997. Educational on the Edge of Possibility. Virginia: Assosiation for Supervision and Curriculum Development,
Dhofier, Zamakhsyari. 1985. Tradisi Pesantren, Jakarta: LP3ES.
Dimasyqy, Abi Zakaria Yahya Ibn Syarf al-Nawawy al-. 2005. Riyadh al-Shalihin. Beirut: Dar al-Fikr.
Fachrurrazi, H. t.t. Terjemahan Yasin Fadhilah Berikut Do`a-do`anya, Jakarta: Sinar Baru Algesindo.
Gazalba, Sidi. 1981. Sistematika Filsafat. Jakarta: Bulan Bintang.
Ghazali, Abu Muhammad Ibn Muhammad al-. 2005. Ihya' `Ulum al-Dien, juz. I . Beirut Dar al-Fikr.
Hamalik, Oemar. 2002. Perencanaan Pembelajaran Berdasarkan Pendekatan Sistem. Jakarta: Bumi Aksara.
Hernacki, Mike, (Ed.). 2000. Quantum Teaching, Mempraktekkan Quantum Learning di Ruang-ruang Kelas. Bandung: Kaifa,
Huda, Nor. 2002. "Lembaga Pendidikan Dasar al-Qur'an: Studi atas Nggon Ngaji dan TKA-TPA", Tesis, Program Pascasarjana IAIN Sunan Kalijaga Yogyakarta
Humam, K.H. As`ad. t.t. Iqra' , Cara Cepat Belajar Membaca al-Qur'an. Yogyakarta: Team Tadarrus al-Qur'an "AMM".
Madjid, Nurcholish. 1997. Bilik-Bilik Pesantren, Sebuah Potret Perjalanan. Jakarta: Paramadia,
Mastuhu. 1994. Dinamika Sistem Pendidikan Pesantren. Jakarta: INIS.
Muhaimin dan Abdul Mudjib. 1993. Pemikiran Pendidikan Islam Kajian Historis dan Kerangka Dasar Operasinalisasinya. Bandung: Trigenda Karya.
Muhammad, Thahir, t.t. Majmu` al-Syarif. Bondowoso: Bagus.
Munir. 2005. "Karakteristik Metode Yasiniyah dan Pengaruhnya Terhadap Perilaku Peserta Didik (Studi Tentang Metode Pembelajaran Membaca al-Qur'an di Pondok Pesantren Sunan Giri Taraman OKU Timur Sumatera Selatan", Laporan Penelitian DIPA, IAIN Raden Fatah Palembang.
Sears, David, O. 1988. Psikologi Sosial, terj. Jakarta: Erlangga.
Silberman, Mel. 1986. Active Learning, 101 stategies to Teach any Subject, Boston: Allyn & Bacon,
Syam, Muhammad Noor. 1986. Filsafat Pendidikan dan Dasar Pendidikan Pancasila. Surabaya: Usaha Nasional.
Tim Penyusun. 1999. Buku Pedoman Kurikulum Pembelajaran Membaca al-Qur'an TK. al-Qur'an Sunan, Ngunut Tulung Agung: Emyu Com, Ltd.
Tim Penyusun. t.t. Qaidah Badgdadiyah ma`a Juz `Amma, Kudus: Menara Kudus.
Tim Penyusun. t.t. Qaidah Baghdadiyah ma`a Juz `Amma. Semarang: Nur Cahaya.
Walster dan Berscheid. 1978. Equity: Theory and Research. Boston: Allyn and Bacon.
Zarkasyi, Dachlan Salim. 1990. Metode Praktis Belajar Membaca al-Qur'an: Qira'aty, jilid I-VI. Semarang: Yayasan Pendidikan al-Qur'an Raudhatul Mujawwidin.
-----------. 1990. Metode Praktis Belajar Membaca al-Qur'an: Qira'aty, jilid I-X. Semarang: al-Alawiyah.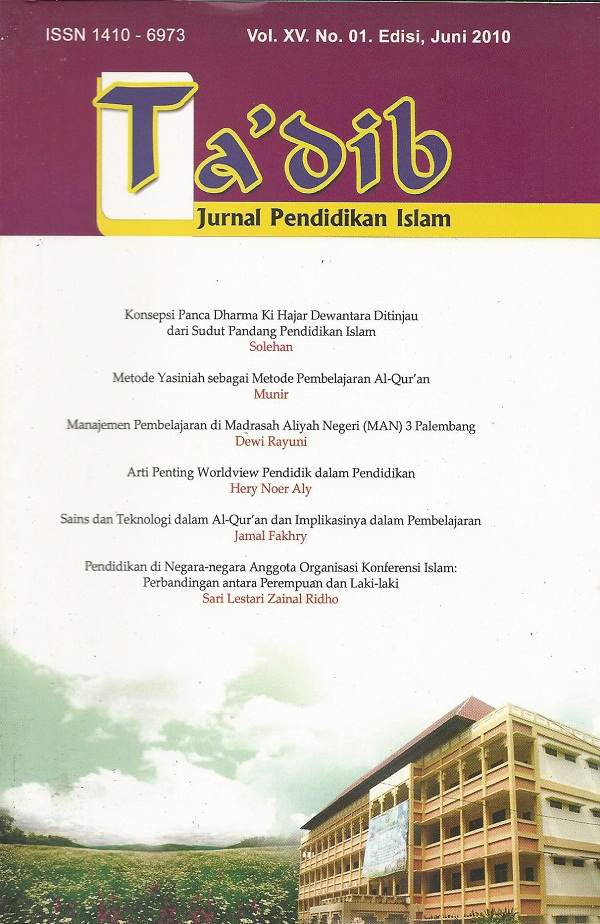 How to Cite
Munir, M. (1). METODE YASINIYAH SEBAGAI METODE PEMBELAJARAN MEMBACA AL-QUR'AN. Ta'dib:Journal of Islamic Education (Jurnal Pendidikan Islam), 15(01), 31-68. https://doi.org/https://doi.org/10.19109/tjie.v15i01.67

Ta'dib by http://jurnal.radenfatah.ac.id/index.php/tadib is licensed under a Creative Commons Attribution-ShareAlike 4.0 International License.