PENINGKATAN PROFESIONALISME GURU BAHASA ARAB: UPAYA PENINGKATAN MUTU PEMBELAJARAN BAHASA ARAB
Miswari Miswari

IAIN Sultan Ageng Tirtayasa, Banten
Abstract
Arabic subject is very important as a tool to  study and understand Islamic teaching. Arabic is not only important for the student at senior high level, but also for the college student. So, the subject has to be taught by competence teachers or lecturers. There are many ways to be professional as Arabic teacher. Among the ways are teacher should master the Arabic subject, learn more and feel that his knowledge has to be improved every time. Teachers also can improve the quality of learning process based on the standard, understand deeply about learning concept, and improving Arabic language countinously.
References
Dihyatun. 2003. "Nahwa Istrartijiyaj Ta'limul Lughoh Al Arabiyah Al Fa'aliyah". Makalah Kuliah Tamu 16 Maret 2003. UIN Malang.
Ellis, Rod. 1985. Understanding Second Lnguage Acquisition. Toronto: Oxford University Press.
Fauzan, Abdurrahman Ibn Ibrohim Al-. 2003. Diktat Workshop Pembelajaran Bahasa Arab Bagi Dosen Bahasa Arab. Malang: UIN Malang
Hamid, M. Abdul. 2006. "Kemampuan Dosen Bahasa Arab Perguruan Tinggi Agama Islam di Indonesia", dalam Jurnal el-Hikmah, Vol III Nomor 2 Januari 2006. Fakultas Tarbiyah UIN Malang.
Kholid, Zulvia. 2003. "Pendekatan Student Centred Dalam Pengajaran Struktur Bahasa Inggris" dalam bI .ac.id/padmalberitaledisi 2003/pendekatan
Murtadlo, Nurul. 2003. "Metode Pengajaran Bahasa Arab bagi Masyarakat Indonesia". Makalah Seminar
Nashir, Kamal Thn Badri Sholch. t.t. Usus Ta'lim al Lughoh al Ajnabiyah. Al Mamlakah As Saudiyah Al Arabiyah.
Sadtono, A. 1987. "Metode Belajar Mengajar Bahasa Inggris Untuk Kemampuan Komunikatif Lisan", Makalah Seminar Tanggal 19-22 Juli 1987. Jakarta.
Tarigan, Henry Guntur. 1990. Pengajaran Kompetensi Bahasa, Bandung: Angkasa.
Thoimah, Rusdi. 1989. Ta'limul Lughoh Lughoiri Nathiqina Biha, Manahijuhu Wa Asalibuhu. Jakarta: ISESCO.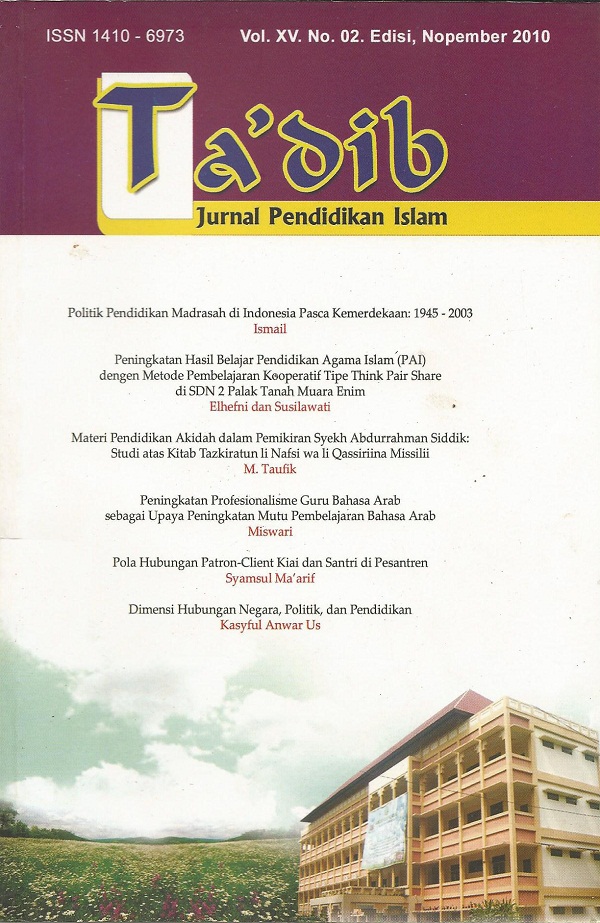 How to Cite
Miswari, M. (1). PENINGKATAN PROFESIONALISME GURU BAHASA ARAB: UPAYA PENINGKATAN MUTU PEMBELAJARAN BAHASA ARAB. Ta'dib: Journal of Islamic Education (Jurnal Pendidikan Islam), 15(02), 255-272. Retrieved from http://jurnal.radenfatah.ac.id/index.php/tadib/article/view/75

Ta'dib by http://jurnal.radenfatah.ac.id/index.php/tadib is licensed under a Creative Commons Attribution-ShareAlike 4.0 International License.