POLA HUBUNGAN PATRON-CLIENT KIAI DAN SANTRI DI PESANTREN
Syamsul Ma'arif

Fakultas Tarbiyah IAIN Walisongo
Abstract
Pesantren as a unique of Indonesian Islamic  education institution has a dynamic in its development. Although modernization and its implication has been influenced pesantren's existence, it can survive until noweday. One of factors support pesantren is figure of kiai as a strong leader with his patronage system. This is a relation pattern which has been rooted in pesantren tradition. The system has widely networks and disseminated by kiai not only in the pesantren, but also out of it. Patron-client between santri and kiai legitimize the authority and charisma of kiai. It also make him easy to influence and ask community to participate in buillding pesantren. Last but not least, the community it self have a good awareness and attitude (sami'na wa atha'na) in foolowing and supporting every single of kiai's policy for advance of pesantren.
References
Bruinessen, Martin Van. 1995. Kitab Kuning, Bandung: Mizan.
Bull, Ronald Alan Lukens. 2004. Jihad Ala Pesantren Di mata Antropolog Amerika, Yogyakarta: LKiS.
Dhofier, Zamachsyari. 1982. Tradisi Pesantren; Studi Pandangan Hidup Kiai, Jakarta: LP3ES.
Mansurnoor, Lik Arifin. 1990. Islam in an Indonesian World Ulama of Madura, Yogyakarta: Gadjah Mada University Press.
Mastuhu. 1994. Dinamika Sistem Pendidikan Pesantren, Jakarta: INIS.
Mas'ud, Abdurrahman. 2004. Intelektual Pesantren: Perhelatan Agama dan Tradisi, Yogyakarta: LkiS.
Moesa, Ali Maschan. 1999. Kiai dan Politik: Dalam Wacana Cicil Society, Surabaya, LEPKISS.
Muhtadi, Asep Saeful. 2004. Komunikasi Politik Nahdlatul Ulama, Yogyakarta: LP3ES.
Romas, Chumaidi Syarief. 2003. Kekerasan di Kerajaan Surgawi, Yogyakarta: Kreasi Wacana.
Scott, James. 1972. "The Erosion of Patron-Client Bonds and Social Change in Rural Southeast Asia", Journal of Asian Studies, November, 1972.
SM., Ismail dkk. (editor). 2002. Dinamika Pesantren dan Madrasah, Yogyakarta: Pustaka Pelajar dan Fakultas Tarbiyah IAIN Walisongo Semarang.
Steenbrink, Karel A. 1986. Pesantren Madrasah Sekolah, Jakarta: LP3ES.
Turmudi, Endang. 2003. Perselingkuhan Kiai dan Kekuasaan, Yogyakarta: LkiS.
Sukamto. 1999. Kepemimpinan Kiai dalam Pesantren, Jakarta: LP3S.
Wahid, Abdurrahman. 2001, Menggerakkan Tradisi Esai-Esai Pesantren, Yogyakarta: LkiS.
Ziemek, Manfred. 1986. Pesantren dalam Perubahan Sosial, Jakarta: P3M.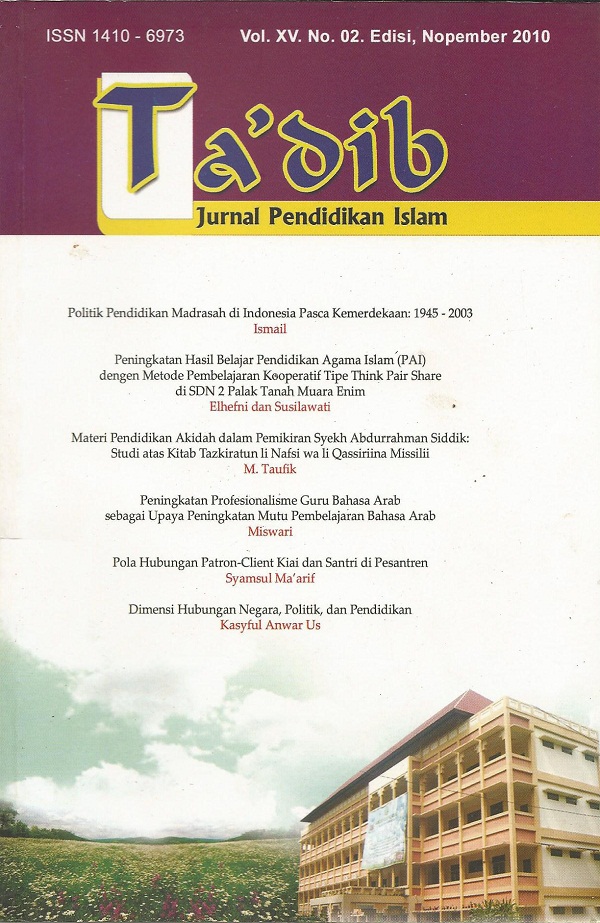 How to Cite
Ma'arif, S. (1). POLA HUBUNGAN PATRON-CLIENT KIAI DAN SANTRI DI PESANTREN. Ta'dib: Journal of Islamic Education (Jurnal Pendidikan Islam), 15(02), 273-296. Retrieved from http://jurnal.radenfatah.ac.id/index.php/tadib/article/view/76

Ta'dib by http://jurnal.radenfatah.ac.id/index.php/tadib is licensed under a Creative Commons Attribution-ShareAlike 4.0 International License.