SPIRITUAL INTELLIGENCE AND ORGANIZATIONAL COMMITMENTS OF PAC IPNU MAGELANG REGENCY
Kurnia Ulfa

Sekolah Tinggi Psikologi Yogyakarta

Adi Heryadi

Universitas Jenderal Achmad Yani Yogyakarta
Abstract
This study was conducted at the branch subsidiary (PAC) IPNU (Nahdhatul Ulama Student Association) in Magelang Regency. The study population was the administrators of Magelang Regency IPNU PAC which consisted of 18 PACs. The sample in this study amounted to 157 people selected by cluster random sampling technique. The topic of research is the extent to which the organizational commitment of the board when linked to spiritual intelligence, because managing a non-profit organization is different when we are managing a profit organization. The scale of spiritual intelligence and the scale of organizational commitment become data collection tools in this study where the second scale was made by researchers. The data collected were analyzed with the product moment correlation technique resulting in a value of 0.556 with a significance level of 0,000 (p <0.01), indicating that spiritual intelligence and organizational commitment of PAC IPNU administrators in Magelang Regency were highly correlated. The effective contribution of the spiritual intelligence variable contributed 30.9% to the organizational commitment of the PAC IPNU Magelang District management, while 69.1% of the organizational commitment was influenced by other factors.
References
Alkhatani, A. H. (2016). The Influence of leadership Styles on Organizational Commitment: The Moderating Effect of Emotional Intelligence.Bussiness and Management Studies King Abdul Aziz University. 2(1), 23-34

Agustian, A. G. (2007). Kecerdasan Spiritula Danah Zohar. Bandung: PT Mizan Pustaka

Agustian, A. G. (2016). ESQ Emotional Spiritual Quotient Rahasia Sukses Membangun Kecerdasan Emosi dan Spiritual. Jakarta: PT Arga Tilanta.

Damayanti, G. (2010). Hubungan Antara Kepuasan Keja dengan Komitmen Organisasi. Skripsi. Surakarta: Fakultas Psikologi Universitas Muhammadiyah Surakarta

Haryono, S., Febry R. (2017). Pengaruh Kecerdasan Emosi dan Spiritual Terhadap Kinerja Perawat Temporer Dengan Komitmen Organisasi Sebagai Variabel Intervening.Jurnal JEB. Yogayakarta: Universitas Muhammadiyah
Yogyakarta. 1(2), 1-8

Kadir, A. A., Fenti H., Witrin G. (2012). Hubungan Antara Tipe Kepribadian Menurut Eysenck Dengan Komitmen Organisasi Pada Osis Sman 2 Cimahi. Jurnal Ilmiah Psikologi. Bandung: Fakultas Psikologi Universitas Islam Negeri
Sunan Gunung Djati. 5(1), 521 – 534

Latib., Azis F., Maria M.M. (2016). Pengaruh Budaya Organisasi, Kepemimpinan dan Motivasi Terhadap Komitmen Organisasi dan Kinerja Pegawai (Studi Pegawai Dinas Pasar Kota Semarang). Journal Of Management. Semarang: Fakultas Ekonomika dan Bisnis Universitas Pandanaran Semarang. 2(2), 1-10

Menne, F. (2017). Nilai – Nilai Spirtual Dalam Entitas Bisnis Syariah . Makasar : Celebes Media Perkasa.
Portalhr.com. (2018). Membedah Pandangan Karyawan Indonesia. Diakses pada 19 Mei 2018, dari https://portalhr.com/people-management/employee-relations/membedah-pandangan- karyawan-indonesia.

Prabawati, I. N. (2017). Meaningful Work dan Work Engagement terhadap Komitmen Organisasi pada Relawan. Jurnal Psikologi, 10(1).

Pramesthi, A. P. (2017). Hubungan Antara Kecerdasan Emosi dengan Komitmen Organisasi karyawan. Skripsi. Fakultas Psikologi. Universitas Muhammadiyah Surakarta

Rohman, T. A. (2016). Pengaruh Kecerdasan Spiritual Terhadap Komitmen Organisasi Pada Pengurus PC IPNU IPPNU Tulungagung. Skripsi. Jurusan Tasawuf dan Psikoterapi. Fakultas Ushuludin Adab dan Dakwah. Institut Agama
Islam Nageri Tulungagung

Robbins, S. P., Timothy A. J. (2008). Perilaku organisasi "organizational behavior" edisi 12. Jakarta : Salemba Empat

Santoso, S. (2010). Statistik Multivariat Konsep dan Aplikasi dengan SPSS. Jakarta : Elek Media Komputindo.

Sri, Mulyati (2012). Pengaruh Komitmen Organisasi dan Penerapan PSAK No. 45 Terhadap Kualitas Laporan Keuangan Lembaga Swadaya Masyarakat (Lsm) Di Kabupaten Aceh Utara. Masters thesis, Universitas Syiah Kuala.

Tikollah, M.T., Triyuwon I., Ludigdo U. (2006). Pengaruh Kecerdasan Intelektual, Kecerdasan Emosional, dan Kecerdasan Spiritual Terhadap Sikap Etis Mahasiswa Akuntansi. Padang : Simposium Nasional Akuntasi 9.

Widiyanto, M. A. (2013). STATISTIK TERAPAN : Konsep & Aplikasi SPSS dalam Penelitian Bidang Pendidikan, Psikologi & Ilmu Sosial Lainnya. Jakarta : PT Elex Media Komputindo

Yusuf, A. M. (2017). Metode Penelitian Kuantitatif, Kualitatif & Penelitian Gabungan. Jakarta : Kencana

Yuwono, B. (2010). SQ Reformation Rahasia Pribadi Cerdas Spiritual "GENIUS HAKIKI" Tujuh Tahap Kurikulum Kehidupan "Proses Penciptaan Kelimpahan Sejati. Jakarta: PT Gramedia Pustaka Utama

Zohar, D., Ian M. (2000). SQ Spiritual Intelligence the Ultimate Intelligence. Bloomsbury : Great Britain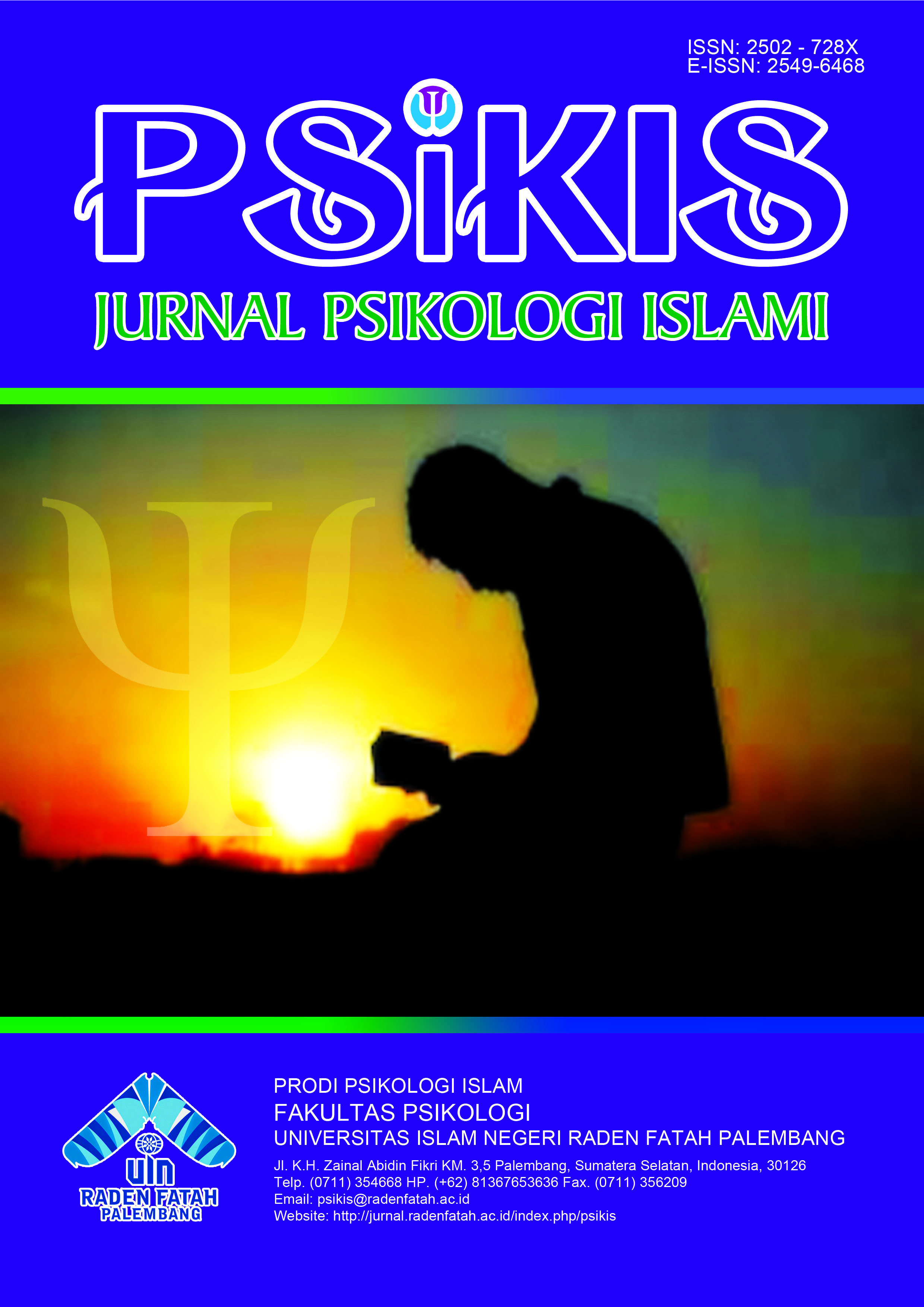 How to Cite
Ulfa, K., & Heryadi, A. (2020). SPIRITUAL INTELLIGENCE AND ORGANIZATIONAL COMMITMENTS OF PAC IPNU MAGELANG REGENCY. Psikis : Jurnal Psikologi Islami, 6(1), 58-67. https://doi.org/https://doi.org/10.19109/psikis.v6i1.3240
Section
Articles June 2020

Psikis: Jurnal Psikologi Islami by http://jurnal.radenfatah.ac.id/index.php/psikis is licensed under a Lisensi Creative Commons Atribusi-BerbagiSerupa 4.0 Internasional.