DAMPAK POLA ASUH AYAH TERHADAP PERKEMBANGAN ANAK USIA DINI
TIA NOVELA

universitas negeri padang
Keywords:
Keluarga, Pola Asuh, Ayah, Perkembangan Anak
Abstract
Keluarga adalah tempat peletak landasan pertama yang didapatkan oleh anak usia dini dari orang tua nya. Didalam mendidik anak didalam keluarga mempunyai pola asuh dari orang tua ayah dan ibu mempunyai peran penting yang sama. Orang tua pasti ingin anaknya tumbuh dan berkembang menjadi anak yang sehat, cerdas, kreatif, mandiri, beriman dan bertaqwa kepada Allah SWT. Memaluli pola asuh yang di berikan orang tua akan berpengaruh terhadap seluruh perkembangan anak. Pentingnya figure seorang ayah akan mempengaruhi perkembangank kognitif, sosial emosional, nilai agama moral, bahasa, seni  pada anak. Karena dengan ada nya peran seorang ayah anak akan merasa senang, seorang ayah dapat memberikan motivasi kepada anak. Dengan mengetahui bagaimana peran ayah dan peran ibu maka anak akan rasa senang, emosi yang timbul terhadap anak pun emosi yang positif.
References
Dagun, S. M. 2002. Psikologi Keluarga (2nd ed.). Jakarta: PT Rineka Cipta.
Djamarah, S. B. 2014. Pola Asuh Orang Tua dan Komunikasi dalam Keluarga. Jakarta: PT rineka cipta.
Morrison, George S. 2012. Dasar-Dasar Pendidikan Anak Usia Dini (PAUD). University of North Texas: Indeks.
Papalia, Diane E. 2012. Experiences Human Development. USA: Mc Graw Hill.
Jahja, Y. (2011). Psikologi Perkembangan. Jakarta: Kencana.
Qodariah, L., & Pebriani, L. V. 2016. Recognizing Young Children's Expressive Styles of Emotions (2-6 Years Old). Proceedings of the 3Rd International Conference on Early Childhood Education (Icece 2016), 58.
Safira, T., & Saputra, N. E. 2009. Manajemen Emosi. Jakarta: PT Bumi Aksara.
Vivi, A. 2018. Fatherhood Dalam Perkembangan dan Pendidikan Islam Anak Usia Dini. Pendidikan Anak Usia Dini, II.
Widiastuti, A. A. 2016. Preschoolers Self-Regulation and Their Early School Success. Proceedings of the 3Rd International Conference on Early Childhood Education.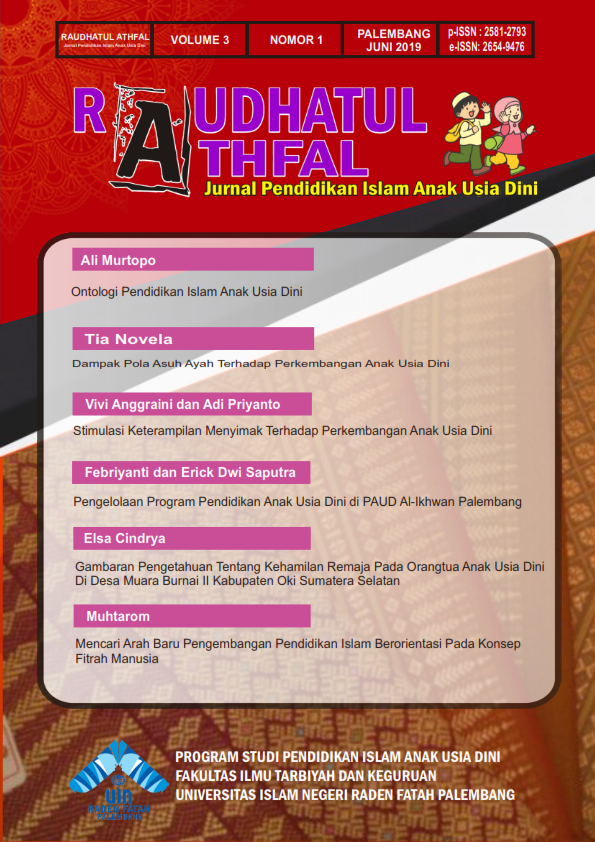 How to Cite
NOVELA, T. (2019). DAMPAK POLA ASUH AYAH TERHADAP PERKEMBANGAN ANAK USIA DINI. Raudhatul Athfal: Jurnal Pendidikan Islam Anak Usia Dini, 3(1), 16 - 29. https://doi.org/https://doi.org/10.19109/ra.v3i1.3200

Raudhatul Athfal by http://jurnal.radenfatah.ac.id/index.php/raudhatulathfal is licensed under a Creative Commons Attribution-ShareAlike 4.0 International License.