PENGEMBANGAN MEDIA RUBIK'S CUBE COLOR FULD TERHADAP KEMAMPUAN PENGENALAN WARNA ANAK USIA DINI
PENGEMBANGAN MEDIA RUBIK'S CUBE COLOR FULD TERHADAP KEMAMPUAN PENGENALAN WARNA ANAK USIA DINI
Mukhammad Nurdin Chamim

Universitas Negeri Surabaya
Keywords:
playroom, cube, and early age children
Abstract
In this advancement is for creating a new learning media for early age children in order to know or to learn about color by using modified cube as the main media. The data collection is from the result of interview session and direct observation in academic class or in home domain. The researcher choose the idea, theme, concept, mind mapping, skecthing, design the wooden cube, coloring, until finalizing the design. The result of the advancement, overall can create a playroom for children that can be used for learning media. The media is deliberate in some ways there are the main media which is rubik cube color fold,  with the addition or support by using folden paper like origami and sticker, and intersting case.
References
Anitah, Sri. 2009. Media pembelajaran. Surakarta: UNS Press.
Arikunto, Suharsimi. 2013. Prosedur Penelitian. Jakarta: PT. RinekaCipta.
Arsyad, Azhar. 2011. Media Pembelajaran. Jakarta: PT. Raja Grafindo Persada.
Asnawir & Basyirudin Usman.Media Pembelajaran. Jakarta: Ciputat Pres.
Antonius, Iskandar 2011. Perancangan aplikasi untuk menyelesaikan rubik. Pontianak: In teksis
Beaty. Janice. 2013. Observasi Perkembangan Anak Usia Dini Edisi Ketujuh. Jakarta: PT Fajar Interpratama Mandiri.
Desmita.2009. Psikologi Perkembangan Peserta Didik. Bandung : PT Remaja Rosdakarya
Fadillah, Muhammad. 2014. Desain Pembelajaran PAUD. Jogjakarta: AR-Ruzz Media.
Hasan, Maimunnah. 2010. PAUD (Pendidikan Anak Usia Dini).Banguntapan Jogjakarta: Diva Press.
Hernia, Hesti. 2013. Kemampuan Mengenal Warna Pada Anak Usia 4-5 Tahun di TK Segugus III Kecamatan Panjatan Kabupaten Kulon Progo. Skripsi diterbitkan. Yogyakarta: Universitas Negeri Yogyakarta.
Isnaini, Yulifirda. 2011. Penerapan matematikan pada kubus rubik. Jakarta : Blog spot
Kementrian pendidikan nasional. 2010. Kurikulum taman kanak-kanak (pedoman pengembangan program pembelajaran ditaman kanak-kanak). Jakarta: Dirjen Manajemen Pendidikan dasar dan menegah.
Peraturan Menteri Pendidikandan Kebudayaan Republik Indonesia Nomor 137 tahun 2014 tentang Standar Nasional Pendidikan Anak Usia Dini. 2014. Jakarta: Departemen Pendidikan Nasional.
Petunjuk Teknis Penyelenggaraan Taman Kanak-Kanak. Kementrian dan Kebudayaan Direktor Jenderal Pendidikan Anak Usia Dini Nonformal dan Informal. 2013. Jakarta: Departemen Pendidikan Nasional.
Paramita, Ecka. 2010. Dahsyatnya Anak Usia Emas. Yogyakarta: Intrepreebook Prestasi.

Peraturan Menteri Pendidikan dan Kebudayaan Republik Indonesia Nomor 137 tahun 2014 tentang Standar Nasional Pendidikan Anak Usia Dini.

Rasyid, Harun. 2009. Asesment Perkembangan Anak Usia Dini. Yogyakarta: Multi Pressindo.

Susanto, Ahmad. 2011. Perkembangan Anak Usia Dini. Kencana Prenada Media Group. Jakarta. 2012. Perkembangan Anak UsiaDini. Jakarta : Kencana.

Suyadi.2012.PanduanPenelitianTindakanKelas.Jogyakarta:DIVAPress
Sugiyono. 2012. Statistika untuk Penelitian. Bandung: Alfabela.
Sugiyono.2013. Metode Penelitian pendidikan (Pendidikan Kuantitatif, Kualitatif, dan R & D).Bandung:Alfabeta.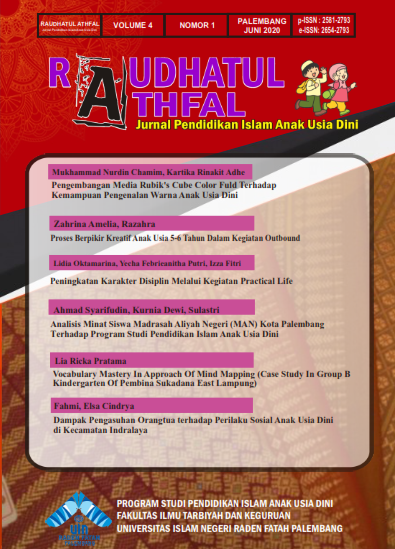 How to Cite
Chamim, M. ( ). PENGEMBANGAN MEDIA RUBIK'S CUBE COLOR FULD TERHADAP KEMAMPUAN PENGENALAN WARNA ANAK USIA DINI. Raudhatul Athfal: Jurnal Pendidikan Islam Anak Usia Dini, 4(1), 1-17. https://doi.org/https://doi.org/10.19109/ra.v4i1.4428

Raudhatul Athfal by http://jurnal.radenfatah.ac.id/index.php/raudhatulathfal is licensed under a Creative Commons Attribution-ShareAlike 4.0 International License.