VOCABULARY MASTERY IN APPROACH OF MIND MAPPING (CASE STUDY IN GROUP B KINDERGARTEN OF PEMBINA SUKADANA EAST LAMPUNG)
lia ricka pratama

IAIN Metro
Keywords:
vocabulary, mind mapping
Abstract
Penelitian ini bertujuan untuk memperoleh gambaran penguasaan kosakata dalam pembelajaran peta pikiran di kelompok B TK Pembina Sukadana Lampung Timur. Penelitian ini merupakan penelitian kualitatif dengan metode studi kasus. Analisis data menggunakan model penjodohan Campbell. Teknik pengumpulan data menggunakan observasi, wawancara, dan dokumentasi. Hasil temuan penelitian menunjukkan bahwa: (1) pemerolehan kosakata anak berasal dari lingkungan keluarga, lingkungan sekolah dan lingkungan bermain, (2) proses berbagi kata anak dilakukan melalui pengalaman baik  yang dimiliki anak dari luar pembelajaran  maupun yang diperoleh anak ketika proses pembelajaran, (3) terjadi keragaman proses pemerolehan yang terdiri dari kata benda, kata kerja, kata keterangan, kata ganti dan kata sifat. Kata Kunci : kosakata, peta pikiran
References
Badru Zaman, dkk. Media dan sumber Belajar TK. Jakarta; Universitas terbuka 2008
Bobbi DePorter, Quantum Teaching, (Bandung : Kaifa,2010)
Catharina Tri Anni & Achmad Rifa'i, Psikologi Belajar, (Semarang : UPT MKK UNNES,2009)
Gorys Keraf, Diksi dan Gaya Bahasa, (Jakarta:Gramedia,2000)
Handini Myrnawati Crie, "Metodogi Penelitian untuk Pemula ( Jakarta: FIP Press, 2011)
Hartati Sofia, How To Be a Good Teacher and To Be a Good Mother, (Jakarta: Enno Media, 2007)
Jaipul L. Roopnarine & James E. Johnson, pendidikan anak usia dini dalam berbagai pendekatan, (Jakarta : kencana pranada,2011)
Janice J Beaty, Observasi Perkembangan Anak Usia Dini Edisi Ketujuh (Jakarta: Kencana Prenadamedia group, 2013)
Jo Anne L Vacca, Richard T Vacca & Marry K. Gove, Reading and learning to read (Boston:Little Brown & Company, 1987)
John Creswell, Research Design, Edisi ketiga ( Yogyakarta, Pustaka pelajar, 2010)
M. Ramli, Pendampingan Perkembangan Anak Usia Dini, (Jakarta: Depdiknas, 2004)
Morrison George S.. Dasar-dasar Pendidikan Anak Usia Dini (PAUD). Jakarta: PT.Indeks. 2012
Sutanto Windura, 1 thMind Map untuk siswa,guru dan orang tua (Jakarta: Elex Media Komputindo, 2013)
Suyadi, Teori Pembelajaran Anak Usia Dini (Bandung: Remaja Rosdakarya, 2014)
Suyadi, Teori Pembelajaran Anak Usia Dini (Bandung: Remaja Rosdakarya, 2014)
Tarigan Henry Guntur. Pengajaran pemerolehan bahasa. Bandung; Penerbit Angkasa. 2011
Tarigan Henry Guntur, Pengajaran Kosakata(Bandung :Angkasa, 1984)
Tony Buzan, Buku Pintar Mind Map, (Jakarta : Gramedia Pustaka Utama,2005)
Tony Buzan, Buku Pintar Mind Map ( Jakarta: Gramedia Pustaka Utama, 2006)
Undang-undang Nomor 20 tahun 2003 tentang Sisdiknas, Pasal 28 ayat 1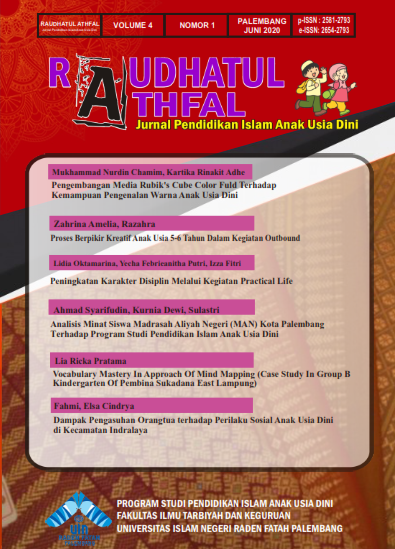 How to Cite
pratama, lia. (2020). VOCABULARY MASTERY IN APPROACH OF MIND MAPPING (CASE STUDY IN GROUP B KINDERGARTEN OF PEMBINA SUKADANA EAST LAMPUNG). Raudhatul Athfal: Jurnal Pendidikan Islam Anak Usia Dini, 4(1), 78-92. https://doi.org/https://doi.org/10.19109/ra.v4i1.5103

Raudhatul Athfal by http://jurnal.radenfatah.ac.id/index.php/raudhatulathfal is licensed under a Creative Commons Attribution-ShareAlike 4.0 International License.