Pengaruh Media Animasi Audio Visual Terhadap Karakter Disiplin Anak di RA Insanul Fitroh Palembang
Santia13
Santia Santia

Pendaftar

Leny Marlina

Lidia Oktamarina
Keywords:
Media, animation Audio visual, disciplin
Abstract
ABSTRACKDiscipline is a very important character to be instilled in children. Discipline in early childhood does not appear suddenly, but starts through a routine that is done consistently every day. The problem in this research is that the media is too monotonous. This study aims to determine the effect of audio-visual animation media on disciplinary characters in RA Insanul Fitroh Palembang. The research method used is Pre experimental design with One Group research design pre test post test. The study population used in this study were all group A in RA Insanul Fitroh Palembang, which amounted to 10 children. Data collection using documentation and observation, analysis results with t-test X2calculated = 0.23 <X2table = 3.841 and hypothesis testing the results of tcount = 10.045> ttable = 2.101 Thiproves that there is a significant influence between audio-visual animation media on discipline characters RA Insanul Fitroh son of Palembang.Keywords: Media, animation, Audio visual, disciplin
References
Agus Wibowo, 2013, pendidikan Karakter Usia Dini, Yogyakarta:pustaka bejar.

Buhano Agung Nugroho,2005, Strategi Jitu Memilih Metode Statistik Penelitian Dengan SPPS, Yogyakarta: Andi

Badru, 2014,Media Dan Sumber Belajar PAUD, Tangerang Selatan:Universitas Terbuka.

Choirun Nisakk, 2013, Pedagogia:Penanaman disiplin Pada Anak Usia dini, Volume.2, No.1, Februari

Dias, 2016, Peran guru Dalam Menanmkan Disiplin Pada Usia 5-6 Tahun, Pendidikan Guru Anak Usia Dini. FKIP UNTAN Pontianak.

Fristiana Iriana,2016, Pengembangan Kurikulum teori, konsep dan aplikasi, Yogyakarta:dua satria obset.

Felly Permana, 1961, Moral Education, PT;gelora aksara pratama.

Hafied,Cangara, 2006, Pengantar Ilmu Komunikasi, Jakarta: PT Raja Grafindo.

Kementrian Pendidikan Nasional, 2011, Disiplin Pada Anak.

Luluk asmawati, 2014, Perencanaan Pembelajaran PAUD, Bandung: PT remaja rosdakarya.

Peraturan Menteri Pendidikan Dan Kebudayaan Republik Indonesia Nomor 146 Tahun 2014 Tentang Kurikulum 2013 Pendidikan Anak Usia Dini.

Rusmam, 2013, Pembelajaran Berbasis Teknologi Informasi Dan Komonikasi, Jakarta:Rajawali,

Sugiyono, 2017, metode penelitian pendidikan pendekatan kuantitatif, kualitatif, dan R&D, Bandung: Alphabeta CP.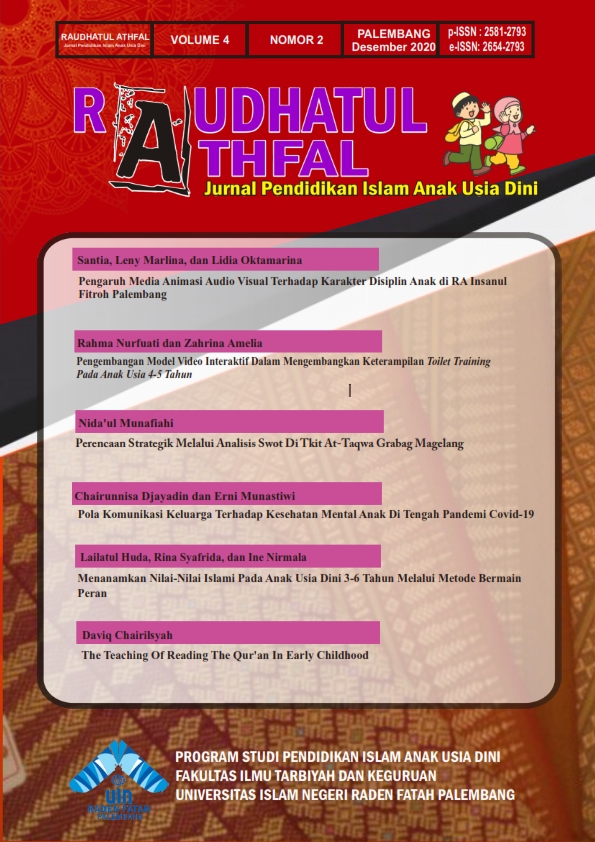 How to Cite
Santia, S., Marlina, L., & Oktamarina, L. (2020). Pengaruh Media Animasi Audio Visual Terhadap Karakter Disiplin Anak di RA Insanul Fitroh Palembang. Raudhatul Athfal: Jurnal Pendidikan Islam Anak Usia Dini, 4(2), 114-130. Retrieved from http://jurnal.radenfatah.ac.id/index.php/raudhatulathfal/article/view/5271

Raudhatul Athfal by http://jurnal.radenfatah.ac.id/index.php/raudhatulathfal is licensed under a Creative Commons Attribution-ShareAlike 4.0 International License.