Penanaman Nilai Agama Pada Anak Usia Dini Di Raudhatul Athfal Darul Ulum Muaramais Jambur Mandailing Natal
Keywords:
development, breeding, spiritual
Abstract
: The objective of this research is to describe the form of religious orientation that was applied in Raudhatul Athfal Darul Ulum Muara Mais district of Mandailing Natal. This study uses qualitative research that emphasizes direct observation by contextual analysis in observing each issue. The method of maintaining values is to formulate each activity in Islamic Discourse. Starting with the recognition of the concept, and practicing of the worship, exemplary, tourism and inculcate ideals.
References
Ananda, Rizki. (2017). Implementasi Nilai-nilai Moral dan Agama pada Anak Usia Dini. Jurnal Obsesi: Jurnal Pendidikan Anak Usia Dini, 1/(1), 19–31. DOI: https://doi.org/10.31004/obsesi.v1i1.28
Depdiknas. (2004). Standar Kompetensi Taman Kanak-kanak dan Raudatul Athfal, Depdiknas, Jakarta
http://paud.kemdikbud.go.id/2017/01/16/menyiapkan-anak-anak-generasi-emas/
https://bangda.kemendagri.go.id/berita/baca_kontent/1399/pemerintah_dorong_program_satu_paud_satu_desa
Jalaluddin. (2012). Psikologi Agama, Jakarta: Raja Grafindo Persada
Lickona, Thomas. (1992). Educating for Character: How Our Schools Can Teach Respect and Responsibility, New York: Bantam
Mayar, Farida. (2013) Perkembangan Sosial Anak Usia Dini Sebagai Bibit Untuk Masa Depan Bangsa. Jurnal Al-Ta'lim, 1/(6), 459-465 DOI: 10.15548/jt.v20i3.43
Moeloeng, Lexy J. (2006). Metode Penelitian Kualitatif, Bandung: PT. Remaja Rosda Karya
Muhith, Abdul & Sandu Siyoto. (2018). Aplikasi Komunikasi Terapeutik Nursing & Health, Yogyakarta: Andi
Rahman, Hibana S. (2020). Konsep Dasar Pendidikan Anak Usia Dini, Yogyakrta: Pgtki Press
Sobur, Alex. (1986). Anak Masa Depan, Bandung: Angkasa
Subianto, Jito. (2013). Peran Keluarga, Sekolah, dan Masyarakat Dalam Pembentukan Karakter Berkualitas. Edukasia: Jurnal Penelitian Pendidikan Islam, 8/(2), 331-354. http://dx.doi.org/10.21043/edukasia.v8i2.757
Syarifuddin, Ahmad. (2004). Mendidik Anak: Membaca, Menulis Dan Mencintai Al-Quran, Jakarta: Gema Insani Press
Wiyani, Novan Ardy. (2017). Perencanaan Strategik Pembentukan Karakter Anak Usia Dini di TK Islam al-Irsyad Purwokerto. Al-Athfal Jurnal Pendidikan Anak, 3/(2), 105-118 DOI: https://doi.org/10.14421/al-athfal.2017.32-01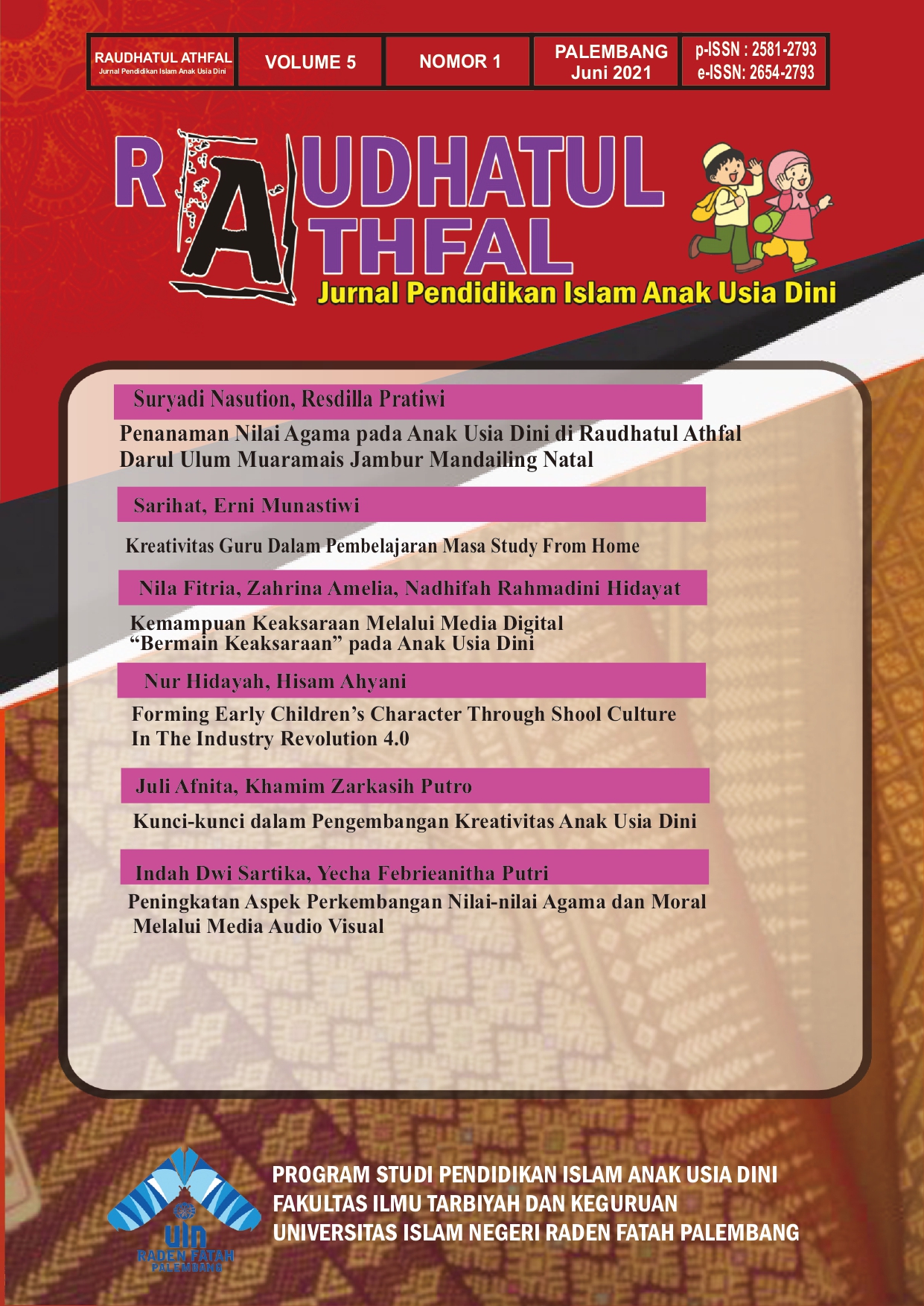 How to Cite
Nasution, S., & Pratiwi, R. (2021). Penanaman Nilai Agama Pada Anak Usia Dini Di Raudhatul Athfal Darul Ulum Muaramais Jambur Mandailing Natal. Raudhatul Athfal: Jurnal Pendidikan Islam Anak Usia Dini, 5(1), 1-16. https://doi.org/https://doi.org/10.19109/ra.v5i1.7811

Raudhatul Athfal by http://jurnal.radenfatah.ac.id/index.php/raudhatulathfal is licensed under a Creative Commons Attribution-ShareAlike 4.0 International License.