PENGINTEGRASIAN PENDIDIKAN KARAKTER DALAM AKTIVITAS PEMBELAJARAN BAHASA INGGRIS
Annisa Astrid

Fakultas Tarbiyah dan Keguruan UIN Raden Fatah
Abstract
The current social problems are often related to the failure in building in our education process, more specifically teaching and learning process. Meanwhile, the basic concept of education is more than just transmitting knowledge to the learners but providing opportunities for the learners to build their character. Character education should be integrated into all subjects the students learn, including English as a Foreign Language (EFL). In setting up the objectives, it is important to provide students with learning activities and exercises which build character such as allowing students to understand the importance of respecting others or introducing responsibility. Such activities could be applied in all language learning activities. Accordingly, this paper tries to describe the integration of character education into language learning activities. Integrating character education into language activities should be started just from the initial process of designing curriculum. 
References
Ahmad Amin. 1995. Etika (Ilmu Akhlak). Terj. oleh Farid Ma'ruf. Jakarta: Bulan Bintang. Cet. VIII.
Doni Koesoema A. 2007. Pendidikan Karakter: Strategi Mendidik Anak di Zaman Global. Jakarta: Grasindo. Cet. I.
Echols, M. John & Shadily, H. 1995. Kamus Inggris Indonesia: An English- Indonesian Dictionary. Jakarta: PT Gramedia. Cet. XXI.
Frye, Mike at all. (Ed.) 2002. Character Education: Informational Handbook and Guide for Support and Implementation of the Student Citizent Act of 2001.North Carolina: Public Schools of North Carolina.
Hartono, Yudi. 2012. Ikippgri.madiun.ac.id/ejournal/node/246
Lickona, Thomas. 1991. Educating for Character: How Our School Can Teach Respect and Responsibility. New York, Toronto, London, Sydney, Aucland: Bantam books.
Pusat Bahasa Departemen Pendidikan Nasional. 2008. Kamus Bahasa Indonesia.Jakarta: Pusat Bahasa. Cet. I.
Ryan, Kevin & Bohlin, K. E. 1999. Building character in Schools: Practical Ways to Bring Moral Instruction to Life. San Francisco: Jossey Bass.
Undang-undang Republik Indonesia Nomor 20 Tahun 2003 tentang Sistem Pendidikan Nasional.
Vale, D., Scarino, A. & McKay P. (1991). The Eight Principles of Language Learning, in Pocket all : a users' guide to the teaching of languages and ESL. Carlton: Curriculum Corporation
http://www.goodcharacter.com/EStopics.html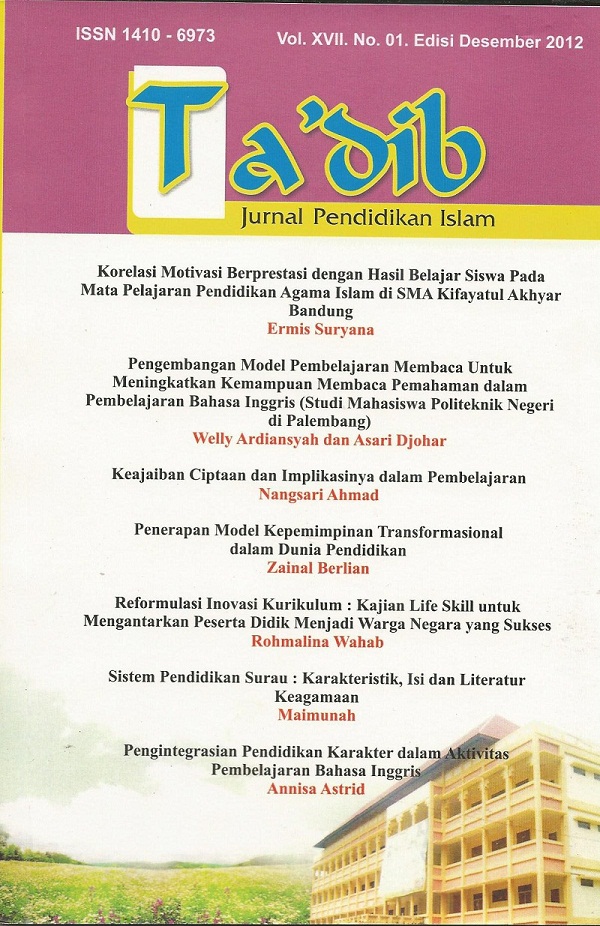 How to Cite
Astrid, A. (1). PENGINTEGRASIAN PENDIDIKAN KARAKTER DALAM AKTIVITAS PEMBELAJARAN BAHASA INGGRIS. Ta'dib: Journal of Islamic Education (Jurnal Pendidikan Islam), 17(02), 271-284. Retrieved from http://jurnal.radenfatah.ac.id/index.php/tadib/article/view/35

Ta'dib by http://jurnal.radenfatah.ac.id/index.php/tadib is licensed under a Creative Commons Attribution-ShareAlike 4.0 International License.