KONSEP MUTU DAN TOTAL QUALITY MANAJEMENT (TQM) DALAM DUNIA PENDIDIKAN
Asmuni Asmuni

Pascasarjana UIN Maulana Malik Ibrahim Malang
Abstract
Recently, educational world is so striking because the government has been been doing and focusing on some efforts to build the concept of educational quality. One of the steps is a curriculum renewal in 2013. Although the 2013 curriculum has similar substance as the previous curriculum, one difference only lies on the method, namely Thematic Method. However, the curricullum cannot be separated from the quality of education itself that needs to be considered carefully, and great confidence arises when a new policy with extraordinary vision to 2025 that is to establish "smart and competitive Indonesian pupil (Perfect/ generous human being)". Although, like it or not if we analyze together that education in Indonesia, especially regarding to the quality, it can be said that it is much weaker compared to other countries in Southeast Asia such as Malaysia, Singapore, and Thailand. Therefore, the solution is to improve the quality of culture, and it is supposed to be a priority for the nation's education today.Of course, the whole matter cannot be separated from the Total Quality Management (TQM), which is the chief of the concept of quality. Eventhough at the beginning TQM  itself was used by the company or business sector but today has grown up and spread to the world of education. It is because basically, the management system between the company and the management of the education system is relatively the same, especially related to the primary goal of TQM that is to give priority to customer satisfaction and quality compared to other things. Thus, the quality of education is a key sector for TQM concepts to develop an institution variously, creatively and innovatively.
References
Departemen Pendidikan Nasional. 1999. Kamus Besar bahasa Indonesia. Jakarta: Balai Pustaka.
Gaspersz, Vincent. 2005. Total Quality Management. Jakarta: Gramedia Utama.
Hamalik, Oemar. 2007. Dasar-Dasar Pengembangan Kurikulum. Bandung: Remaja Rosdakarya.
Kamus Besar Bahasa Indonesia. Offline.
Minarti, Sri. 2011. Manajemen Sekolah; Mengelola Lembaga Pendidikan Secara Mandiri. Yogyakarta: Ar-Ruzz Media.
Mulyadi. 2010. Kepemimpinan Kepala Sekolah; dalam Mengembangkan Budaya Mutu. Malang: UIN Maliki Press.
Mulyasa, H. E. 2011. Manajemen dan Kepemimpinan Kepala Sekolah. Jakarta: Bumi Aksara.
Nawawi, Hadari. 2005. Manajemen Strategik Organisation-Profit Bidang Pemerintahan dengan Ilustrasi di Bidang Pendidikan. Yogyakarta: Gajah Mada University Press.
Prawirosentono, Suyadi. 2004. Filosofi Baru Tentang Manajemen Mutu Terpadu (Total Quality Management) Abad 21 Studi Kasus dan Analisis. Jakarta: Bumi Aksara.
Rohiat. 2009. Manajemen Sekolah; Teori dan Praktek. Bandung: Refika Aditama.
Sallis, Edward. 2006. Total Quality Management in Education, terj. Ahmad Ali Riyadi dkk. Yogyakarta: IRCiSoD.
Sudiyono. 2004. Manajemen Pendidikan Tinggi, Jakarta: Rineka Cipta.
Tim Dosen AP UPI. 2009. Manajemen Pendidikan. Bandung: Alfabeta.
Tjiptono, Fandi dan Anastasia Diana. 2003. Total Quality Management (TQM). Yogyakarta: Andi Offset.
Tobroni. http://tobroni.staff.umm.ac.id/2010/11/25/teori-teori-tentang-mutu-sekolah,/
Umiarso dan Imam Gojali. 2011. Manajemen Mutu Sekolah di Era Otonomi Pendidikan, Jakarta: IRCiSoD.
Usman, Husaini. 2008. Manajemen Teori Praktik dan Riset Pendidikan. Jakarta: Bumi Aksara.
Rivai, Veithzal dan Sylviana Murni. 2009. Education Management; Analisis Teori dan Praktik. Jakarta: Raja Grafindo Persada.
http://ekookdamezs.blogspot.com/cara-mengukur-efektivitas-pendidikan.html.
http://udin-ngantok.blogspot.com/2010/11/peningkatkan-mutu-pendidikan-i.html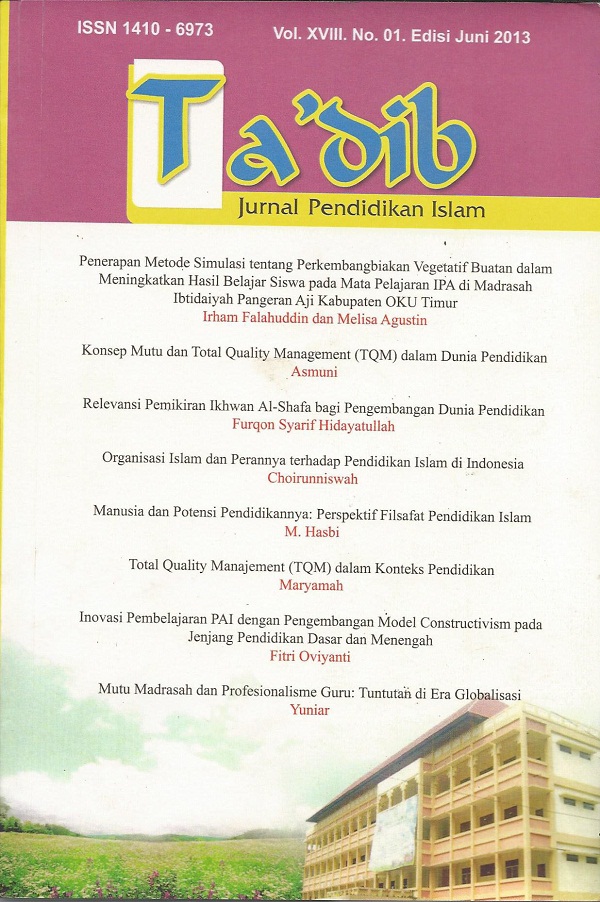 How to Cite
Asmuni, A. (1). KONSEP MUTU DAN TOTAL QUALITY MANAJEMENT (TQM) DALAM DUNIA PENDIDIKAN. Ta'dib: Journal of Islamic Education (Jurnal Pendidikan Islam), 18(01), 16-42. Retrieved from http://jurnal.radenfatah.ac.id/index.php/tadib/article/view/37

Ta'dib by http://jurnal.radenfatah.ac.id/index.php/tadib is licensed under a Creative Commons Attribution-ShareAlike 4.0 International License.