IMPLIKASI PERTARUNGAN IDEOLOGI TERHADAP PENDIDIKAN DI INDONESIA
Afriantoni Afriantoni

Fakultas Tarbiyah IAIN Raden Fatah
Abstract
The battles of ideology after Indonesia's independence has implied indirectly toward the development of national education which was established by the Indonesian nation. Battles and debates of the concept of Indonesian education system has been becoming public consumptions that never ends. The implication is the double educational system which happens in Indonesia nowadays, and those are the real forms of ideology battles. Consequently the battles linearly impact on the institution dichotomy, educational objective, scientific and curriculum in every Indonesian  educational unit. 
References
Ahmad, Nangsari. 2003. Prospek Pendidikan Islam di Indonesia. Makalah. Palembang.
Asrohah, Hanun. 2001. Sejarah Pendidikan Islam. Jakarta: Logos.
Boland, B.J. 1985. Pergumulan Islam di Indonesia 1945-1970. Jakarta: Gratifipres.
Dhofier, Zamakhsyari. 1998. Tradisi Pesantren. Jakarta: LP3ES.
Hasbullah. 1999. Sejarah Pendidikan Islam di Indonesia (Lintas Sejarah Pertumbuhan dan Perkembangannya). Jakarta: RajaGrafindo Persada.
Jabali, Fuad dan Jamhari. 2002. IAIN dan Modernisasi Islam di Indonesia, Jakarta: Logos Wacana Ilmu.
Munawwir, Imam. 1986. Posisi Islam di Tengah Pertarungan Ideologi dan Keyakinan. Surabaya: PT. Bina Ilmu.
Kuper, Adam dan Jessica Kuper. 2000. Ensiklopedi (Ilmu-ilmu Sosial). Jilid Ke-2. Jakarta: PT. RajaGrafindo Persada.
Nata, Abudin. 1997. Filsafat Pendidikan Islam. Jakarta: Logos Wacana Ilmu.
Nurwahid, Hidayat. 2003. Perdebatan UUSPNNo. 20 Tahun 2003. Juni 2003.
Oshikawa, Noriaki. 2000. Associate Professor pada Daito Bunka University.
Ridwan, Nur Khalik. 2011. Islam Borjuis dan Islam Proletar (Konstruksi Baru Masyarakat Islam Indonesia. Yogyakarta: Galang Press.
Rahim, Husni. 2001. Arah Baru Pendidikan Islam di Indonesia. Jakarta: Logos.
Sirozi, Muhammad. 2004. Politik Kebijakan Pendidikan di Indonesia (Peran Tokoh-tokoh Islam dalam Penyusunan UU No. 2 Tahun 1989). Jakarta: INIS.
Tim Penyusun P3B. 1991. Kamus Besar Bahasa Indonesia, KKBI. Jakarta: Balai Pustaka.
Tadjab. 2004. Ilmu Jiwa Pendidikan. Surabaya: Karya Abitama.
Ulum Bahrul. 2007. Pendidikan Sekuler Mencetak Generasi Lemah. bahrululm.blogspot.com
www.gontor.ac.id, 2011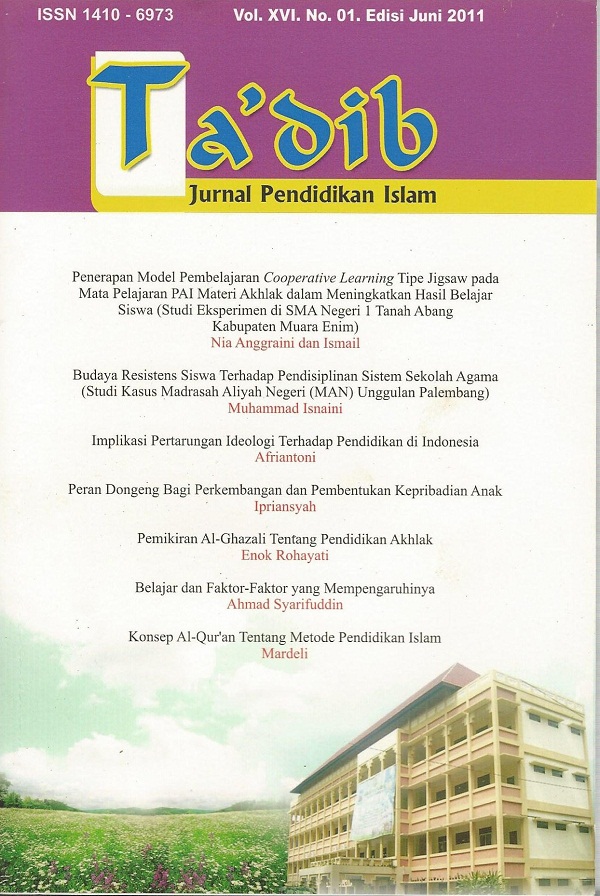 How to Cite
Afriantoni, A. (1). IMPLIKASI PERTARUNGAN IDEOLOGI TERHADAP PENDIDIKAN DI INDONESIA. Ta'dib: Journal of Islamic Education (Jurnal Pendidikan Islam), 16(01), 51-76. Retrieved from http://jurnal.radenfatah.ac.id/index.php/tadib/article/view/54

Ta'dib by http://jurnal.radenfatah.ac.id/index.php/tadib is licensed under a Creative Commons Attribution-ShareAlike 4.0 International License.