ISLAMIC PSYCHOLOGICAL ANALYSIS REGARDING TO RAḤMAH BASED EDUCATION PORTRAIT AT IAIN CURUP
Abstract
This study aims to describe the continuous and memorable implementation of raḥmah based education in fostering the personality of students of IAIN Curup. A qualitative approach was used by adopting a descriptive method. Lecturers, academic related parties, and students from Islamic education department were engaged as the subjects of the present study. The data were garnered using interview and observation. This study revealed that the meanings of raḥmah in the implementation of learning at IAIN Curup, include: the contents of the learning curriculum, especially KKNI sourced from the Qur'an and integrated to modern theories with the content of the Qur'an so grounded in the lives of students; atmosphere, campus facilities and lecturers' behavior make students feel comfortable; every lecturer provides guidance and assistance sincerely; guiding students to be of good character; Academic services at IAIN Curup provide discretion and justice to students; Providing information to students in accordance with their psychological readiness; Keeping students away from things that endanger themselves and others; and the lecturers realized that their main duty is watering students with knowledge, wisdom, and faith with compassion and tenderness.
References
Alsa, A., Haq, A. H. B., Siregar, A. J., Kusumaningrum, F. A., Utami, H. D., & Bachria, R. D. (2015). Menyusun Model yang Efisien dan Efektif dari Dimensi-Dimensi School Wellbeing untuk Memprediksi Prestasi Belajar Matematika. Jurnal Psikologi, 42(1), 15. https://doi.org/10.22146/jpsi.6940

Alusy al-, A. F. S. S. M. B. (1978). Rūh al-Ma'āny fi Tafsīr al-Qur'ān al-Aẓīm wa as-Sab'i al-Maṡāny. Beirut: Dār al-Kutub al-'Ilmiyah.

Ary, D., Jacobs, L. C., Sorensen, C. K., Walker, D. A., & Razavieh, A. (2010). Introduction to research in education. Measurement (8th ed., Vol. 4). USA: Wadsworth, Cengage Learning. https://doi.org/10.1017/CBO9781107415324.004

Azizah, A., & Hidayati, F. (2015). Penyesuaian sosial dan school well-being: Studi pada siswa pondok pesantren yang bersekolah di MBI Amanatul Ummah Pacet Mojokerto. Empati, 4(4), 84–89.

Biqa'i Al-, B. A. H. I. U. (1995). Nuẓūm ad-Durār fi Tanāsub al-Ayah wa as-Suwār. Jilid VII. Beirut: Dār al-Kutub al-Ilmiyyah.

Callister, E. S., & Plante, T. G. (2017). Compassion predictors in undergraduates: A Catholic college example. Pastoral Psychology, 66(1), 1–11.

Cooling, T. (2007). The challenge of passionate religious commitment for school education in a world of religious diversity: Reflections on evangelical christianity and humanism. Journal of Education and Christian Belief, 11(1), 23–
34. https://doi.org/10.1177/205699710701100104

Creswell, J. W. (2007). Qualitative inquiry & research design: Choosing among five approaches (2nd ed.). USA: SAGE publications, Inc.

Damaghany al-, H. M. (1970). Qamus al-Qur'ān aw Ishlah al-Wujuh wa al-Nazhair fi al-Qur'ān. Beirut: Dar al-Ilm li al-Malayin.

Fattah, A. (2017). Konsep pendidikan karakter dalam perspektif hadits tarbawi. Jurnal Pendidikan Agama Islam, 1(2), 113–122.

Fraenkel, J. R., Wallen, N. E., & Hyun, H. H. (2012). How to design and evaluate research in education. 1221 Avenue of the Americas, New York, NY 10020: McGraw-Hill Companies, Inc. https://doi.org/10.1017/CBO9781107415324.004

Gall, M. D., Gall, J. P., & Borg, W. R. (2003). Educational research: An introduction (7th ed.). USA: Allyn and Bacon.

Guba, E. G. (1981). Criteria for assessing the trustworthiness of naturalistic inquiries. Educational Communication and Technology, 29(2), 75–91. https://doi.org/10.1007/bf02766777

Hongwidjojo, M. P., Monika, M., & Wijaya, E. (2018). Relation of student-teacher trust with school well-being to high school students. PSIKODIMENSIA, 17(2), 162–167. https://doi.org/https://doi.org/10.24167/psidim.v17i2.1664

Ibnu, S. (n.d.). Majah/2 hlm. 1443/ 4303 Rujuk pula kitab Al-Khiṣal karya Syeikh Ṣaduq.

Julian, J. M. (2008). Belajar Kepribadian, terj. Wahyu, T. Yogyakarta: Pustaka Baca.

Karakas, F. (2011). Positive management education: Creating creative minds, passionate hearts, and kindred spirits. Journal of Management Education, 35(2), 198–226. https://doi.org/10.1177/1052562910372806

Kurniastuti, I., & Azwar, S. (2014). Constructtion of student well-being scale for 4-6th graders. Jurnal Psikologi. Jurnal Psikologi, 41(1), 1–16. https://doi.org/10.22146/jpsi.6954

Lewis, M., & Jeanette. (2018). Handbook of Emotion. New York: The Guilfortd Press. https://doi.org/10.22146/jpsi.6940

Mancia, L. B., Saavedra Filho, N. C., Miquelin, A. F., Ribeiro Jr, S., de Geus, K., & de Souza, B. S. (2018). Applying Gagne's nine events of instruction in development of a serious game for training maintenance activity on power live-lines.

Miles, M. B., Huberman, A. M., & Saldana, J. (2014). Qualitative data analysis: A methods sourcebook. Thousand Oaks, California 91320: SAGE Publications, Inc.

Moleong, L. J. (2017). Metodologi Penelitian Kualitatif. Edisi Revisi. Bandung: Remaja Rosdakarya.

Munday, I. (2009). Passionate utterance and moral education. Journal of Philosophy of Education, 43(1), 57–74. https://doi.org/10.1111/j.1467-9752.2009.00670.x

Nizar, S. (2016). Pendidikan Islam di era masyarakat ekonomi Asean. Akademika: Jurnal Keagamaan Dan Pendidikan, 12(1), 43–62.

Peterson, C., & Seligman, M. E. P. (2004). Character strengths and virtues: A handbook and classification. New York: Oxford University Press.

Rashedi, R., Plante, T. G., & Callister, E. S. (2015). Compassion development in higher education. Journal of Psychology and Theology, 43(2), 131–139.

Ratna, C. (2016). Strategi School Well-Being di Sekolah Menengah Atas (SMA) sebagai Alat Evaluasi Sekolah. Retrieved from mpsi.umm.ac.id/files/file/76-79 Cicilia Ratna T_ ok.pdf

Sari, M. P., & Lubis, E. E. (2015). Fenomena penggunan media sosial Instagram sebagai komunikasi pembelajaran Agama Islam oleh mahasiswa Fisip Universitas Riau. Jurnal Online Mahasiswa Fakultas Ilmu Sosial Dan Ilmu Politik Universitas Riau, 42(2), 1–13.

Setyawan, I., & Dewi, K. S. (2015). Kesejahteraan sekolah ditinjau dari orientasi belajar mencari makna dan kemampuan empati siswa sekolah menengah atas. Jurnal Psikologi Undip, 14(1), 9–20.

Shihab, M. Q. (2002). Tafsir al-Misbah. Jakarta: Lentera Hati, 2.

Stevens-Long, J., Schapiro, S. A., & McClintock, C. (2012). Passionate scholars: Transformative learning in doctoral education. Adult Education Quarterly, 62(2), 180–198. https://doi.org/10.1177/0741713611402046

Wajdi, N., & Barid, M. (2015). Pendidikan ideal menurut Ibnu Khaldun dalam muqaddimah. Jurnal Lentera: Kajian Keagamaan, Keilmuan Dan Teknologi, 1(2), 272–283.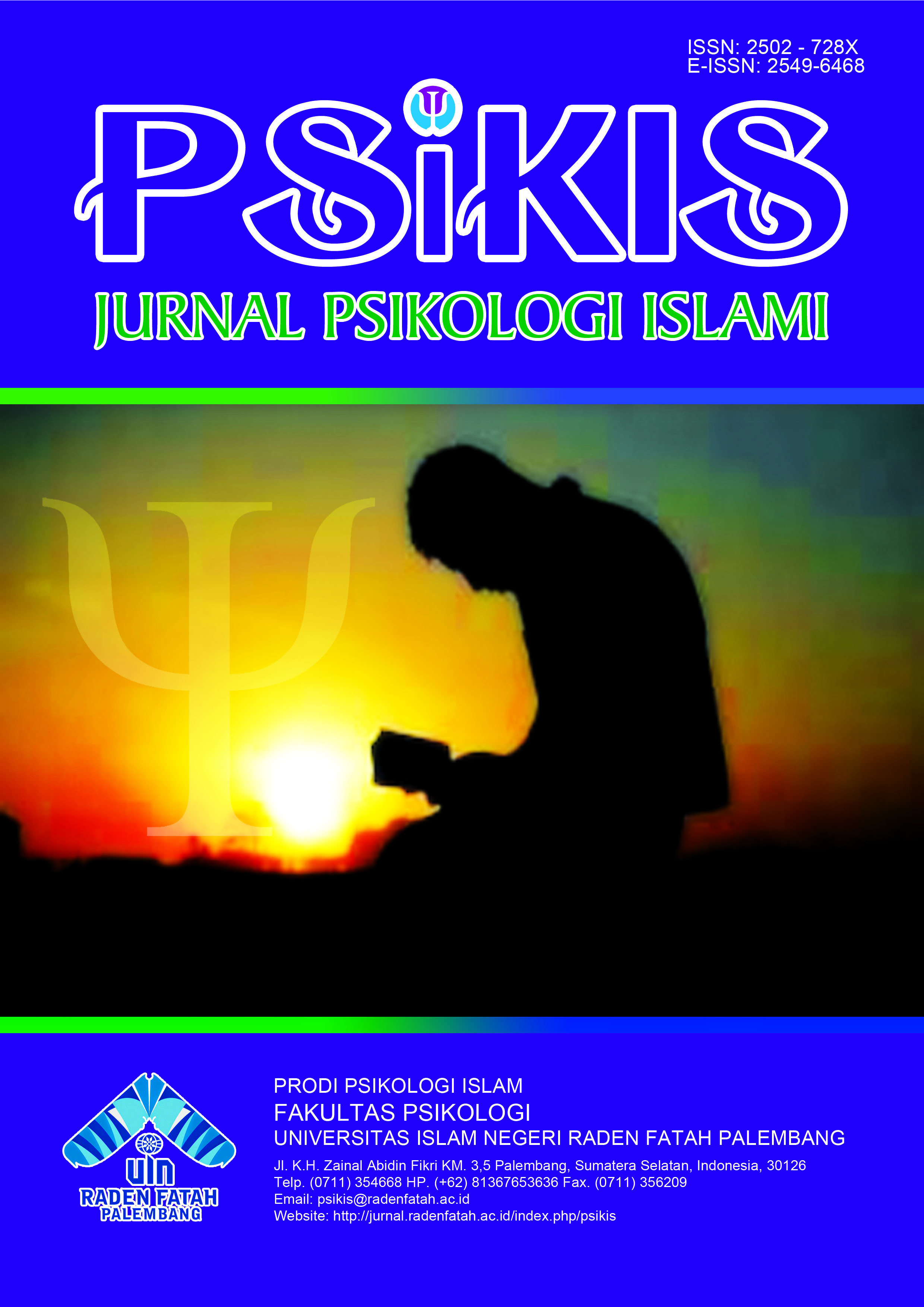 How to Cite
Warsah, I. (2020). ISLAMIC PSYCHOLOGICAL ANALYSIS REGARDING TO RAḤMAH BASED EDUCATION PORTRAIT AT IAIN CURUP. Psikis : Jurnal Psikologi Islami, 6(1), 29-41. https://doi.org/https://doi.org/10.19109/psikis.v6i1.3941
Section
Articles June 2020

Psikis: Jurnal Psikologi Islami by http://jurnal.radenfatah.ac.id/index.php/psikis is licensed under a Lisensi Creative Commons Atribusi-BerbagiSerupa 4.0 Internasional.