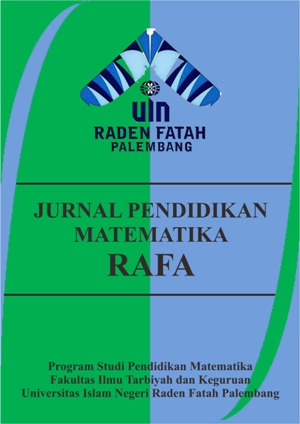 Jurnal Pendidikan Matematika RAFA, ISSN 2460-8726 (Online), ISSN 2460-8718 (Print) is provided for writers, teachers, students, professors, and researchers, who will publish their research reports or their literature review articles (only for invited contributors) about mathematics education and its instructional. Start from September 2015, this journal publishes two times a year, in September and December. Since 2018, this journal publishes in June and December.
Jurnal Pendidikan Matematika RAFA is a double-blind peer-reviewed journal that is published by the Mathematics Education Study Programme of Tarbiyah and Teacher Training Faculty of Islamic State University of Raden Fatah Palembang. This journal publishes current concept and research papers on in the scope of mathematics education, which includes, but is not limited to the following topics: Realistic Mathematics Education, Design/Development Research in Mathematics Education, PISA Task, Mathematics Ability, ICT in Mathematics Education, Lesson Study for Learning Community, Action Research, and Ethnomathematics. The manuscript must be original research, written in English or Bahasa Indonesia, and not be simultaneously submitted to another journal or conference.
Jurnal Pendidikan Matematika RAFA has become a CrossRef Member since the year 2017. Therefore, all articles published by Jurnal Pendidikan Matematika RAFA will have unique DOI number.
Jurnal Pendidikan Matematika RAFA has been indexing