PERANAN PENERAPAN SERTIFIKASI GURU TERHADAP KINERJA GURU (INTEGRASI PSIKOLOGI INDUSTRI DAN ORGANISASI ISLAMI)
Budiman Budiman

Fakultas Psikologi UIN Raden Fatah Palembang
Keywords:
Applying Teacher Certification, Teacher Performance
Abstract
Teachers are the leaders in creating quality and independent human resources. The primary purpose of this research is to examine the role of applying teacher certification to teacher performance. the hypothesis of this research is that there is a role of applying teacher certification to teacher performance. This research type is quantitative approach with development research with sample in this research amounted to 33 teachers in work area DISDIKPORAPAR Banyuasin Regency rayon 1 Banyuasin III District. Methods of data collection in this study use the scale of teacher performance and scale of application of teacher certification. Data collected were analyzed using simple linear regression. The result of the data analysis indicated that there was a significant role in the implementation of teachers' certification in teacher performance (r = 0,756 p = 0.000) meaning that the implementation of teacher certification has a real role to the performance of teachers. It should be the stakeholders of the education and government providers in order to improve and improve the quality of teachers' welfare as a form of appreciation for the efforts and achievements that teachers have achieved.
References
Dewanto, D. (2016). Pengaruh Sertifikasi terhadap Kinerja Guru di SMA N 1 Gianyar. Skripsi . Bali: Universitas Udayana.
DISDIKPORA. (2017). Laporan Tahunan Kinerja Pegawai DISDIKPORAPAR 2017. Banyuasin: DISDIKPORA Banyuasin.
Hartijasti, Y. (2002). Hubungan Antara Komitmen Organisasi Dengan Kinerja Perusahaan. Phronesis , 3 (5).
Jakparudin. (2018). Pengaruh Implementasi Sertifikasi Guru terhadap Kinerja Guru Di Kabupaten Banyuasin. Tesis . Palembang: Universitas Tridinanti.
Kunandar. (2007). Guru profesional dan implementasi kurikulum tingkat satuan pendidikan. Jakarta: Gajah Grafindo Persada.
Muaddab, H. (2011). Jaminan Mutu dalam Sertifikasi Guru. Retrieved from Net Sains: http://netsains.com/2011/10/jaminan-mutu-dalam-sertifikasi-guru/
Muhtar. (2003). Desain Pembelajaran Pendidikan Agama Islam. Jakarta: MizakaGaliza.
Nata, A. (2001). Pemikiran Para Tokoh Pendidikan Islam. Jakarta: Raja Grafindo Persada.
Nurbaiti, & Dina. (2015). Manajemen Sumber Daya Manusia, Dasar dan Kunci Keberhasilan. Jakarta: Haji Masagung.
Nursito. (2000). Kiat Menggali Kreativitas. Yogyakarta: Mitra Gama Widya.
Republik Indonesia, P. (2003, Juli 8). Undang-Undang Republik Indonesia Nomor 20 Tahun 2003 Tentang Sistem Pendidikan Nasional. Jakarta: Sekretaris Negara Republik Indonesia.
Rusn, I. A. (1998). Pemikiran Al-Ghazali tentang Pendidikan. Yogykarta: Pustaka Pelaja.
S. I. (1984). Syarah Ta'lim al Mutaalim. Indonesia: Karya Insan.
Sugiono. (2011). Metode Penelitian Kuantitatif dan Kualitatif dan R & D.Alfabeta. Bandung.
Suhariadi, F. (2002). Pengaruh Variabel Individu (Intelegensia, Motivasi Kerja, Pendidikan, Pengalaman Kerja, Pangkat, dan Jenis Kelamin) terhadap Perilaku Efisien. INSAN Media Psikologi , 4 ( 2:73-87).
Supriadi, D. (1998). Mengangkat Citra dan MArtabat Guru. Yogyakarta : Adicita Karya Nusa.
Tilaar. (2003). Paradigma Baru Pendidikan Nasional. Jakarta: Grasindo. Utami.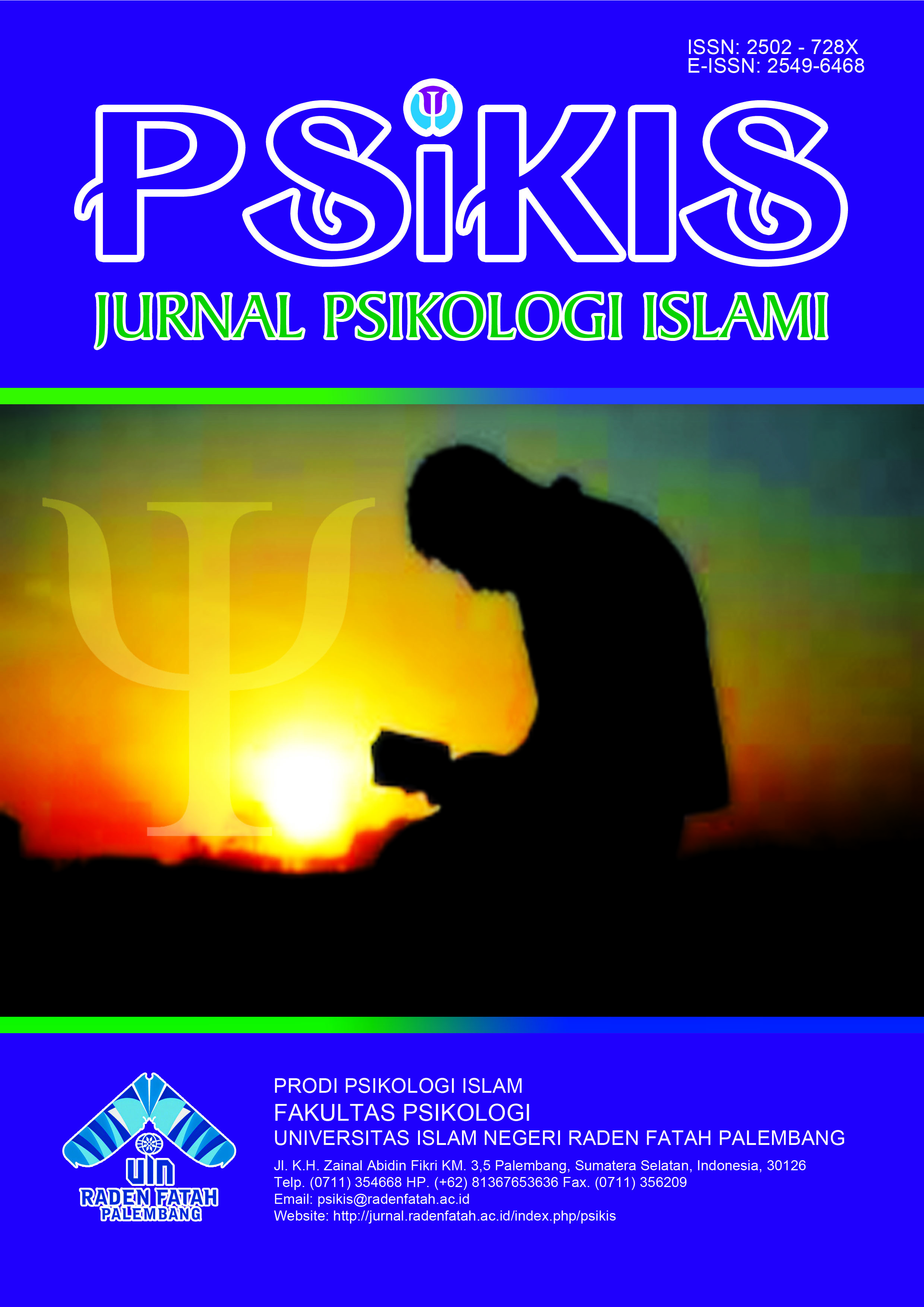 How to Cite
Budiman, B. (2018). PERANAN PENERAPAN SERTIFIKASI GURU TERHADAP KINERJA GURU (INTEGRASI PSIKOLOGI INDUSTRI DAN ORGANISASI ISLAMI). Psikis : Jurnal Psikologi Islami, 4(1), 74-81. https://doi.org/https://doi.org/10.19109/psikis.v4i1.2056
Section
Articles June 2018

Psikis: Jurnal Psikologi Islami by http://jurnal.radenfatah.ac.id/index.php/psikis is licensed under a Lisensi Creative Commons Atribusi-BerbagiSerupa 4.0 Internasional.