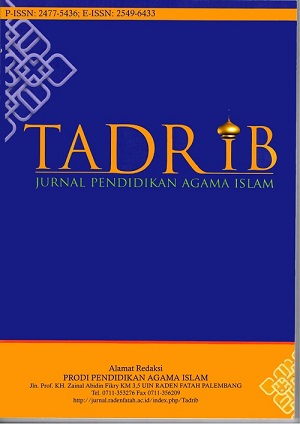 Tadrib: Jurnal Pendidikan Agama Islam (ISSN: 2477-5436; E-ISSN: 2549-6433) is an Islamic Education Journal Article that is published in 2015. This journal article is specified on Islamic Education. It is published by Islamic Education Study Program, Faculty of Teacher Training and Education, Universitas Islam Negeri Raden Fatah Palembang. It is published in printed and electronic form.
The organizer invited the lecturers, researchers, collegians, experts and observers of Islamic Education that are interested in publishing their writing. The writings that are sent must be in original script and never been published before.
Focus and Scoup
Journal Tadrib focus on the issues that are related in Islamic Education, including Research Methodology, Education Science, Islamic Education Science, Educational Psychology, Learning Psychology, Educational Philosophy, Islamic Educational Philosophy, Lesson Plan, Lesson Design, Lesson Media, Educational Facilities, Islamic Science, Tafsir Tarbawi, Hadist Tarbawi, Lesson Organization, Objectives and Evaluations of Educational Curriculum.
Peer Review Process
Every article that goes to the editorial staff will be selected through Initial Review processes by Editorial Board. Then, the articles will be sent to the Mitra Bebestari/ peer reviewer and will go to the next selection by Blind Preview Process. After that, the articles will be returned to the authors to revise. These processes take a month for maximum time. In the each manuscript, Mitra Bebestari/ peer reviewer will be rated from the substantial and technical aspects. Mitra Bebestari/ peer reviewer that collaboration with Tadrib Journal.
Publication Frequency
Tadrib journal is published twice a year; in June and December with ten articles for each edition. It is also published in two versions; print out and electronic.