STRATEGI KOMUNIKASI DALAM MENINGKATKAN JUMLAH PESERTA DIDIK MASA PANDEMI COVID 19 DI MADRASAH
Rini Fitria

Universitas Islam Negeri Fatmawati Sukarno Bengkulu

Idi Warsah

Institut Agama Islam Negeri Curup
Keywords:
Strategy, communication, students, covid 19
Abstract
This article discusses the communication strategy for increasing the number of students during the Covid 19 pandemic. The focus of the research is How does the Communication Strategy increase the number of students during the Covid-19 pandemic in madrasas? The national education system must ensure equal distribution of educational opportunities, and improve quality as well as the relevance and efficiency of educational challenges to face challenges changes in local, national, and global life under current conditions, namely during the coronavirus or covid-19 pandemic.This type of field research uses qualitative descriptive methods. Collecting data using observation, interviews, and documentation studies. data collection techniques with interviews, participant observation, and documentation. To determine the validity of the data, an examination technique is needed based on four criteria, namely the degree of trust (credibility), transferability, dependence, and certainty. The technique of checking the validity of the data with the persistence of observation, Triangulation.The results of the study that the Communication strategies to improve students in madrasah must of course be with a prototype; health, because during the covid 19 pandemic. By carrying out activities that aim to create a positive image for the surrounding community during the current Pandemic. One of the goals is to promote it among the community with several activities, namely: Home Visit activities, Yasinan, and Taliban activities as well as assisting people who experience disaster tabligh, activities for fostering reading the Qur'an and praying for students who have not mastered it, activities introducing art Islam is like hadroh to society.
References
2021, D. (n.d.). Dokumentasi MTs Tarbiyah Kerkap.

Aliasan. (2016). Strategi Dakwah dalam Mengubah Sikap. Palembang: Noerfikri.

Hasan, B. H. (2012). Desentralisasi dan Implikasinya terhadap Pengembangan Sistem Pendidikan Islam. Jurnal At-T2012ajdid, 1(2).

Hefni, H. (2015). Komunikasi Islam. Jakarta: Kencana.

J, L. M. (2011). Metodologi Penelitian Kualitatif. Bandung: PT. Remaja Rosda Karya.

J, S. (2006). Pengambilan Keputusan Strategik untuk Organisasi Publik dan Organisasi Non Profit. Jakarta: Grasindo.

Lalongkoe Ramses Maksimus, T. A. E. (2014). Komunikasi Terapeutik; Pendekatan Praktis Praktisi Kesehatan. Yogyakarta: Graha Ilmu.

Mufid, M. (2010). Komunikasi dan Regulasi Penyiaran. Jakarta: Kencana.

Mundiri. (2016). Logika Sejarah. Jakarta: Raja Grafindo Persada.

R, W. G. dan J. L. (2017). Manajemen dan Strategis Kebijakan Perusahaan. Jakarta: Erlangga.

Saefullah, U. (2013). Kapita Selekta Komunikasi Pendekatan Budaya dan Agama. Bandung: Simbiosa Rekatama Media.

Syarnubi, Syarnubi. Pendidikan Karakter pada Madrasah Aliyah Negeri 3 Palembang. Diss. UIN Reden Fatah Palembang, 2020.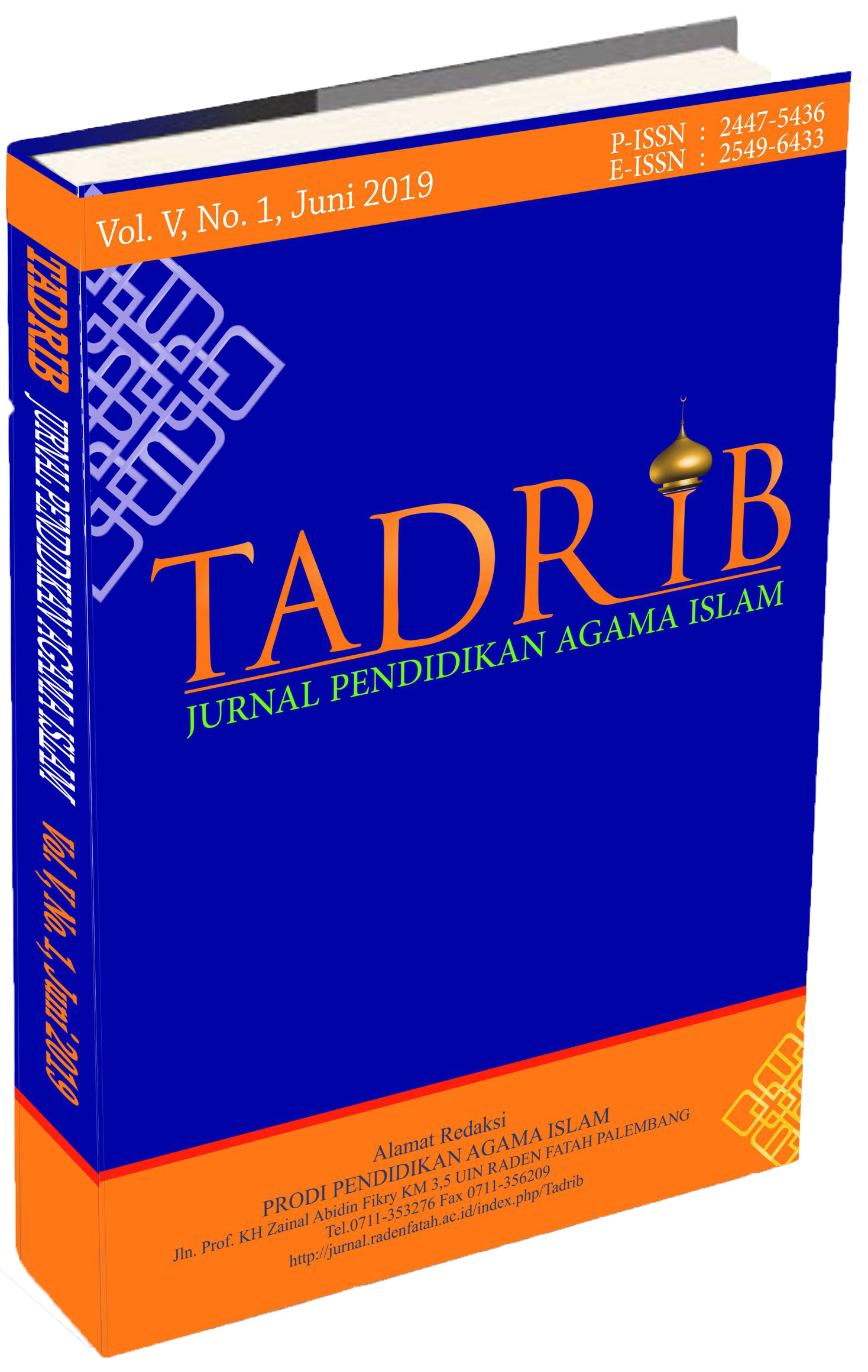 How to Cite
Fitria, R., & Warsah, I. (2022). STRATEGI KOMUNIKASI DALAM MENINGKATKAN JUMLAH PESERTA DIDIK MASA PANDEMI COVID 19 DI MADRASAH. Tadrib, 8(1), 1-10. https://doi.org/https://doi.org/10.19109/tadrib.v8i1.10124