KEGIATAN INTELEKTUAL DI KESULTANAN PALEMBANG DARUSSALAM (1659-1823 M)
Choirun Niswah

Universitas Islam Negeri Raden Fatah Palembang

Dodi Irawan

Universitas Islam Negeri Raden Fatah Palembang

Choiriyah Choiriyah

Universitas Islam Negeri Raden Fatah Palembang
Keywords:
Intellectual activity; ulama, the Palembang Darussalam Sultanate
Abstract
Writing this article aims to obtain information related to intellectual activities during the Palembang Darussalam Sultanate. The research method used is descriptive and qualitative analysis with a historical approach, namely by collecting library data from various written sources.This study aims to obtain information related to Islamic intellectual activity during the Palembang Darussalam Sultanate so that the discussion is carried out qualitatively or using textual descriptions. Writing and searching for data are obtained through documents, especially documents written in the form of scientific papers. These sources can be accessed in various ways such as through libraries and online media.The results showed that the palace or palace had a big role in intellectual activities during the Palembang Darussalam Sultanate. This is because the ruler or the Sultan provided extraordinary facilities and patronage to the ulama, so that scholars, writers, and poets emerged whose works are still read and taught by the people of the archipelago to this day, such as the two magnum opus works of al-Palimbani, Sair as-Salikin, and Hidayat. al-Salikin, the knowledge, and thoughts that had grown up in the Palembang Darussalam Sultanate as well as those that had grown in Aceh in the previous century, still carry the characteristics that marked the minds of the Islamic world in general at that time. However, knowledge and thoughts passed down in the past are very valuable for the future of Islam, especially in the present century due to advances in science and technology, humans are increasingly aware of their need for spiritual wealth, in which the past world is superior to our present world.
References
Abdullah, M. an. (2018). Syaikh Abdus-Samad Al-Palimbani Biografi dan Warisan Keilmuan. Jakarta: Gramedia.

Abdullah, T. (2015). Sejarah Kebudayaan Islam Indonesia Jilid I : Akar Historis dan Awal Pembentukan Islam. (T. Abdullah, Ed.). Direktorat Sejarah dan Nilai Budaya Direktorat Jenderal Kebudayaan Kementerian Pendidikan dan Kebudayaan.

Adil, M., & Harun, M. (2020). Penyebaran Fikih Mazhab Syafi'i di Nusantara: Studi Sosio-Historis Masa Kesultanan Palembang Darussalam. Al-Manahij: Jurnal Kajian Hukum Islam, 14(2), 281–294.
https://doi.org/10.24090/mnh.v14i2.3263

Aly, S. (1986). Sejarah Kesultanan Palembang. (S. E. S. Gadjahnata, Ed.). Jakarta.

Ariyani, F., & Joko, I. (2020). Eksistensi Perpustakaan Masa Kesultanan Palembang Darussalam dalam Perspektif Ahli. Anuva.
Azra, A. (1995). Jaringan Ulama :Timur Tengah dan Kepulauan Nusantara Abad XVII dan XVIII (Cetakan II). Bandung: Mizan.

Burhanuddin, J. (2017). Islam dalam Arus Sejarah Indonesia. Jakarta: Kencana.

Chatib Quzwain. (1986). Syekh Abdus Shomad al-Palimbani: Suatu Studi Mengenai Perkembangan Islam di Palembang pada Abad ke-18 Masehi dalam KHO Gajahnata dan Sri Edi Swasono (Ed),.

Drewes, G. W. . (1977). Directions for Travellers of Classical Malay Literature,. The Hague: Martinus Nijhoff.

Nawiyanto, dan E. C. E. (2016). Kesultanan Palembang Darussalam: Sejarah dan Warisan Budayanya. Jember: Jember University.

Pramasto, A. (2020). KONTRIBUSI SYAIKH ABDUS SHAMAD AL-PALIMBANI PADA ASPEK INTELEKTUAL ISLAM DI NUSANTARA ABAD KE-18. Tsaqofah dan Tarikh: Jurnal Kebudayaan dan Sejarah Islam. https://doi.org/10.29300/ttjksi.v4i2.2473

Rahim, D. H. (1998). Sistem otoritas dan administrasi Islam : studi tentang pejabat Agama masa kesultanan dan kolonial di Palembang (Pertama). Jakarta: PT.Logos Wacana Ilmu.

Sevenhoven, V. J. (1971). Lukisan Tentang Ibu Kota Palembang. Yogjakarta: OMBAK.

Steenbrink, K. (1984). Beberapa Aspek tentang Islam di Indonesia Abad ke-19. Jakarta: Bulan Bintang.

Puspitasari, Gesti, et al. "Pembinaan Keagamaan Peserta Didik Muslim Oleh Guru Pendidikan Agama Islam (PAI) Di Yayasan Khatolik." Jurnal PAI Raden Fatah 1.4 (2019): 497-508.

Winstedt, R. (1951). Malaya and its History. LOndon: Hutchinson University LIbrary.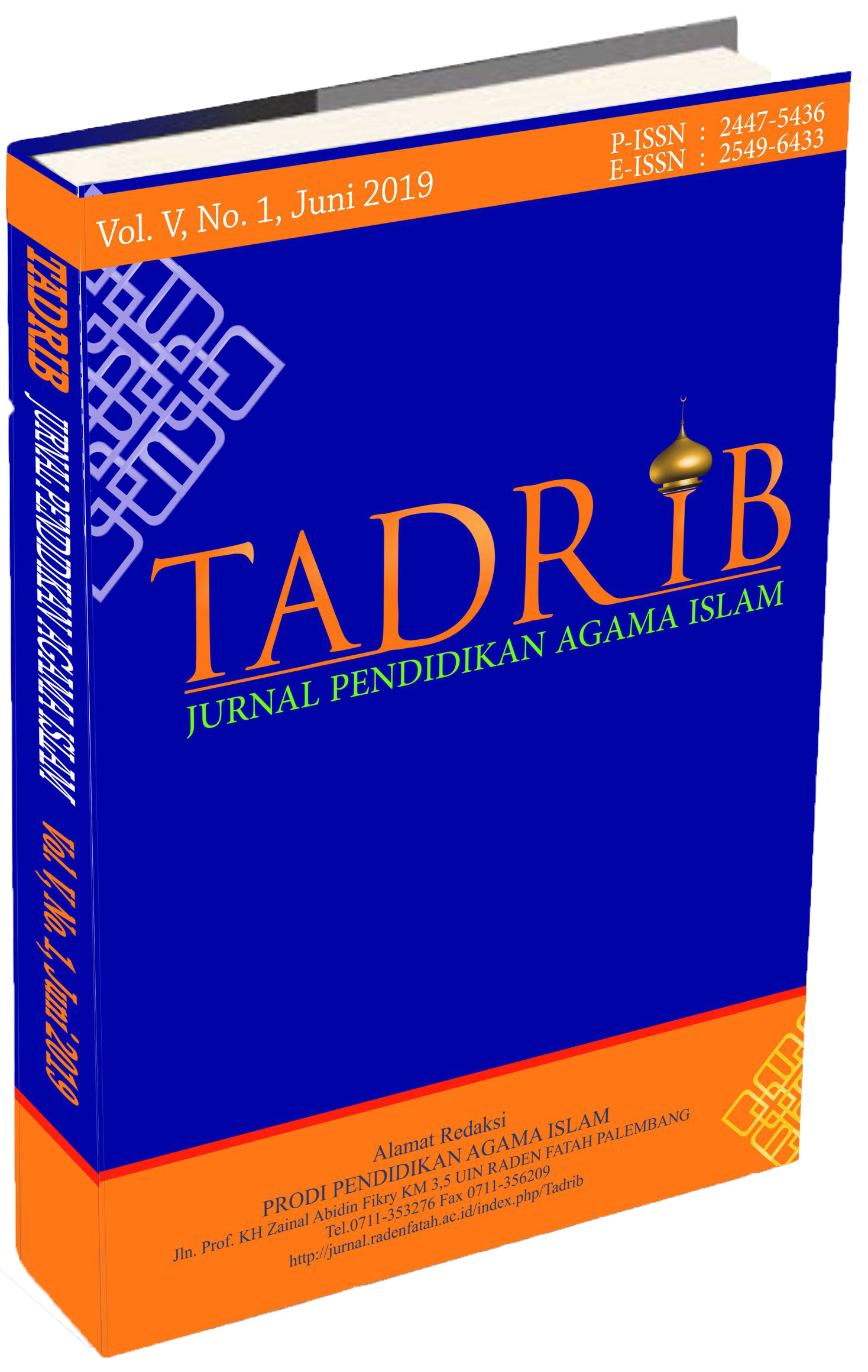 How to Cite
Niswah, C., Irawan, D., & Choiriyah, C. (2022). KEGIATAN INTELEKTUAL DI KESULTANAN PALEMBANG DARUSSALAM (1659-1823 M). Tadrib, 8(1), 107-125. https://doi.org/https://doi.org/10.19109/tadrib.v8i1.11301