KECENDERUNGAN POLA PERILAKU AGRESIF DAN EKSPLOSIF REMAJA (STUDY KASUS PERILAKU DELINKUENSI PELAJAR DI YOGYAKARTA, PERSPEKTIF SOSIO-RELIGIUS-EDUKATIF)
Subiyantoro Subiyantoro

Fakultas Ilmu Tarbiyah dan Keguruan UIN Sunan Kalijaga Yogyakarta

Nurrohmah Nurrohmah

nurrohmah1955@yahoo.com
Keywords:
Delinquency, Adolescent Development, Family
Abstract
This study aims to determine the tendency of aggressive and explosive behavior of adolescents (student delinquency actors) in the Yogyakarta area, which in this case the researchers conducted research at the Sleman Police, Class 1 Child Correctional Center (BAPAS), and the Youth Social Protection and Rehabilitation Center (BPRSR). ) Yogyakarta in Sleman. This qualitative research in collecting data using in-depth interviews / in-dept interviews, observation/observation, and documentation. The data analysis applies Miles and Huberman's theory, with the following steps: data reduction, data display, verification. The results showed that the tendency of adolescent aggressive and explosive behavior had elements of revenge and trial and error. The factors causing aggressive and explosive behavior are caused by the underdevelopment of adolescents regarding the development of social cognition, the development of moral reasoning, and the development of a lack of understanding of religion. Besides that, family attention that is not optimal and the negative influence of "gang" are also factors that greatly influence this aggressive and explosive behavior. The solutions that the researchers offer are strengthening education in the family (the power of family), strengthening religious values, developing skills and there is a follow-up on the guidance program provided from the BPRSR at home, in this case, guided by the family.
References
Abdul Wahid dan Mustafa. (2010). Manajemen Keluarga Sakinah, Jogjakarta: Diva Press, 2004.Ardoin Lauren and Carl Bartling. 2010. Biological, Psychological and Sociological Effect on Juvenile Delinquency. American Journal of Psychological Research., Volume 6 N.
Damsar. (2011). Pengantar Sosiologi Pendidikan. Jakarta. Kencana Prenada Media Group. Jakarta: Kencana Prenada Media Group.
Desmita. (2005). Psikologi Perkembangan. Bandung: PT Remaja Rosdakarya.
Fareeda Shahen dan Mesaddi Jahan. (2014). Role of Slef Esteem in Development of Aggressive Behavior Among Adolescents. Nternational Journal of Education and Psychological Research (IJEPR)., Volume 3(issue 4. Desember).
Jalaludin. (2012). Psikologi Agama. Jakarta: PT. Raja Grafindo Persada.
Kartini Kartono. (2010). Kenakalan Remaja Patologi Sosial 2. Jakarta: PT Grafindo Persada.
Katalog BPS Yogyakarta dalam angka 2015.
M.Nisfiannoor Yulianti dan Eka. (2005). Perbandingan perilaku agresivitas antara keluarga yang berecerai dengan keluarga yang utuh. Jurnal Psikologi Fakultas Psiklogi Universitas Tarumanagara, Volume 3 n.
Nur Afiah. (2015). Kepribadian dan Agresivitas dalam berbagai Budaya. Yogkarta. Volume 23, NO. 1, JUNI 2015: 13 – 21. Buletin Psikologi Fakultas Psikologi UGM, 23 No 1 Ju, 13–21.
Sugiyono. (2016). Metode Penelitian dan Pengembangan. Bandung: Alfabeta.
Tribun news Jogja. Kamis. 16 Maret 2017.
Tribun news Jogja. Selasa. 14 Maret 2017.
W.Ray.etc. (2006). Working with Angry and Aggressive Youth. London: Routledge.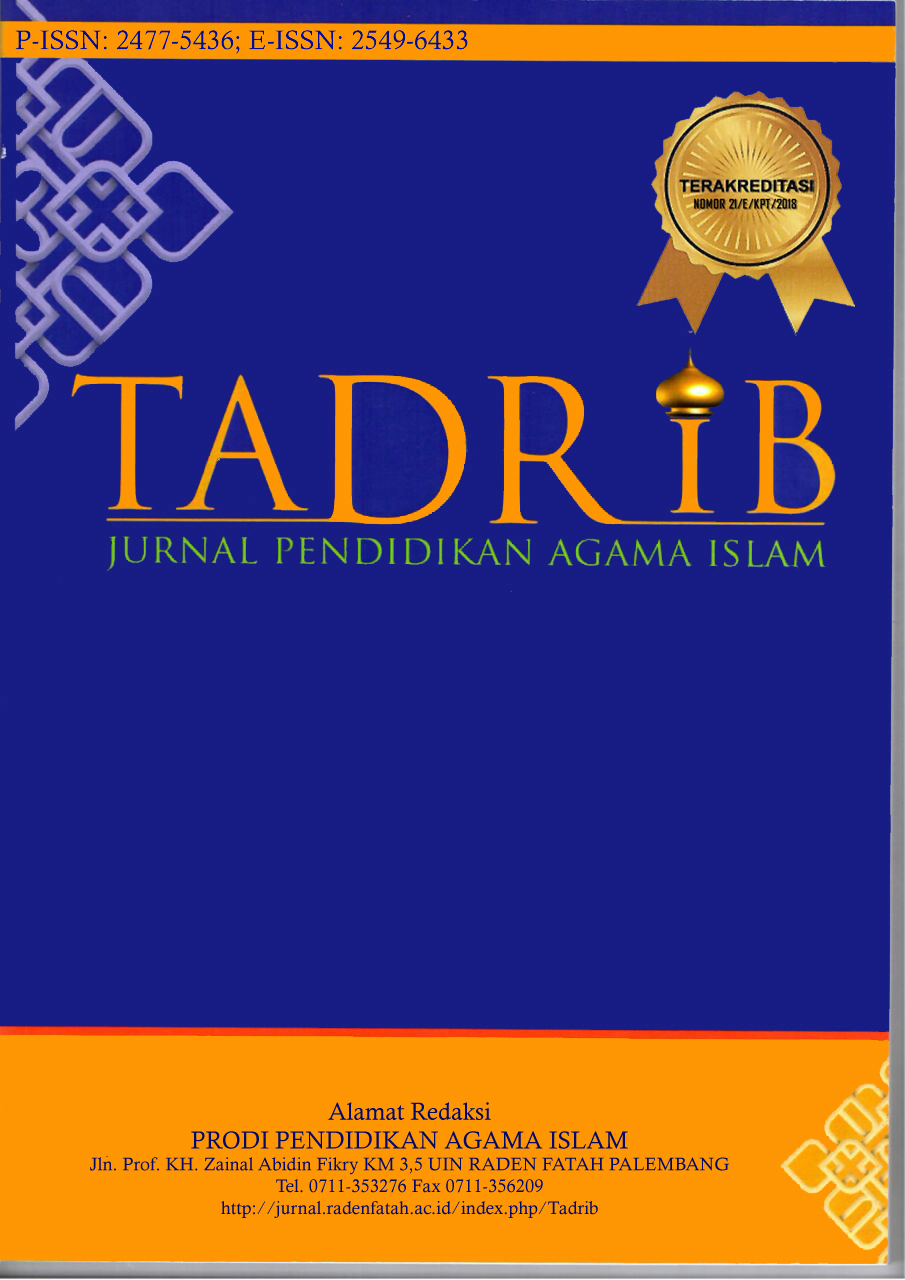 How to Cite
Subiyantoro, S., & Nurrohmah, N. (2020). KECENDERUNGAN POLA PERILAKU AGRESIF DAN EKSPLOSIF REMAJA (STUDY KASUS PERILAKU DELINKUENSI PELAJAR DI YOGYAKARTA, PERSPEKTIF SOSIO-RELIGIUS-EDUKATIF). Tadrib, 6(1), 106-125. https://doi.org/https://doi.org/10.19109/tadrib.v6i1.3287