EDUCATIONAL VALUES IN THE QURAN SURAH AL-JUM'AH (STUDY OF AL-MISHBAH AND AL-WASITH)
Achyar Zein

Universitas Islam Negeri Sumatera Utara

Muhammad Al-Farabi

Universitas Islam Negeri Sumatera Utara

Abdul Roni

Universitas Islam Negeri Sumatera Utara
Keywords:
Value, Education, Interpretation, Al-Misbah, Al-Wasith
Abstract
This study aims to analyze: 1) The content of Islamic education in Surah al-Jumu'ah according to Tafsir Al- Misbah and Al-Wasith, and 2) The values of Islamic education contained in Surah al-Jumu'ah. 3) The relevance of Islamic educational values in surah al-Jumu'ah to contemporary education. This study uses a qualitative method using a library research approach. The primary data sources in this study were the Qur'an al-Karim along with the Tafsir Al-Misbah by M. Quraih Shihab and the Tafsir al-Wasith by Wahbah az-Zuhaily. The results showed that: 1) Interpretation of QS al-Jumu'ah by Tafsir al-Misbah and Tafsir al-Wasith, there were no significant differences of opinion regarding their interpretation of QS al-Jumu'ah. 2) The Values of Islamic Education in Surah al-Jumu'ah described by Tafsir al-Misbah and Tafsir al-Wasith include: a) the Value of Worship: Always glorify Allah SWT. and an appeal to seek knowledge and practice it, b) Moral Values, c) Death Warning, d) Suggestions to leave business during Friday prayers. 3) The educational values described by Tafsir al-Misbah and Tafsir al-Wasith above have relevance. Namely, these values can be implied in contemporary Islamic education, for example, by imitating the Prophet as an educator with excellent affective, cognitive, and psychomotor abilities. According to Islamic teachings, Islamic education is physical and spiritual guidance formed by the primary personality. The educational values contained in the Qur'an Surat Al-Jumu'ah study of Tafsir Al-Mishbah Dan Al- Wasith surah begin with the wisdom of Allah, His glory, and His nature with perfect qualities, then praise the Prophet SAW. Educational values in Surah Al-Jumuah, namely explaining the values of Worship to Allah Almighty, Moral Values, Death Warnings, and Recommendations to Leave Business during Friday Prayers.
References
Abdurrahman, M. 2019. Akhlak Menjadi Seorang Muslim Berakhlak Mulia. Depok: Rajawali.

Abidin, Z. 2020. Figh Ibadah. Yogyakarta: Deepublish.

Al-Qaththan, Sayikh Manna. 2015. Pengantar Studi Ilmu Al-Qur'an. Jakarta: Pustaka Al-Kautsar.

Al-Rasyidin. 2009. Percikan Pemikiran Pendidikan Dari Filsafat Hingga Praktik Akhlak Menjadi Seorang Muslim Berakhlak Mulia. Depok: Rajawali.

Amin, S. .. 2016. Ilmu Akhlak. Jakarta: Amzah.

Djahiri, A. Kosasih, dan Abdul Aziz Wahab. 1996. Dasar-Dasar Pendidikan Moral. Jakarta: Depdikbud Dirjen Dikti.
Kartono, Kartini. 1992. Pengantar Ilmu Mendidik Teoritis. Bandung: Mandar Maju.

Khalil, Syaikh Adil Muhammad. 2018. Tadabur Al-Qur'an Menyelami Makna Al-Qur'an dari Al-Fatihah sampai An-naas. Jakarta: Pustaka Al-Kautsar.

Misdar, M. Idi, M. A, Isnaini, Mardeli, Z. M, Zulhijrah, dan Syarnubi. 2017. "Proses Pembelajaran Di Program Studi Pendidikan Agama Islam FITK UIN Raden Fatah Palembang." Tadrib: Jurnal Pendidikan Agama Islam 3:52.

Pransiska, Toni. 2016. "Konsepsi Fitrah Manusia Dalam Perspektif Islam Dan Impilkasinya Dalam Pendidikan Islam Kontemporer." Jurnal Ilmiah DIDAKTIKA 17.

Prasetiya, Benny, Sofyan Rofi, dan Bahar Agus Setiawan. 2018. "Penguatan Nilai Ketauhidan Dalam Praksis Pendidikan Islam." Journal Of Islamic Education III:2.

Shihab, Quraish. 2002. Tafsir Al-Misbah: Pesan, Kesan dan Keserasian Al-Qur'an. Jakarta: Lentera Hati.
Sudirman, N. 1992. Ilmu Pendidikan. Bandung: Remaja Rosdakarya.

Suparnis. 2016. "Pendidikan Islam Kontemporer 'Problematika' Tantangan Dan Pearnnya Dalam Menghadapi Era Globalisasi." At-Ta'lim 15:225–47.

Syah, Darwin. 2007. Perencanaan Sistem Pengajaran Pendidikan Agama Islam. Jakarta: Gaung Persada Press.

Syarif, Ulil Amri. 2012. Pendidikan Karakter Berbasis Al-Qur'an. Jakarta: Rajawali Pers.

Syarnubi, Syarnubi. 2019. "Guru yang Bermoral dalam Konteks Sosial, Budaya, Ekonomi, Hukum dan Agama (Kajian Terhadap UU No 14 Tahun 2005 Tentang Guru Dan Dosen)." Jurnal PAI Raden Fatah 1(1). doi: 10.19109/PAIRF.V1I1.3003.

Syarnubi, Syarnubi, Firman Mansir, Mulyadi Eko Purnomo, Kasinyo Harto, dan Akmal Hawi. 2021. "Implementing Character Education in Madrasah." Jurnal Pendidikan Islam 7(1):77–94. doi: 10.15575/jpi.v7i1.8449.

Thoha, Chabib. 1996. Kapita Selekta Pendidikan Islam. Yogyakarta: Pustaka Pelajar.

Zed, Mestika. 2008. Metode Penelitian Kepustakaan. Jakarta: Yayasan Obor Indonesia.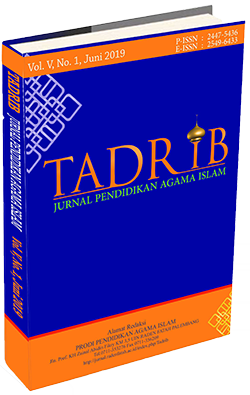 How to Cite
Zein, A., Al-Farabi, M., & Roni, A. (2022). EDUCATIONAL VALUES IN THE QURAN SURAH AL-JUM'AH (STUDY OF AL-MISHBAH AND AL-WASITH). Tadrib, 8(2), 154-167. https://doi.org/https://doi.org/10.19109/tadrib.v8i2.11398