PENERAPAN KURIKULUM TERPADU SEBAGAI MODEL PEMBINAAN KARAKTER SISWA (STUDI DI SMP IT RAUDHATUL ULUM SAKATIGA INDERALAYA)
Irja Putra Pratama

Universitas Islam Negeri Raden Fatah Palembang

Aristophan Firdaus

Universitas Islam Negeri Raden Fatah Palembang
Keywords:
Integrated Curriculum, Coaching, Character
Abstract
This research appears from the desire of researchers to see how the public schools system combining a curriculum that aims to instill students Character values. It is interesting to see the integrated system offered, there is a series of activities implemented. And this is the background of researchers to see the implementation of Integrated Curriculum as a model for fostering Student Character at Raudhatul Ulum Sakatiga Indralaya IT Middle School. This type of research is field research using a qualitative approach. The method of data collection is through observation, interviews, and documentation. From the results of the study, it can be concluded that: 1) The curriculum model applied in Raudhatul Ulum Sakatiga IT Middle School is an integrated curriculum model that combines national curriculum, JSIT curriculum and Islamic Boarding School Curriculum which include: Dormitory and boarding activities and extracurricular activities which can be chosen 2) Implementation of Character values in Sakatiga Raudhatul Ulum IT Middle School Includes: Religious, Honest, Tolerance, Discipline, Hard Work, Creative, Independent, Democratic, Curiosity, Nationality Spirit, appreciate the achievement, friendship / communicative, Love Peace, Love to Read, care about the environment, Care about the society, and responsibility. As well as 10 character building values which include: healthy and strong, noble, broad knowledge, independent life, clean faith, true worship, tough in facing challenges, careful in managing time, disciplined in all matters, and widely useful. 3) The method of applying character building for students in Sakatiga Raudhatul Ulum IT Middle School includes: Character Implementation Through the School Learning activities, Character Implementation is integrated in extracurricular activities, and Character Implementation is integrated in boarding activities
References
Ainullah, N. I. (2011). Panduan Menerapkan Pendidikan Karakter di Sekolah. Yogyakarta: DIVA Press.

Alfan, M. (2013). Pengantar Filsafat Nilai. Bandung: CV Pustaka setia.

Hasanah, A. (2013). Pendidikan Karakter Berprespektif Islam. Bandung: Insan Komunika.

Hidayat, R. (2011). Pengantar Sosiologi Kurikulum. Jakarta: PT. Rajawali Press.

Husaini, A. (2010). Pendidikan; Membentuk Manusia Berkarakter dan Beradab. Bandung: Universitas Pendidikan Indonesia.

Kamus Umum Bahasa Indonesia. (2011). Jakarta: PT. Balai Pustaka.

Kan, D. Y. (2010). Pendidikan Karakter Berbasis Potensi Diri; Mendongkrak Kualitas Pendidikan. Yogyakarta: Pelangi Publishing.

Kesuma, D., & Dkk. (2011). Pendidikan Karakter; Kajian Teori dan Praktek di Sekolah. Bandung: Remaja Rosdakarya.

Lickona, T. (2013). Educating For Character. (J. A. Wamaungo, Ed.). Jakarta: Bumi Aksara.

Lubis, M. (2011). Evaluasi Pendidikan Nilai Perkembangan Moral Keagamaan Mahasiswa PTAIN. Yogyakarta: Pustaka Pelajar.

Mu'in, F. (2010). Pendidikan Karakter Konstruksi Teoritik dan Praktik. Yogyakarta: Ar-Ruzz Media.

Mulyana, R. (2004). Mengartikulasikan Pendidikan Nilai. Bandung: ALFABETA.

Nasution, S. (1986). Pengembangan Kurikulum. Bandung: PT.Alumni.

Ramayulis. (2011). Sejarah Pendidikan Islam. Jakarta: Kalam Mulia.

Rusdiana. (2014). Konsep Inovasi Pendidikan. Bandung: Pustaka Setia.

Samani, M., & Hariyanto. (2012). Konsep dan Model Pendidikan Karaker. Bandung: Remaja Rosdakarya.

W.Creswell, J. (2013). Research Design Pendekatan Kualitatif, Kuantitatif, dan Mixed. (A. Fawaid, Ed.). Yogyakarta: Pustaka Pelajar.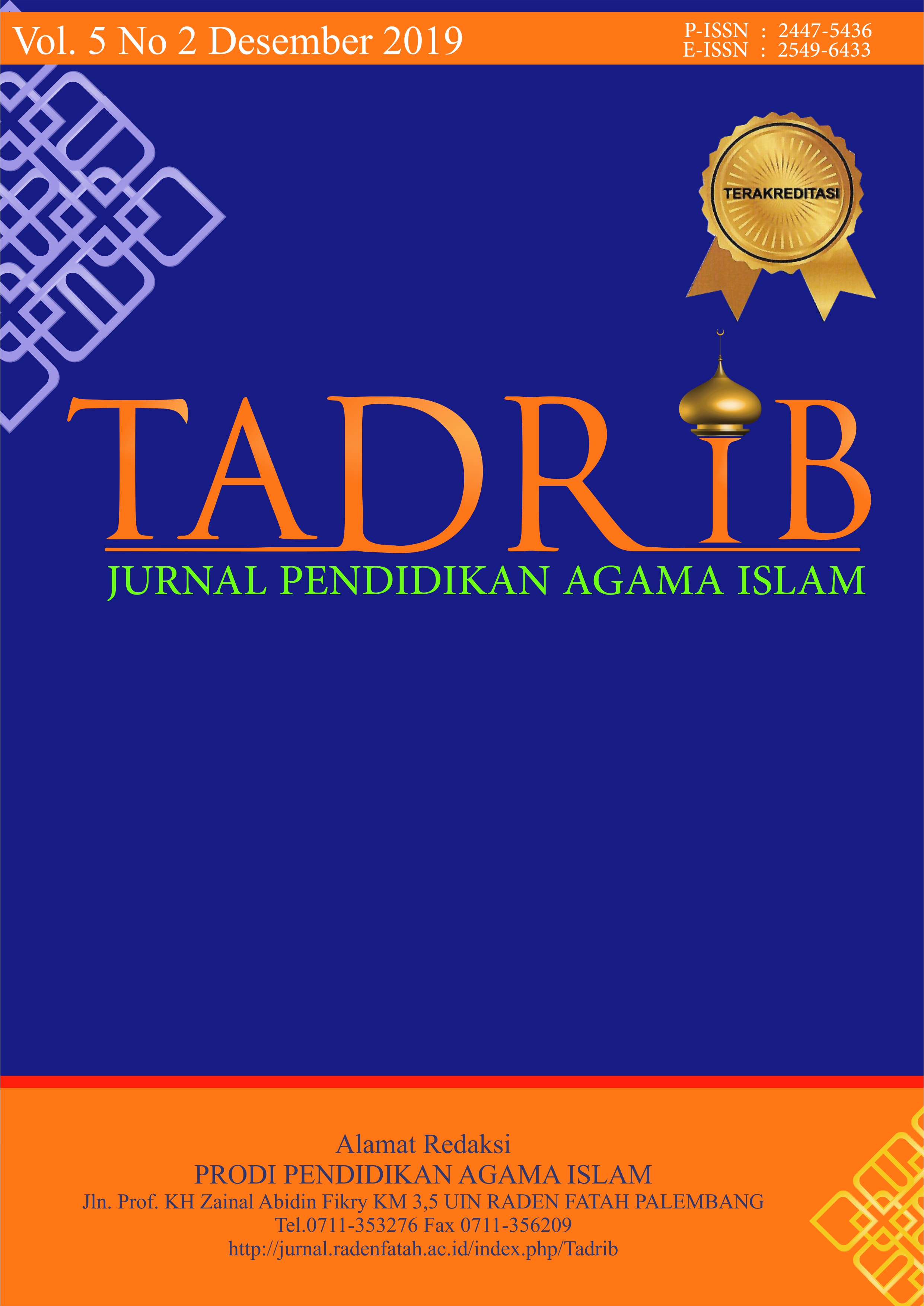 How to Cite
Pratama, I., & Firdaus, A. ( ). PENERAPAN KURIKULUM TERPADU SEBAGAI MODEL PEMBINAAN KARAKTER SISWA (STUDI DI SMP IT RAUDHATUL ULUM SAKATIGA INDERALAYA). Tadrib, 5(2), 217-233. https://doi.org/https://doi.org/10.19109/tadrib.v5i2.2683