IMPLEMENTASI TEORI BELAJAR HUMANISTIK CARL R. ROGERS PADA PEMBELAJARAN PENDIDIKAN AGAMA ISLAM
Muchamad Chairul Umam

Institut Agama Islam Negeri Salatiga
Keywords:
Implementation, Humanistic Learning Theory, Islamic Religious Education
Abstract
Education so far has not yet applied Humanistic learning which is actually very important because it has a goal that can shape students to be human so the researchers chose the topic of Humanistic learning so that education in schools can understand the potential possessed by students not only nature only positive fields. Humanistic learning initiated by Carl R. Rogers aims to shape learners' personalities not only in the cognitive aspect but more emphasized in the attitudes and social aspects, he also advocates an educational approach should try to make learning and teaching more human, more personal, and meaningful. Humanistic theory is a learning theory that tends towards philosophy, so that its implementation in learning PAI is still difficult to do in practical and operational learning steps, but the contribution is so large. The concepts, ideas, taxonomies of objectives that have been formulated can help educators and teachers in understanding human nature. This will be able to assist them in determining learning components such as goal formulation, material determination, selection of learning strategies, and development of evaluation tools, towards the formation of the aspired human. The research method used by researchers is qualitative by looking at social phenomena and understanding the meaning of human behavior. This research is descriptive in this study trying to explain or illustrate the implementation of Carl R Rogers' humanistic learning theory on Islamic religious learning.
References
Arbayah. (2013). Model Pembelajaran Humanistik. Dinamika Ilmu, 13.

Bag, R., & Taylor, S. J. (1992). Pengantar Metode Penelitian Kualitatif, Terj. Arier Fuchan. Surabaya: Usaha Nasional.

Baharuddin, & Moh. Makin. (2007). Pendidikan Humanistik (Konsep, Teori dan Aplikasi Praksis dalam Dunia Pendidikan). Yogyakarta: Ar-Ruzz Media.

Baharuddin, & Wahyuni, E. N. (2007). Teori Belajar dan Pmbelajatran. Yogyakarta: Ar-Ruzz Media.
Djiwandono, S. E. W. (2006). Psikologi Pendidikan. Jakarta.

Freire, P. (2002). Politik Pendidikan: Kebudayaan, Kekuasaan, dan Pembebasan, terj Agung Prihantoro dan Faud Arif Fudiyartanto. Yogyakarta: Pustaka Belajar.

Freire, P., & dkk. (1998). Pendekatan Humanisme dan Pendidikan Pembebasan Terjemahan Omi Intan Naomi. Yogyakarta: Pustaka Belajar.

Hamalik, O. (2003). Kurikulum dan Pembelajaran. Jakarta: Bumi Aksara.

Herpratiwi. (2016). Teori Belajar dan Pembelajaran. Yogyakarta: Media Akademik.

Mangunwijaya, Y. B. (2001). Mencari Visi Dasar Pendidikan Sindhunata Sindhunata Pendidikan : Kegelisahan Sepanjang Zaman. Yogyakarta: Kanisius.

Muhibbin Syah. (2006). Psikologi Belajar. Jakarta: Raja Grafindo Persada.

Mulyasa, E. (2006). Kurikulum Tingkat Satuan Pendidikan. Bandung: Remaja Rosdakarya.

Muntholi'ah. (2002). Konsep Diri Positif Penunjang Prestasi PAI (cet. 1). Semarang: Gunungjati dan Yayasan Al-Qalam.
Palmer, J. A. (2006). Fifty Modern Thingkers on Educations. Terj. Farid Assifa.

Sagala, S. (2011). Konsep dan Makna Pembelajaran. Bandung: Alfabeta.

Soemanto, W. (1987). Psikologi Pendidikan. Jakarta: Bina Aksara.

Suprihatin. (2017). Pendekatan Humanistik dalam Pengembangan Kurikulum Pendidikan Agama Islam POTENSIA. Kependidikan Islam, 3.

Suyanto, B., & Sutinah. (2006). Metode Penelitian Sosial: Berbagai Alternatif Pendekatan. Jakarta: Prenada Media Group.

Tafsir, A. (1995). Metodologi Pengajaran Agama Islam. Bandung: PT. Remaja Rosda Karya.

Uno, B. H. (2006). Orientasi Baru Dalam Psikologi Pembelajaran. Jakarta: PT Bumi Aksara.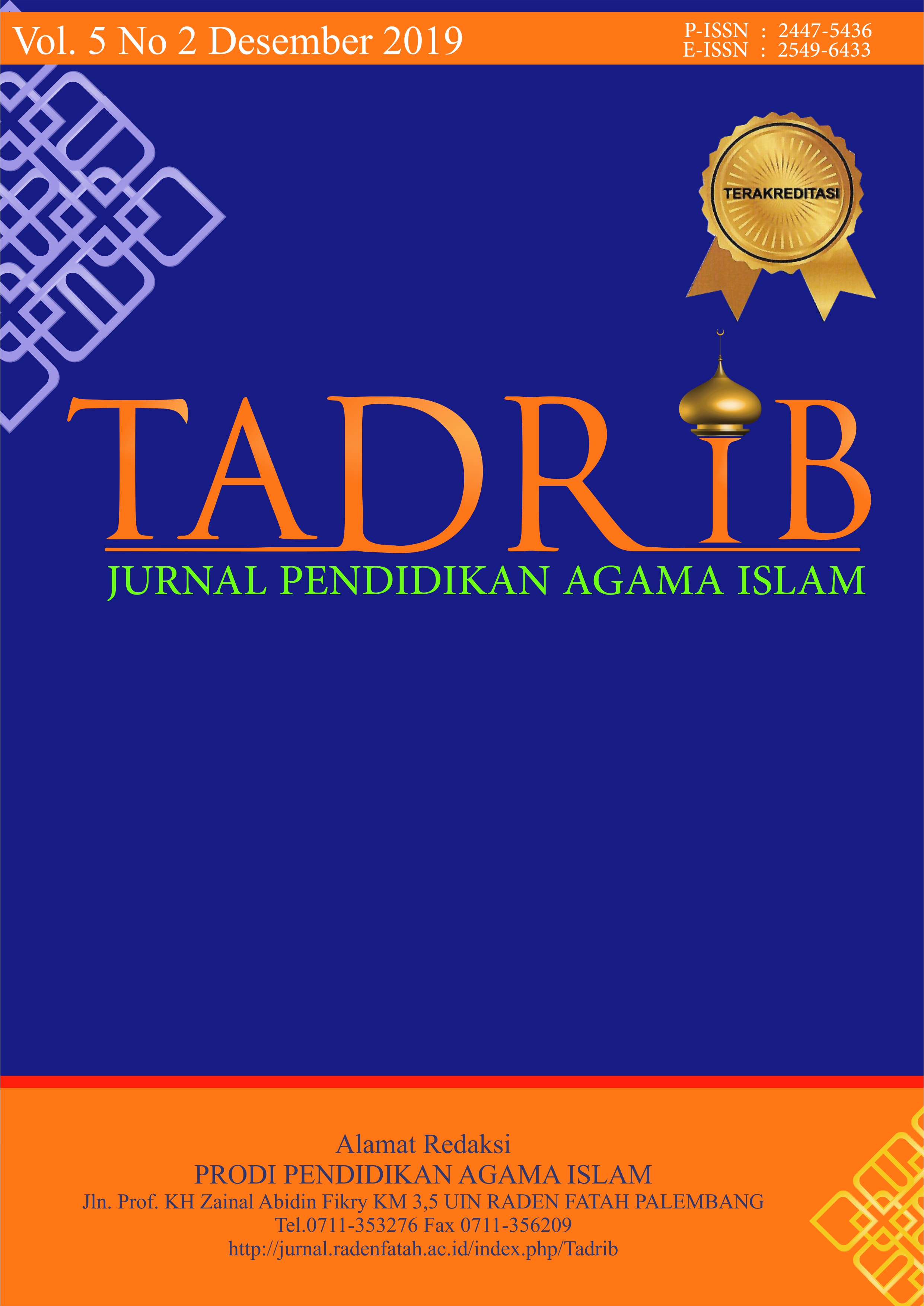 How to Cite
Umam, M. (2020). IMPLEMENTASI TEORI BELAJAR HUMANISTIK CARL R. ROGERS PADA PEMBELAJARAN PENDIDIKAN AGAMA ISLAM. Tadrib, 5(2), 247-264. https://doi.org/https://doi.org/10.19109/tadrib.v5i2.3305