TRADISI MUHADHARAH MENGKAJI ISLAM RAHMATAN LIL 'ALAMIN DI MTS SALAFIYAH 2 MENGANTI GRESIK
Zahrotus Sa'idah

Universitas Amikom Yogyakarta
Keywords:
Muhadharah, Islam, Islamic boarding school
Abstract
This article aims to study the tradition of "muhadlarah" in Mts Salafiyyah Menganti Gresik. It focuses on how this tradition becomes a medium for the students of Mts Salafiyyah to understand as well as study Islam as a "Rahmatan lil 'alamin" i.e. Islam for All. This article uses qualitative method and sociology communication approach through in-depth interview with some related resources, particularly headmasters of the school and its Islamic institution. It is found from this research that the tradition of "muhadlarah" play a big role on, in one hand, transforming students for becoming autonomous persons, and on the other hand, rising up their enthusiasm to study Islam as "rahmatan lil 'alamin". It is also found that the teachers and assatidz have an important role on directing the students to study and understand Islam. In fact, by conducting this tradition, students have a bigger enthusiasm on reading books about Islam, discussing Islam, and more importantly, attempting to know the danger of radical acts (radicalism) in religious lives and practices.
References
Aziz, A. (2004). Ilmu Dakwah. Jakarta: Prenadamedia Group.

David K. Berlo. (1960). The Process of Commmunication an Introduction to Theory and Practice. New York: Library Of Congress Catalog.

Effendy, O. U. (2003). Ilmu Teori dan Filsafat Komunikasi. Bandung: Penerbit Aditya Bakti.

Ilahi, W. (2013). Komunikasi Dakwah. Bandung: Remaja Rosdakarya.

Keraf, G. (2007). Diksi dan Gaya Bahasa. Jakarta: Gramedia Pustaka Utama.

Qomar, M. (2013). Strategi Pendidikan Islam. Jakarta: Penerbit Erlangga.

Wawancara Dengan Bapak Abdullah Azzam Sebagai Kepala Sekolah di MTs Salafiyyah 2. (2018).

Wawancara Dengan Ustadz Farikhul Anwar Sebagai Pemangku Pesantren Salafiyyah. (2018).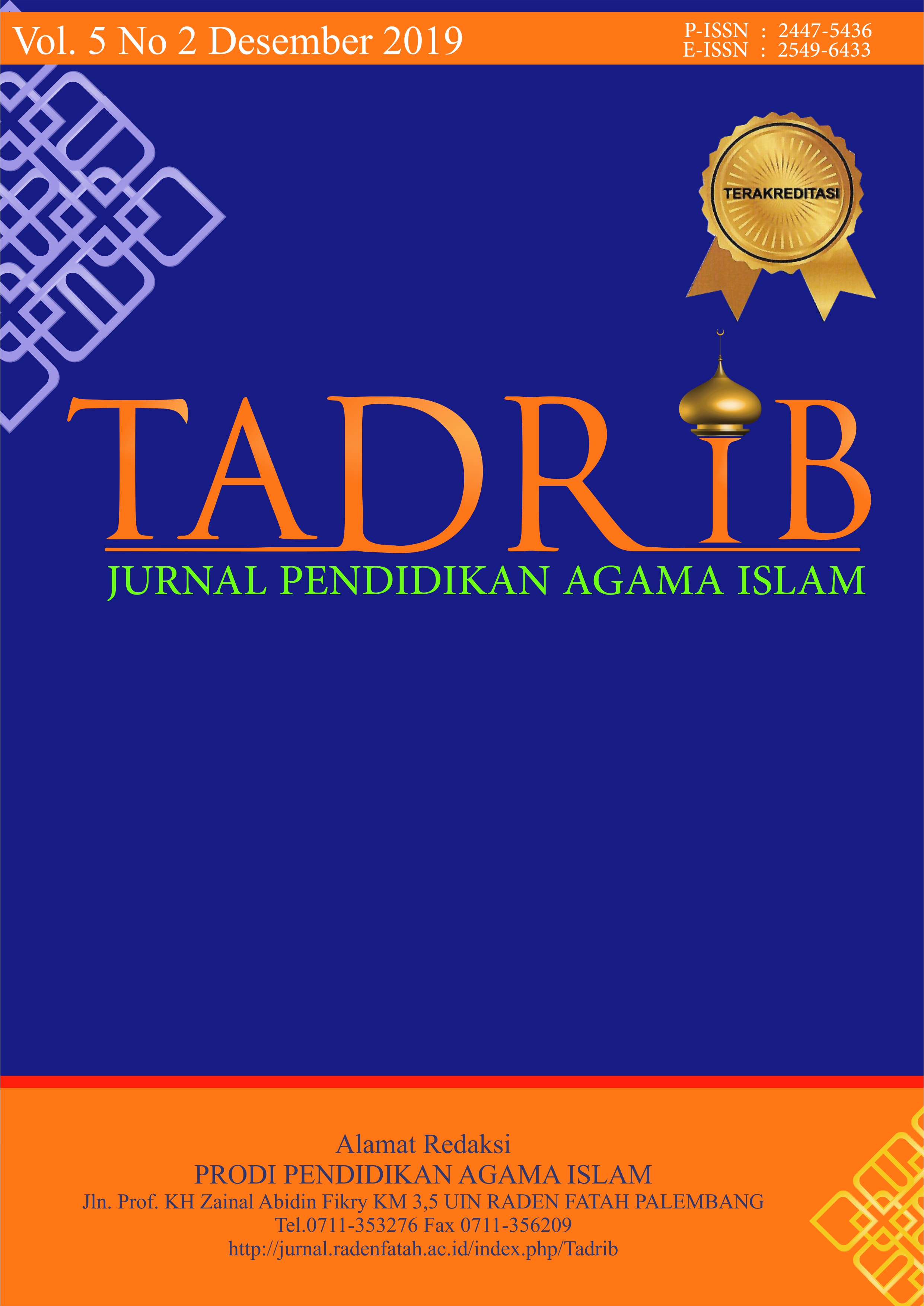 How to Cite
Sa'idah, Z. ( ). TRADISI MUHADHARAH MENGKAJI ISLAM RAHMATAN LIL 'ALAMIN DI MTS SALAFIYAH 2 MENGANTI GRESIK. Tadrib, 5(2), 198-216. https://doi.org/https://doi.org/10.19109/tadrib.v5i2.3418