PENDIDIKAN AKHLAK UNTUK PEREMPUAN (TELAAH QUR'AN SURAT AN-NUR AYAT 31)
Badrus Zaman

Institut Agama Islam Negeri Salatiga

Desi Herawati Kusumasari

Institut Agama Islam Negeri Salatiga
Keywords:
Female Moral Education
Abstract
 The initial idea of ​​this research was that moral education in Indonesia better known as character education still generalized between men and women. Though there are a number of different things between men and women. Of the many verses of the Koran which discuss moral education for women, the Qur'an verse an-Nur verse 31 has more usefulness than the other verses. hThis studyguses abtype ofmlibrarymresearch. The first step is to formulate exactly what you want to study. Then choose the unit of analysis that will be studied, namely choosing the research object that is the target of the analysis. Then analyze the units of meaning and categories and then look for relationships with one another to find meaning and content. The last activity is to describe the results of the analysis. mThe result of the study can be conclude that: First, bowing down aims to maintain dignity as a woman. Secondly, keeping the genitals meant to guard against adultery. Third, do not reveal jewelry except the usual appearance of it, do not intentionally lure the opposite sex with the clothes or accesories he wears. Fourth, the suggestion to cover the veil cloth is to mean wearing a headscarf in accordance with Islamic law.
References
Abudin Nata. (2003). Akhlak Tasawuf. Jakarta: Raja Grafindo Persada.

Al-Qurthubi. (2009). Tafsir Al-Qurthubi. Terjemahan Ahmad Khotib. Jakarta: Pustaka Azzam.

Arikunto, S. (2006). Prosedur Penelitian Suatu Pendekatan Praktis (Edisi Revisi VI). Jakarta: Rineka Cipta.

Asmadi Alsa. (2004). Pendekatan Kuantitatif dan Kualitatif Serta Kombinasinya Dalam Penelitian Psikologi. Jakarta: Pustaka Pelajar.

Depag RI. (1993). Al-Qur'an dan Tafsirnya. Semarang: CV. Wicaksana.

Depag RI. (2007). Al-Qur'an dan Tafsirnya. Semarang: CV. Wicaksana.

Depag RI. (2009). Al-Qur'an dan Tafsirnya. Jakarta: Departemen Agama RI.

Falih Bin Muhammad bin Falih Ash-Shughayyir. (2008). Majelis Wanita Pesan dan Wasiat Rasulullah Kepada Kaum Wanita. Terjemahan Mohammad Muhtadi. Jakarta: Darus Sunnah.

Istibsyaroh. (2004). Hak-hak Perempuan Relasi Jender Menurut Tafsir Al-Sya'rawi. Jakarta: Teraju.

Jalaludin. (2001). Teologi Pendidikan. Jakarta: PT Raja Grafindo Persada.

Luis Ma'luf Al-Yasu'i. (2008). al-Munjid Fi al-Lugah Wa Al-A'Lam. Beirut: Dar al-Masyriq.

M. Abdul Ghoffar. (2002). Tafsir Ibnu Katsir. Bogor: Pustaka Imam Asy-Syafi'i.

Mu'ammal Hamidy dan Imron A.Manan. (1987). Tafsir Ayat Ahkam as-Shabuni. Surabaya: PT Bina Ilmu.

Muhammad Nasib ar-Rifai'i. (2000). Tafsir Ibnu Katsir. Terjemahan oleh Syihabuddin. Jakarta: Gema Insani.

Nashirudidin Al-Albani. (2006). Riyadhus Shalihin: Terjemahan Agus Hasan Bashori Al-Sanuwi dan Muhammad Syu'aib Al-Faiz Al Sanuwi. Surabaya: Duta Ilmu.

Rosihan Anwar. (2010). Akhlak Tasawuf. Bandung: Pustaka Setia.

Said Agil Husin Al-Munawar. (2005). Aktualisasi Nilai-nilai Qurani dalam Sistem Pendidikan Islam. Jakarta: Ciputat Press.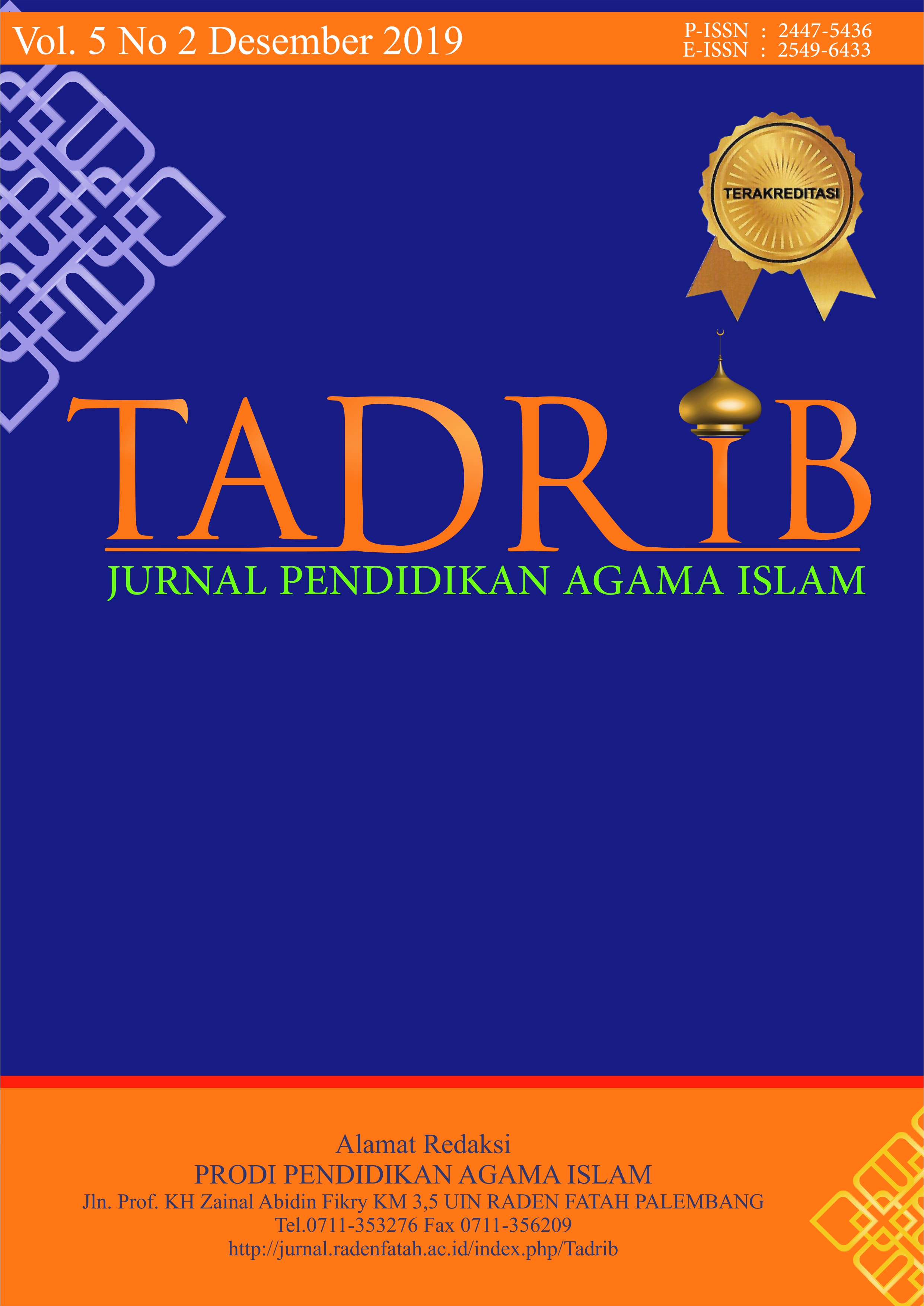 How to Cite
Zaman, B., & Kusumasari, D. (2020). PENDIDIKAN AKHLAK UNTUK PEREMPUAN (TELAAH QUR'AN SURAT AN-NUR AYAT 31). Tadrib, 5(2), 234-246. https://doi.org/https://doi.org/10.19109/tadrib.v5i2.3656